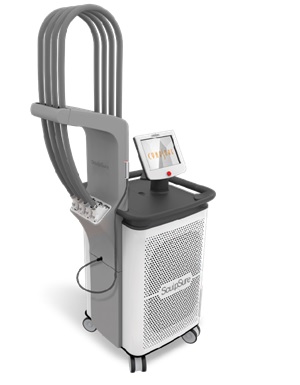 Product Summary
SculpSure, developed by Cynosure, claims to be the first laser treatment offering non-invasive lipolysis (fat reduction) of the abdomen and flanks to be approved for use in America by the FDA. It was introduced into the UK in 2016.

It uses innovative, state of the art technology called hyperthermic laser treatment to sculpt and define the body with a speedy treatment time, (around 25 minutes), and uses non-suction adaptors which offer consistent results.

The SculpSure method has been clinically proven to reduce fat by 24%1 and offers a patient satisfaction rate of 90%2.
Technical Specifications
SculpSure uses a diode laser with a light wavelength of 1060nm, applied as a continuous wave for controlled hyperthermic fat reduction. There is no aiming beam needed, as is often the case with more invasive laser lipolysis devices. The device also features Contact Cooling™ for added patient comfort.
How Does It Work?
SculpSure is a precise, light-based technology, which is perfect for people who are looking for the permanent removal of troublesome and stubborn areas of fat. The 1060nm wavelength targets and disrupts fat cells below the dermis (without being absorbed). It does this by raising the temperature level of the fatty tissue to between 42-47°C. The handpiece or pad offers Contact Cooling to simultaneously cool the skin throughout the procedure, preventing discomfort. The pad is simply fixed in place on the skin and the gradual heating of the fat is left to work for around 25 minutes. Over time, the body naturally eliminates the disrupted fat cells through the metabolism and lymphatic drainage, with results seen between 6 and 12 weeks later.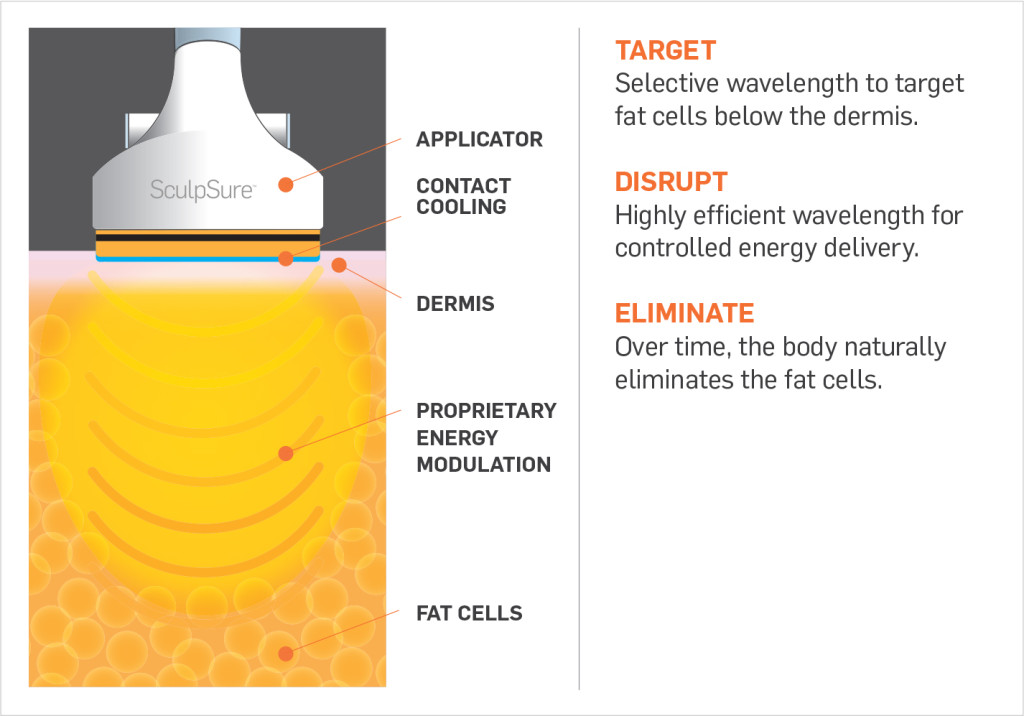 Licence Status
SculpSure has full U.S. FDA approval for lypolysis of the flanks and abdomen after approval in 2015, as well as being a European CE marked medical device.
Should Be Used By
Treatment should only be carried out by a fully trained medical practitioner such as a doctor or nurse, or by an advanced trained aesthetician. During your consultation, ask for your practitioner`s relevant certification, as well as asking all the questions you need, to be comfortable with the procedure.
What Is It Used To Treat?
SculpSure is used for lypolysis (destruction of fat cells), primarily on the flanks and abdomen. The device is being further developed by the makers for ease of fat removal in other areas, such as the neck (double chin), buttocks and thighs.

It can be used to treat areas of both non-pinchable and pinchable fat and is suitable for all skin types. It is important to note that Sculpsure is not a weight loss solution.
How Long Does It Last?
The fat cells are destroyed from the targeted area and will not regenerate, making the results from the SculpSure treatment permanent. This is however dependent on lifestyle choices, as any remaining fat cells, or those in other areas, can still increase in size over time with poor diet and a lack of exercise.

Positive results are often seen after as little as 6 weeks, with optimum results at around 12 weeks. You may be offered the option of a top-up or maintenance treatment regime for the future.
Side Effects & Risks
Throughout the treatment, most people will feel a warm and tingling sensation, which is generally well tolerated. Following treatment there is a chance of some redness, and possibly swelling, and there might be a slight tenderness and firmness in the treated area, but this will wear off after a few days.

Unlike invasive fat removal and laser lipolysis treatments where cannulas and probes are inserted under the skin, there is no real downtime with SculpSure. Since it is such a quick treatment, with sessions lasting around 25 minutes, you could have it done during a lunch break and return to work without any problems. Although most people would rather rest afterwards. In addition, as the light wave is specifically targeted to fat cells, there is no damage to any surrounding tissues.
Not To Be Used In
SculpSure is safe for use on all skin types.

As with any cosmetic treatments, you should always consult your GP, as pre-existing health conditions may need to be taken into account prior to embarking on this treatment.

Those with active skin infections or scarring in the area to be treated will not be good candidates for treatment.

Pregnant and breastfeeding women should avoid treatment until weaning is complete.
Treatment Regime
Multiple areas can be treated in one session due to the number of hand pieces or pads on the device itself, which number four in total and measure approximately 2" x 3". If more than one treatment session is required, there should be a six week interval between them.
Cost Of Treatments
The price of a SculpSure treatment begins at around £250 for a single session using a single handpiece pad. The more pads used or areas treated in one session, the more the price increases, however package discounts are often available for treating multiple areas at once.
Clinical Results
Generally, one treatment is all that is needed to see a significant reduction in fat, with patients seeing an average reduction of 24%1, according to clinical trials.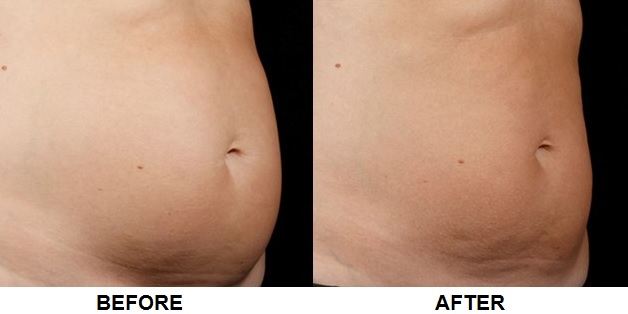 Before and after 6 weeks, 1 treatment to flanks and abdomen. Image courtesy of S. Doherty, MD.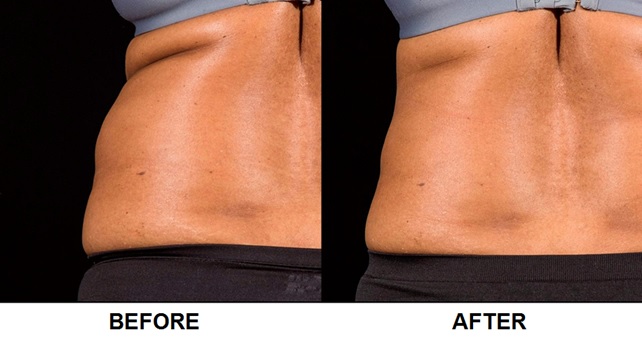 Before and after 12 weeks, 1 treatment to flank. Image courtesy of B. Katz MD.

Images Courtesy of Sculpsure (Cynosure)
(All before and after photographs are real patients, your results may differ).
Clinical Papers
1. Average reduction in fat volume following single treatment as measured by MRI; Clinical and Histological Evaluations of a 1060nm Laser Device for Non-Invasive Fat Reduction . Decorato, J.W., Sierra, R., et al 2014.
2. A multicenter study of the safety and efficacy of a non-invasive 1060 nm diode laser for fat reduction of the flanks. Paper presented at: 2015 Annual American Society for Laser Medicine and Surgery Conference; April 22-26; Kissimmee, FL. Katz B, Doherty S.
3. Average patient discomfort rating of 3.7 on a scale of 1-10. Non-Invasive Fat Reduction Of The Abdomen With A 1060nm Diode Laser.Paper presented at: 2015 Annual American Society for Laser Medicine and Surgery Conference; April 22-26; Kissimmee, FL. Bass L, Doherty S.

Do you have a question? Ask one of our experts NOW