UK and Ireland Clinic Search
Looking for your local cosmetic surgery clinic, beauty salon, non-surgical medical aesthetic clinic, cosmetic dentist, hair loss specialist or laser eye surgery provider?
Our Latest Clinic Additions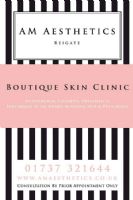 AM Skin Clinic
5a Church Street, Reigate, RH2 0AA
AM Skin Clinic is an established Non-surgical medical aesthetic clinic that has built a very strong reputation as a leading Surrey clinic.
More Information
Anna Medical Aesthetics
10 Murdock Road, Swindon, SN3 5HY
Anna Medical Aesthetics is a CQC registered medical practice in Swindon. We are proud to offer a wide range of women's health, skin health and minimally-invasive medical and aesthetic treatments catered to the individual needs of our patients.
More Information
Latest Special Offers
To view all our special offers please Click Here.
15% Discount |
Reference: Consultingroom931
Offer Ends: 31-01-2022
15% discount on all treatments for new patients only
Wrinkle Relaxing Injections |
Reference: Consultingroom924
Offer Ends: 14-09-2022
Wrinkle Relaxing Injections - 3 areas for £230
(frown, forehead and crows feet)