Product Summary
Launched in the UK at the beginning of 2005, RESTYLANE® Vital is a new NASHA gel manufactured by Q-Med (now part of Galderma), the maker of the popular RESTYLANE®, dermal fillers; aimed at a whole new approach to skin rejuvenation.
It is targeted at a broad range of treatment areas including the face, neck, décolletage (the area between the neck and breasts) and hands; designed to replenish the hyaluronic acid lost through ageing, hence hydrating the skin and improving its elasticity and tone.

The recommended injection technique is the micro-puncture technique that involves injecting very small amounts of RESTYLANE® Vital into the deep dermis, about 1- 2cm apart. Once injected, the NASHA gel flows smoothly and distributes evenly in the skin.
The natural hydrating properties of RESTYLANE® Vital also make it well suited to all skin types, whether skin is dry or oily.
The RESTYLANE® range of products has a proven track record of safety with more than two million treatments across 70 countries, and FDA approval. RESTYLANE® Vital also obtained European CE certification in 2004 for the indication for hydration of the skin by injections.
The two products RESTYLANE® Vital and Vital Light are collectively marketed as RESTYLANE® Skinboosters.
A new product just targeted at the lip area called RESTYLANE® Lip Refresh also joined the RESTYLANE® Skinboosters family, but has since been discontinued.
Generic name
Non-Animal Stabilized Hyaluronic Acid (NASHA) gel.
What do Restylane Skinboosters contain?
RESTYLANE® Skinboosters are made from Q-Med's patented NASHA gel, with no extra additives. They also come with or without 0.3% lidocaine as a local anaesthetic.
How is Restylane® Vital made?
By bacterial fermentation from streptococci bacteria.
Is a skin test required before Restylane® Skinbooster treatment?
No allergy test needed.
Is Restylane® Vital temporary or permanent?
Hyaluronic acid is completely broken down within the skin over a period of months, eventually leaving no trace of the filler.
Licenced status
Medical device.
Should be used by
Restylane® Skinboosters should be used by trained members of the medical profession only.
Product range
Unlike the rest of the RESTYLANE® range which have varying particle sizes suitable for different levels of correction by dermal filling, RESTYLANE® Vital is a smooth formulation without particles, which helps it distribute evenly and smoothly under the skin to aid rejuvenation.

RESTYLANE® Vital Gel

RESTYLANE® Vital Light Gel
RESTYLANE® Vital (20mg/ml of HA) is available in a pre-filled syringe of 1ml NASHA-gel, and each pack includes three needles, for greater patient injection comfort. It is administered using a 30G needle and can be delivered via a pen-style injector.
It is targeted at more mature skin with sun damage. It is available with or without 0.3% lidocaine (local anaesthetic).
In late 2008, Q-Med launched a less-concentrated, finer particle version of RESTYLANE® Vital called RESTYLANE® Vital Light (12mg/ml of HA).
It can be used for the same treatment as RESTYLANE® Vital but the manufacturer is recommending the use of the product as a preventative treatment for skin that it still in good condition, i.e. younger patients, as well as those with more delicate skin.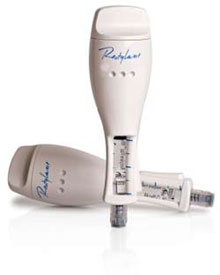 The product is available in a pack with a pre-filled 1ml syringe with three 30G needles or it can be delivered via a pen-style injector (no longer available). It is available with or without 0.3% lidocaine (local anaesthetic).
Each disposable pen injector came preloaded with 2mls of product and also included three needles. It required manual winding by the practitioner before its trigger mechanism could be used to release a precise amount of product (10 µl) into the skin, meaning uniform injection and results.
The last product to join the RESTYLANE® Skinboosters family was RESTYLANE® Lip Refresh. This product is targeted at lip hydration rather than volume augmentation, to restore smoothness and some fullness to dry lips. The product is available in a pack with a pre-filled 1ml syringe and is only available with the addition of 0.3% lidocaine (local anaesthetic) to avoid discomfort from injecting the lips. A single treatment is usually all that is required with this product, not a programme of repeat hydration sessions. This has now been discontinued.
New branding in 2016, means that Restylane SkinBoosters now come packaged like this.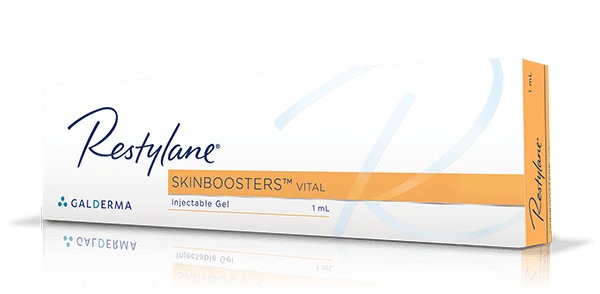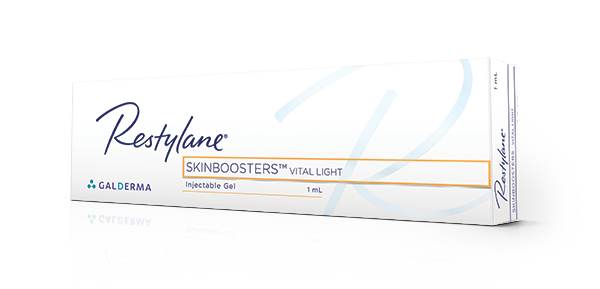 Not to be used in
Individuals with a known hypersensitivity to hyaluronic acid.
RESTYLANE® Skinboosters should not be used in or near areas where there is active skin disease, inflammation or related conditions.
They should not be injected into an area where a permanent implant has been placed.
Duration of effect
This depends upon your age and lifestyle as well as the correct placement of the product by a practitioner.
Generally, two to three treatments every fourth week are recommended initially, followed with maintenance treatments approximately every four to six months for Vital and Vital Light.
RESTYLANE® Lip Refresh results are expected to last for up to 6 months.
Reported side effects of Restylane® Skinboosters
After the injection of RESTYLANE® Vital, some common injection related reactions might occur. These reactions include transient erythema (redness), swelling, pain, itching, discolouration or tenderness at the injection site. Typically resolution is spontaneous, within one or two days after injection into the skin.
Additionally, temporary palpable lumpiness has been noted after injection in some patients.
Localised reactions thought to be of a hypersensitivity nature have been reported in about 1 in every 10,000 treated patients. These have consisted of swelling at the injection. Redness, tenderness and rarely acneform papules may occur.
The reactions have started either shortly after injection or after a delay of 2-4 weeks and have generally been described as mild to moderate and self-limiting, with an average duration of 2 weeks.
In addition, rare cases (less than I in 15,000 treatments) of granuloma formation, superficial necrosis and urticaria have been reported.
Costs
This depends on the area treated and how much is required, and the practitioner doing the treatment, but price ranges are in the region of £175 per 1ml syringe of RESTYLANE® Vital or £500 for a course of three treatments, typically lasting up to 30 minutes. RESTYLANE® Vital Light is approximately £250 per 2ml syringe or £700 for a course of three treatments. RESTYLANE® Lip Refresh will cost £250 - £300 per syringe which is enough for both lips.
Clinical Results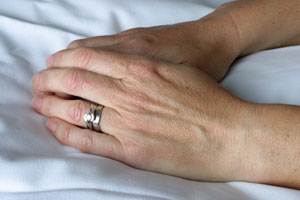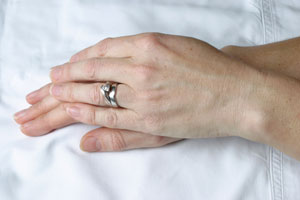 Hands before (left) and after (right) treatment with Restylane® Vital
Images provided courtesy of Q-med Limited and Fiona & Marie Aesthetics at LPSA.
All before and after photographs are real patients, your results may differ).
Do you have a question? Ask one of our experts NOW