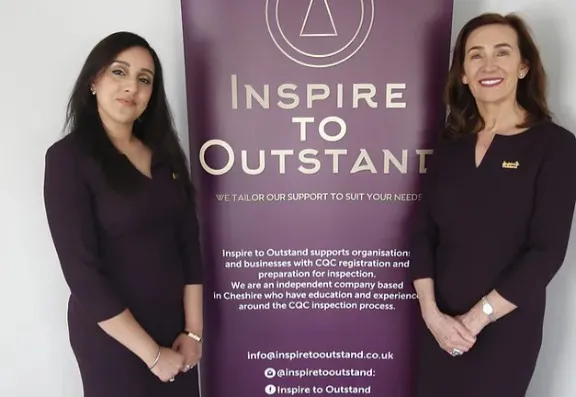 About Us
Tracey has a background in senior nursing within the NHS and as a specialist advisor to the CQC. She has her own CQC registered skin clinic in Cheshire so has the lived experience alongside the professional expertise.
Sophie has worked as a CQC inspector for over eight years so understands not only the infrastructure of the Care Quality Commission but has a wealth of experience inspecting all areas of healthcare provision.
Services We Offer
Support with registration and team understanding of the requirements.
Our registration service includes:
Advice on the selection of appropriate category for registration
Preparation of the online application form and Statement of Purpose
Advice and checking of supporting evidence for application prior to submission.
Preparation of policies and procedures to meet the Fundamental Standards (FS)
Supporting documentation to evidence compliance with FS (including Audit, Clinical Governance, Consent, Infection Control, Medicines Management, Facility Management, Quality Monitoring, Complaints, and Records Management)
Guidance on implementation of clinical governance requirements
Preparation of reports for compliance with the prevention and control of infection
CQC Registered Manager Advice/Support
Site visit (virtual) during the application process including generation of reports and action plans to provide external evidence of compliance to CQC in relation to Quality Assurance.
Advice (if required) on the development of the treatment facility for the fundamental standards.
We also support business to prepare for an upcoming rating inspection, this service includes:
Support to update the organisations statement of purpose in line with any new changes to the business.
Supply any policies that are currently not within the business bank of policies.
Review audits and supply further audit templates and support guidance on how to complete these documents.
Support with structure of the reporting and preparation of governance reports and ensure that this is embedded into future governance.
Work with the team to ensure they have a clear understanding of the KLOEs and what a rating inspection will entail.
Interview the registered manager in preparation for the inspection as this will highlight any gaps that are currently in the service.
Offer guidance related to HR files.
Assess the service risk register to ensure that risks are being assessed and mitigation is in place and ensure that the team understand this requirement.
Offer guidance related to mandatory training and wider engagement evidence.
Provide assurance of medicines management
Review the organisation processes and to ensure a robust end-to-end documentation to support compliance with the regulations.
Virtual Mock inspection of the premises and supply a report to the owner.
Review all incidents and complaints.
Help the team to understand the new inspection framework currently being implemented within the CQC.
What our Clients Say about Us
"I knew nothing about applying for CQC registration. Inspire to Outstand were brilliant in helping me, providing appropriate paperwork and guidance and responding quickly to emails and my 'help me' phone calls. Would highly recommend them, I couldn't have done it without them".

Dr Simon Gower
"Tracey and Sophie are incredible at what they do. Not only do they provide a full support network, but their extensive knowledge also surrounding the CQC, most importantly where Medical Aesthetics sits in regard to CQC registration. They go above and beyond not matter what the question, time of day and are proactive and insightful. As a clinic we have been that impressed we are now a member for ongoing support. We have highly recommended them to our fellow medics who wish to seek a smooth and issue free registration!"
Thanks for everything, the KAST team".

Nurse Amy Bird Kast Medical Aesthetics
"The team at Inspire to Outstand are amazing. They went above and beyond the call in helping My Menopause Centre to achieve its CQC registration. They are extremely knowledgeable about the CQC and its requirements. The team were available at short notice to help us get it over the line. I would have no hesitation in using Inspire to Outstand again or recommending them to anyone needing to negotiate the CQC's registration requirements".

My Menopause Centre
"I would highly recommend Inspire to Outstand for their absolutely outstanding services, attention to detail and expertise in the whole process of CQC application, regulation and legal requirements. I approached Inspire to Outstand to support my CQC application after reading reviews and recommendations about the team on a closed FaceBook group for Aesthetic Nurses. The team at Inspire to Outstand gave more than I had anticipated, they were responsive, supportive and of course provided expert knowledge that I lacked. Through coaching and mock interviews, they gave me the confidence I required to achieve regulation for my clinic, EOS Medical Aesthetics, in Sunningdale, Berkshire. I can't thank Inspire to Outstand enough".

Elaine Williams Aesthetic Nurse/Clinic Owner