Product Summary
ZO Skin Health Inc. was founded in 2007 by world-renowned dermatologist Zein Obagi, MD.

He already had a long history in creating high quality anti-ageing skin care products, and thus stuck with his aim of results-orientated skin care when developing his ZO Skin Health and ZO Medical ranges. Both solutions aim to fight ageing skin, as well as treat acne, rosacea and pigmentation marks.

The professional skincare products are available through cosmetic clinics and practitioners throughout the UK.
What Does It Contain?
The products within the ZO Skin Health and ZO Medical ranges contain many clinically proven active ingredients, including advanced peptides, vitamin E, powerful anti-oxidants and pure retinol (vitamin A). The ingredients are in high concentrations to give the maximum possible benefits to the skin. Their use must be supervised by a skincare professional (and sometimes prescribed by a medical professional) who can tailor a day and night regime to suit your skin type, and to target your concerns.
How Does It Work?
ZO Skin Health and Medical products aim to maintain skin health and to treat problem skin, by working from the inside out, as opposed to the quick fixes offered by many topical treatments available on the high street. Put simply, they work by first activating, and then stimulating skin cells to repair, replenish and maintain themselves. The way ZO products do this, is via a multi-step process:
1. Cleanse and Scrub – To get rid of any surface debris on the skin, and slough away any dead skin cells.
2. Oil Control and Tone – To either control excess oil production or soothe dry skin.
3. Treatment – To prepare the barrier of the skin to maximise the absorption of the active ingredients, for optimum effect.
4. Calm and Nourish – To soothe the skin from irritation and provide hydration, as well as anti-inflammatory action.
5. Protect – To prevent any further skin damage, with protection against UVA and UVB rays from the sun, as well as HEV (high energy visible) or blue light.
What Do They Claim To Treat?
The ZO products, particularly the medical range, aim to address and treat the main signs of ageing, as well as repairing skin conditions, including inflammation, pigmentation marks, rosacea, sun damage, and acne. There are different products for different skin types, so consult your ZO Skin Health specialist to determine which treatments will be best for your problem skin. They are designed for home use, but under the direction of a trained specialist or medical professional (depending on the range).

Product Range
The ZO product range includes ZO Skin Health and ZO Medical, which are for professional use only.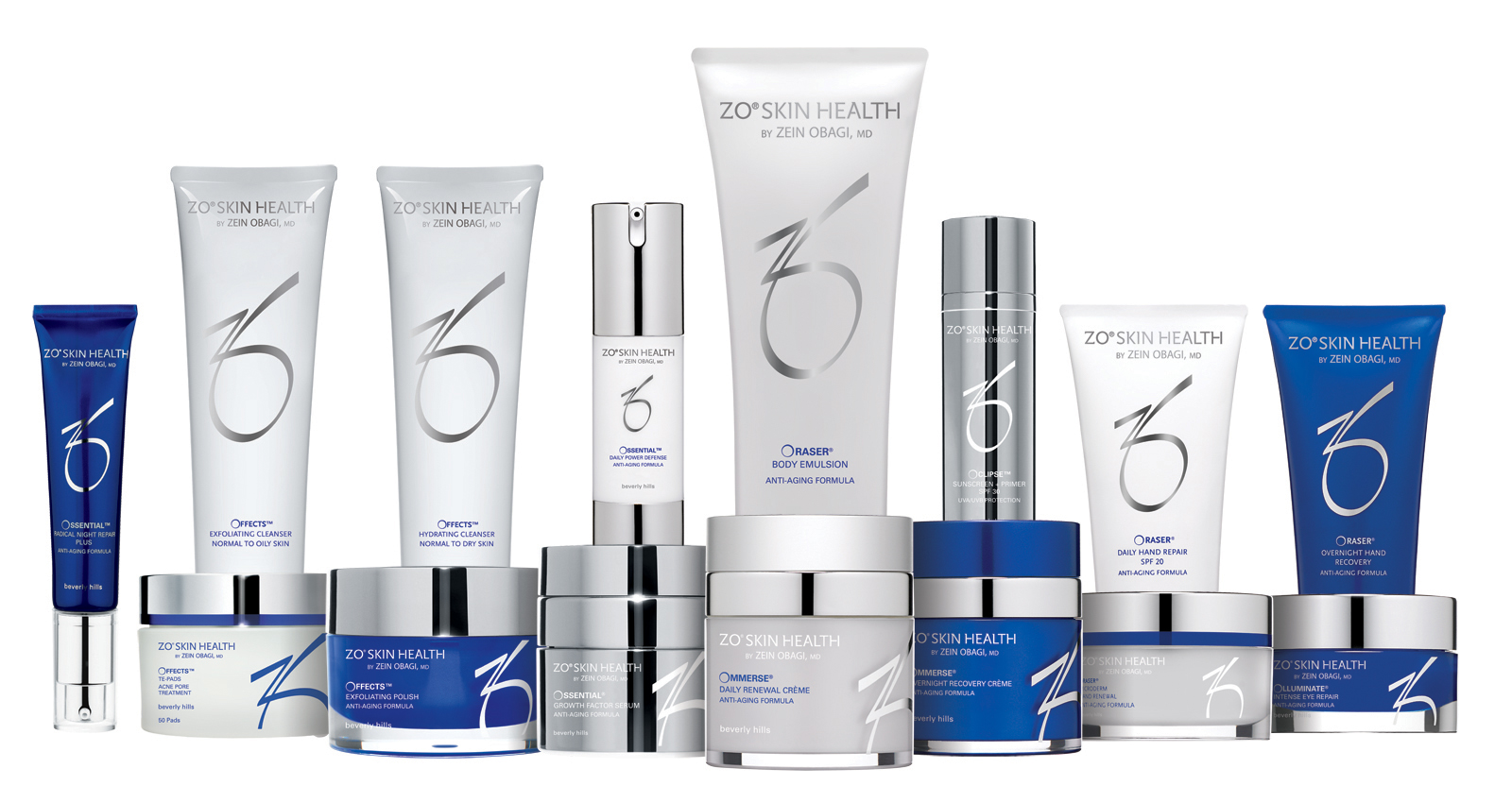 Examples of the ZO Skin Health products available for each skin complaint, include:

• Acne – Correct and conceal acne treatment, Sulfur masque, Acne pore treatment pads, Overnight recovery crème, and Exfoliating cleanser.
• Ageing – Intense eye repair, Renewal crème, Broad-spectrum sunscreen, Growth factor serum, and Advanced radical night repair.
• Hyperpigmentation – Intense eye repair, Renewal crème and Exfoliating polish.
• Inflammation – Hydrating cleanser, Renewal crème, and Overnight recovery crème.
• Rosacea – Sulfur masque, SPF 50 sun spray, Daily power defence, and Exfoliating cleanser.
• Sun Damage – Sunscreen primer, Sun spray, Broad-spectrum sunscreen, and Daily power defence.

ZO Skin Health also has products specifically for hands and body, as well as full skin kits for acne, anti-ageing and sun protection. A bespoke regime can be prescribed per individual.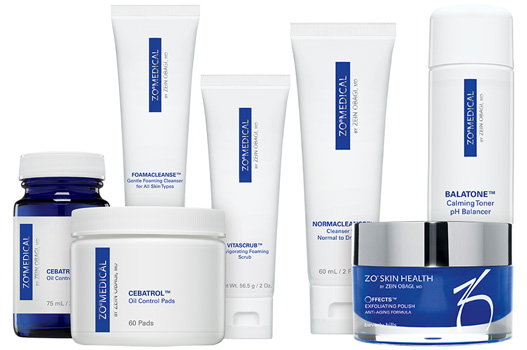 A range of ZO Medical products is also available, which are used as targeted treatment regimes. They are prescribed by medical professionals only, to specifically and effectively target skin conditions. This may be as a stand-alone treatment programme or in conjunction with other aesthetic treatments.

Examples of the ZO Medical products available include: Blemishbright, Restoracalm, Hydrafirm, Aknetrol, Rozatrol, Brightamax, Brightenex (0.5% & 1%), Glycogent, Vitascrub, Oilacleanse, Goamacleanse, Retamax, Oclipse-C, Normacleanse. Liprebuild and Balatone.

The Medical range also includes some chemical peel products such as Invisapeel.

Not To Be Used In
ZO products are suitable for all skin types and ages. However, they may not be compatible with certain skin conditions or medication.

If you are considering using these products, you will need to attend a consultation with a trained ZO Skin Health specialist practitioner, for an assessment, before going ahead with any treatment. Do not be tempted to buy products over the internet, or from family and friends, as a proper check of your skin will determine what is, and isn`t, suitable for you to use.

Furthermore, pregnant and breast feeding women should avoid treatment unless they have the permission from their GP.

Duration of Effects
It takes approximately 6 weeks of using ZO products before the effects become visible; and you will continue to see positive results if you carry on with the regime. It is important to note, that although the products will improve the visible signs of ageing, they do not stop the ageing process.

Reported Side Effects
Retinol is a powerful anti-ageing product that encourages healthy action in cells, as well as promoting cell renewal and growth. This will help to reduce the appearance of fine lines and wrinkles. However, because retinol is so potent, it can cause irritation to the skin, as well as peeling. If you experience this, or any other side effects, you are advised to stop using the products and consult your ZO specialist for further advice, which may include reducing the number of days that you apply a retinol based product to build up tolerance.

Costs
The products should only be bought through approved stockist cosmetic clinics with ZO trained staff. A treatment `kit` or plan will be created to target your specific skincare needs and some can only be prescribed by a medical professional.

Prices for the ZO Skin Health products start from approximately £23.

Do not buy ZO Skin Health products from other sources, such as online trading sites, without consulting a clinic for skincare advice.
Do you have a question? Ask one of our experts NOW