Product Summary
TEOXANE Laboratories are specialised in the development and manufacture of hyaluronic acid-based dermal fillers with their Teosyal brand. TEOXANE Laboratories are now providing their exclusive RHA resilient hyaluronic acid® technology in a complete skincare regimen – this includes optimal hydration to strengthen, protect and plump the skin.

Balancing premium skincare products with the rigor of medical science, Teoxane Cosmeceuticals is an innovative skincare line perfectly adapted and complementary to advanced aesthetic procedures.

Teoxane UK are a subsidiary of parent company Teoxane Laboratories.
What are the core ingredients?
RHA (RESILIENT HYALURONIC ACID)®

Naturally present in our body, hyaluronic acid is mainly concentrated in skin tissues, firstly in the dermis where it is essential for cell metabolism in support tissues, secondly in the epidermis where it plays a major role in trapping water. With age, its quality declines significantly.

RHA (Resilient Hyaluronic Acid)® technology, developed to fill wrinkles by injection, gives hyaluronic acid greater benefits. The skin is reinforced by a moisturising mesh formed over the application area like a second skin. It is this mesh that delivers specific and complementary action: RHA maintains and preserves hydration, smoothes and replumps the skin. It also acts globally, as a matrix, rich in active ingredients that are gradually released for a targeted anti-ageing solution.

This technology marks the culmination of 10 years' research and is protected by a TEOXANE international patent.

DERMAL-RESTRUCTURING COMPLEX

Also derived from the research and development of injectable products, TEOXANE Dermal-Restructuring complex incorporates active ingredients naturally found in the dermis and essential to its metabolism. They are carefully selected for their specific properties as well as their synergistic actions.

8 amino acids
3 antioxidants
2 minerals Vitamin B6

NOVHYAL BIOTECH-G

Natural constituent of hyaluronic acid, NOVHYAL BIOTECH-G (or N-Acetyl Glucosamine-6-Phosphate), derived from green chemistry, stimulates the natural synthesis of hyaluronic acid and cellular regeneration up to the Dermo-Epidermal junction, which it strengthens.

How does it work?
RESULTS VALIDATED AFTER A FEW DAYS OF APPLICATION

Antioxidant action - 27% reduction of an oxidative stress marker caused by 24hr exposure to UVA.

Epidermal regeneration - Epidermal thickness increases by an average of 27 % after 11 days.

Restructuring of the dermo-epidermal junction - Increase in the expression of a marker indicating the anchoring of the epidermis to the dermis. Results after 11 days.

Boosts the activity of dermal cells - Increase in the expression of a marker of the synthesis of hyaluronic acid in the papillary dermis and epidermis after 11 days.
What they claim to treat?
Teoxane Cosmeceuticals claims to offer optimal hydration to strengthen, protect and plump the skin.
Product range
The Teoxane Cosmecueticals brand features a variety of products within the range:

• Advanced Filler – Smoothes the skin surface, fills in wrinkles durably and matifies.
• RHA Serum – protects and reactivates the skin's natural regenerative mechanisms.
• R[II] Eyes - Visibly reduces the appearance of dark circles and puffiness.
• RHA Prime Solution - Prepares the skin for an optimum skincare application.
• Radiant Night Peel - Enhances complexion radiance, refines skin texture and fades away brown spots.
• Perfect Skin Refiner - Smoothes, unifies, illuminates and corrects imperfections and brown spots.
• Deep Repair Balm - Instantly hydrates and reduces skin redness
• Advanced Perfecting Shield – Pro-Structure Complexion Perfecting Cream SPF30
• Post Procedure – Prepares the skin for aesthetic cosmetic treatments and then soothes and regenerates.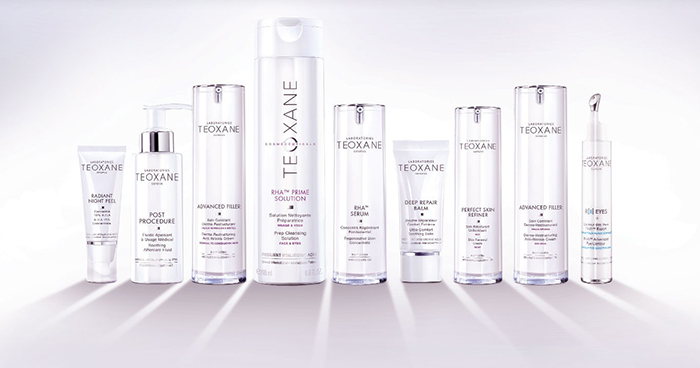 Not to be used in
Unless you have known sensitivities to any of the ingredients contained in the product range there should be no reason for not using. You should consult a skincare specialist for the range, prior to embarking on a treatment programme.
Duration of effects
The manufacturers make the following claims about the efficacy of each of their products after a certain amount of repeated use:

Advanced Filler - After 28 days:
100% - The skin is more hydrated
80% - Wrinkles are smoothed and filled
90% - The skin is filled out and plumped
100% tolerance

RHA Serum - After 14 days of use:
97% - The skin is more hydrated
94% - The complexion is brighter
91% - The skin surface is smoother

R[II] Eyes - From the first application:
10% - Reduction in puffiness
6% - lightening of dark circles
After 14 days:
20% - reduction of fine lines and wrinkles
12% - lightening of dark circles

Radiant Night Peel - After 15 days:
The complexion radiance has been improved by 7.7%.
The skin texture is refined by 6.5%.

Perfect Skin Refiner - After 15 days of use:
The skin tone is more uniform and radiant.
The pores are tightened, the skin texture is refined.
Brown spots fade

Deep Repair Balm
100% - The skin is soothed
100% - The skin is hydrated
89% - The skin regains immediately its comfort
Reported side effects
The Radiant Night Peel product is a Class I Medical Device due to the 15% Glycolic acid concentration. This should be used under direction to avoid any unwanted side effects. It should not be used for longer than 3 consecutive weeks at a time.
Costs
Prices for Teoxane Cosmeceutical products start from around £21 to approximately £80, depending on the core ingredients and application.
Do you have a question? Ask one of our experts NOW