Product Summary
Skintech Peels are a medical peel and can only be carried out by trained doctors and nurses. They are not available in the high street and should not be confused with very mild and gentle glycolic peels available from beauty therapists.
Peel Range
Easypytic - 70% Glycolic acid with mendolic acid and phytic acid.
Easypeel - 15% Trichloroacetic acid (TCA)
Unideep - 23% TCA
Onlytouch - 40% TCA
Are they superficial, medium or deep peel?
Superficial to medium depth peels.
What skin problems do they claim to treat?
The skintech peel range in combination with special creams can treat various skin conditions and disorders.
They can be most effective in reversing sun damage, treating mild acne, reducing fine lines and wrinkles, removing hyperpigmentation, liver spots and other visible signs of ageing.
They can be used on the face, the neck, the chest and the hands.
Easyphytic and Easypeel can be used on all types of skin e.g. fine skin, normal skin or greasy or thick skin. It can also be used safely and effectively on black and Asian skin.
Licenced status
Medical device.
Should be used by
Trained members of the medical profession only. It should not be used by beauty therapists.
Product range
There are a number of special creams available to be used in combination with the Skintech Peel range.
These include:
Moisturising and Anti Oxidant Cream with Vitamin E.
Depigmentation and Anti Oxidant Cream (Bleaching and Blending).
Anti-aging Cream with DHEA.
A+C+E Hypervitaminised Anti-Aging Cream.
Anti-Acne cream.
Not to be used in
Pregnant or breastfeeding women.
Peel Program
This depends on the type of peel used within the range, and also the type of problem that is being treated. Please discuss with your practitioner for more details.
Reported side effects
Erythema, and post-inflammatory pigment changes may be seen after a peel.
Costs
Again, this depends on area treated, and the practitioner doing the treatment.
Guidelines are:
1 Easyphytic peel - £60-£80
1 Easypeel - £150
1 Unideep peel - £700 +
Onlytouch - £30 - £50/pigmented area
(usually done in conjunction with easypeel to treat small areas of hyperpigmentation).
Before and After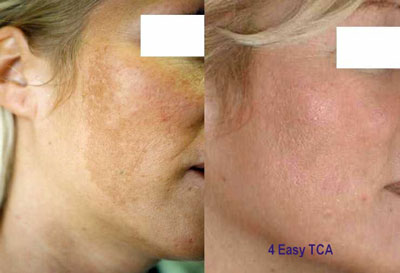 Photographs of hyperpigmentation on the face (left picture) before and after 4 Easypeels.
Image provided courtesy of Euromedical Systems Limited.
Before and after photographs are real patients, your results may differ.
Do you have a question? Ask one of our experts NOW