Please note that results vary and are dependent upon both the patient and the skill of the individual practitioner.
We are grateful to the association known as British Association of Skin Camouflage (dissolved 2023) for allowing us to include images that illustrate before and after the application of skin camouflage in a variety of cases.
Keloid to chest. Scarring remains unaltered, but the erythema becomes less noticeable.
Vascular disturbance & atrophic scar to neck. Vascular malfunction following tumour removal, patient did not want 100% cover, just sufficient to make the neck less noticeable.
Port Wine Stain to face. Decorative make up can be applied over set skin camouflage (note, complementary green primer not required for this stain)
Psoriasis on hand. Fixing spray will help keep camouflage to back of hands and fingers, but is not recommended to ventral.
Leucoderma to male chin. Fake beard stubble, using a camouflage crème, has also been applied.
Foot with hypertrophic scar. Allows person to wear open shoes or be barefoot.
Burn Injury to face. The camouflage area will appear more pale when viewed as a photographic image when the flash mechanism is activated, however this can be minimised by selecting products that do not contain titanium dioxide and/or iron oxide.
Scarring from mesh graft, required following burn injury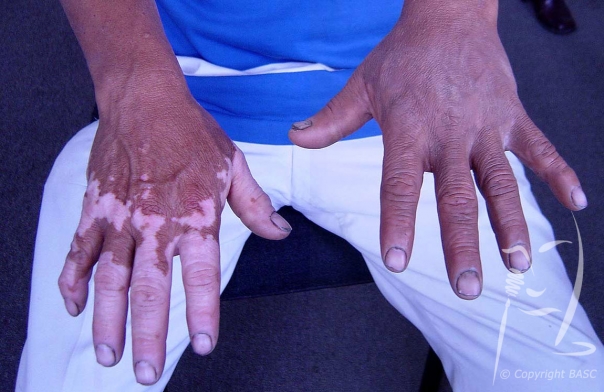 Vitiligo on both hands - left hand with camouflage applied. Copyright BASC Member 2160.
Please note all images are published with kind permission from The British Association of Skin Camouflage (dissolved 2023) , are under the BASC Copyright and cannot be copied or reproduced without their permission