Company Summary
Silimed, a Brazilian company has been developing and manufacturing cosmetic products since 1978. They now operate in over 70 countries in five continents.
They claim to have the widest range of breast implants on the market which are made of a low-bleed silicone elastomer envelope filled with a BioDesign high performance, form stable medical grade silicone gel, able to reproduce the soft tissues of the area intended.
Silimed breast implants have been distributed in the UK by Eurosurigical Ltd since 2002.
Silimed has a product replacement program for all of its silicone breast implants and offers lifetime coverage against rupture. In the event of a Silimed breast implant envelope rupturing during the lifetime of the patient, a new implant will be made available to the surgeon. Silimed also offers the replacement of its polyurethane breast implants for up to ten years post surgery in the case of capsular contracture, rotation and implant displacement (downwards or to the side).
Every Silimed breast implant has a brand and size embossed on the implant to make it easy to identify at any time. They are also the first and only company to print a unique serial number on each breast implant manufactured, thus guaranteeing complete traceability. (Most manufacturers use batch numbering).
Licensing
Silimed's manufacturing plant in Rio de Janiero, Brazil holds ISO 9001-2008 and EN 13485 certificates, and their products bear the European CE Mark. The medical grade silicone gel used in production is imported from the USA.
In March 2012, the U.S. FDA approved the Silimed round and shaped silicone gel breast implants. Silimed became the first non-USA based company to receive approval for silicone breast implants and the first and only company to receive FDA approval for shaped (or anatomical) gel breast implants.
A 5 year, multi-centre, prospective study for the FDA Pre-Market Approval for the Silimed textured and smooth breast implants was published in October 2012 in the American PRS journal. The study demonstrates for the first time the reduction of common complications in breast surgery (capsular contracture) by using Silimed textured surface implants verses smooth surface implants – from 10% over 5 years, to 3%.
Implant Types and Sizes
Silimed manufacture silicone breast implants in a range of types and sizes that includes three surface textures, with over 31 design styles, many which are unique to Silimed and over 600 sizes.
Silicone Gel Fill Breast Implants
Silimed have designed a form-stable silicone gel, the BioDesign™ gel, which is highly cross-linked and used for its resistance to shape change and damage. This type of form-stable gel is also associated with reduced occurrence of bleeds and means that the implants are less likely to fold.
BioDesign™ Silicone Breast Implants
The BioDesign™ collection of breast implants from Silimed is manufactured in a range of shapes and profiles and each model is available in four different projections.
Each model in the range is made with a flat base that is designed to adapt and mould to the chest wall, allowing it to maintain its projection. Because the base is flat and the edges tapered, the implants can be filled with more gel, which means that the implants are less likely to pucker or deform after implantation, keeping the breast shape very natural, say the manufacturers.
The BioDesign range is manufactured with Silimed`s unique BioDesign™ gel, with greater elasticity and memory, giving the breast a natural look and feel.
Another unique feature of the implants is the new D-measurement, marked with a coloured spot. This can be used as a guide by the surgeon to position the implant in the correct location in relation to the nipple and areola.
P-URE Polyurethane Foam Coated Breast Implants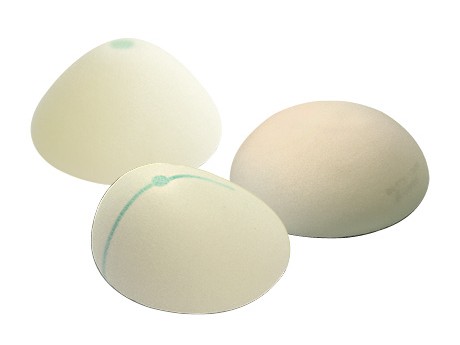 The BioDesign polyurethane foam coated breast implants have a very low rate of capsular contraction – with the manufacturers saying that only 1 - 2% of implants were found to have contracted after 15 years of implantation.
The lower rate of capsular contraction is largely attributed to the foam coated surface texture of the implants. Micro capsules form around each polyurethane strut on the surface of the implants, which neutralises the contraction vectors and this minimises the occurrence of capsular contraction. The foam surface also adheres to the surrounding tissues readily, minimising the occurrence of displacement.
These implants are available in a range of heights and projections and the BioDesign gel keeps the look and feel of the implant natural.
Smooth Surface Breast Implants
Silimed`s smooth surface silicone gel fill breast implants are available in round and teardrop shapes, with a range of high and low projections.
Textured Surface Breast Implants
Silimed`s textured surface silicone gel fill breast implants are available in round, teardrop, anatomical and short height anatomical shapes, in low, moderate, high and extra-high projections.
Clinical Papers
Polyurethane Coated Silicone Gel Breast Implants used for 18 years.
Vazquez and Pellon, Aesth Plast Surg, 2007.
Long term safety and efficacy of Polyurethane foam covered breast implants.
Handel, Aesthetic Surgery Journal, May - June 2006.
Do you have a question? Ask one of our experts NOW