Product Summary
Revanesse® Pure is a non-animal hyaluronic acid based biorejuvenation product manufactured in Canada by Prollenium and been available in the UK since 2010.
Generic name
Non-animal hyaluronic acid gel.
How is it made?
By bacterial fermentation from streptococci bacteria.
Is a skin test required before treatment?
No.
Is it temporary or permanent?
Hyaluronic acid is completely broken down within the skin over a period of months, eventually leaving no trace.
Licenced status
Medical device.
Treatment should be performed by
Should be used by trained members of the medical profession only.
Product Range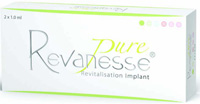 Revanesse Pure
Non-cross-linked hyaluronic acid gel.
2 x 1ml, 14mg/ml of HA. Injected into superficial dermis.
Used for skin rehydration of the face, neck, hands and décolletage using a mesotherapy technique. It is quickly absorbed into the skin, replenishing the hyaluronic acid levels lost through natural ageing, restoring elasticity, firmness and moisturising the surface to give a more healthy looking appearance.
Not to be used in
Individuals with a known hypersensitivity to hyaluronic acid.
People with acne or other inflammatory diseases. Those prone to hypertrophic scarring.
Pregnant or breast feeding women.
Duration of effect
The manufacturers recommend that treatments are carried out on a monthly basis for four consecutive months to achieve the results. A maintenance programme can then be established. As the product is not a dermal filler, they do not give longevity data on single treatments alone.
Reported side effects
Expect erythema (redness), swelling, pain, itching, discolouration or tenderness at the injection site. This typically resolves spontaneously, within one or two days after treatment, and up to a week after injection into the lips.
In rare cases, glabellar necrosis, abscess formation, granulomas and hypersensitivity have all been reported with injections of hyaluronic acid products.
Costs
This will depend on the practitioner. Prices range from £180+ per syringe but normally a discounted package will be given for the treatment programme to include multiple syringes.
Do you have a question? Ask one of our experts NOW