Product Summary
Revanesse® and Redexis® are two monophasic, non-animal hyaluronic acid based dermal filler brands manufactured in Canada by Prollenium and been available in the UK since 2010.
Generic name
Non-animal hyaluronic acid gel.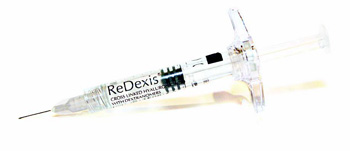 How is it made?
By bacterial fermentation from streptococci bacteria.
Is a skin test required before treatment?
No.
Is it temporary or permanent?
Hyaluronic acid is completely broken down within the skin over a period of months, eventually leaving no trace of the filler.
Dextranomers (as found in the Redexis products) break down into sugars within 2 years.
Licenced status
Medical device.
Treatment should be performed by
Should be used by trained members of the medical profession only.
Product Range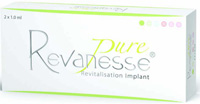 Revanesse Pure
Non-cross-linked hyaluronic acid gel. 2 x 1ml, 14mg/ml of HA. Injected into superficial dermis.
Used for skin rehydration of the face, neck, hands and décolletage using a mesotherapy technique,.
For more information, please see our Revanesse Pure page.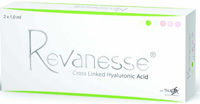 Revanesse
Cross-linked hyaluronic acid gel. 2 x 1ml, 25mg/ml of HA. Injected into the mid-dermis.
Used to fill superficial imperfections such as fine lines, forehead wrinkles, crow`s feet, peri-orbital lines and glabellar lines.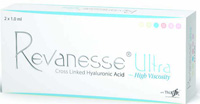 Revanesse Ultra
High viscosity (thickness), cross-linked hyaluronic acid gel. 2 x 1ml, 25mg/ml of high viscosity HA. Injected in the mid- to deep-dermis.
A thicker, longer lasting gel to treat deep and more pronounced lines and wrinkles such as nasolabial folds and oral commissures and for adding volume.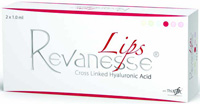 Revanesse Lips
Specially formulated hyaluroni acid gel for lips. 2 x 1ml, 25mg/ml of HA.
For lip augmentation and definition.

Redexis
Cross-linked hyaluronic acid gel with a unique ingredient - Dextranomer beads (25mg/ml) - which create a scaffolding effect for collagen growth.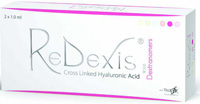 2 x 1ml, 25mg/ml of HA. Injected subcutaneously.
The positive charge of the beads enables them to attract naturally occurring, negatively charged, collagen and elastin. The collagen and elastin then bind together, providing natural augmentation which lasts even after the HA has been broken down. Redexis is ideal for treating deep wrinkles and folds. Should not be injected into lips.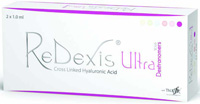 Redexis Ultra
High viscosity (thickness), cross-linked hyaluronic acid gel with an increased amount of Dextranomer beads (50 mg/ml) as compared to Redexis. 2 x 1 ml, 17mg/ml of HA.
For subcutaneous injection, designed for creating and shaping facial contours. Ideal for creating or restoring lost volume in areas such as the cheeks and the chin. Should not be injected into lips.
Not to be used in
Individuals with a known hypersensitivity to hyaluronic acid.
People with acne or other inflammatory diseases. Those prone to hypertrophic scarring.
Pregnant or breast feeding women.
Duration of effect
This depends upon the degree of correction required, your age and lifestyle as well as the correct placement of the product by a practitioner.
The manufacturers claim that the various products will last on average 6 months for Revanesse, 6 - 9 months for Revanesse Lips, 9 - 12 months for Revanesse Ultra, 18 months for Redexis and up to 42 months for Redexis Ultra.
Reported side effects
Expect erythema (redness), swelling, pain, itching, discolouration or tenderness at the injection site. This typically resolves spontaneously, within one or two days after treatment, and up to a week after injection into the lips.
In rare cases, glabellar necrosis, abscess formation, granulomas and hypersensitivity have all been reported with injections of hyaluronic acid products.
Clinical Data
The following clinical trial was conducted:
A multicentre, double-blind, randomized prospective comparative evaluation of the efficacy and safety of Revanesse® Ultra versus Restylane® in patients undergoing cutaneous correction of nasolabial folds.
Study Investigators: Dr. Melvin Elson, Dr. Sheldon Pollack, Dr. Sylvia Garnis-Jones, Dr. Lisa Kellet
One hundred forty-two (142) patients had informed consent obtained for inclusion into the study, of which 130 patients were injected with both Revanesse® Ultra and Control. Of the 130 patients receiving treatment, all patients were included in safety analysis. The number of patients that completed the study (N=118) were all included in the primary efficacy analysis. The effectiveness analysis is based on N = 118 patients for the 6 month period. The number of patients missing for followups was very limited (9%) and there was no affect on the study results or the conclusions drawn from those study results.
Effectiveness
Revanesse® Ultra met the primary effectiveness endpoint of equivalency when compared to Control using the WSRS after 6 months.
Revanesse® Ultra also met all the secondary endpoints determining that the efficacy of Revanesse® Ultra is comparable to Control using both the Investigator and Patient GAIS as well as Patient WSRS as the measurement tools.
Each of the three blinded Investigators independently rated Revanesse® Ultra in the same manner that resulted in the conclusions. Furthermore, the single blinded Investigator assessed efficacy using photographic based WSRS and GAIS, which also showed that Revanesse® Ultra is equivalent to Control at 6 months. The amount of Revanesse® Ultra injected was similar to Control.
Safety
The clinical trial established Revanesse® Ultra as being a safe device for soft tissue augmentation for the treatment of NLFs. The adverse events that were reported were not unexpected with most being mild in nature, short induration and not requiring treatment.
It is important to note that there were no reports of granulomas, erosion, necrosis, infection or hematomas during the course of the study.
Costs
This will depend on the practitioner and the type and number of syringes used from the product range. Prices range from £180 to £225 per syringe depending on the particular product.
Before and Afters
(All before and after photographs featured are real patients, your results may differ).
Female, before and after lip enhancement with 1ml Revanesse Lips.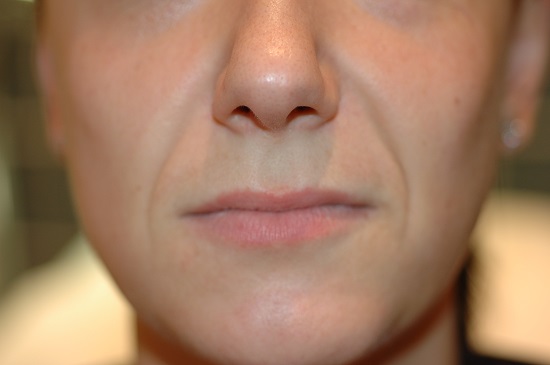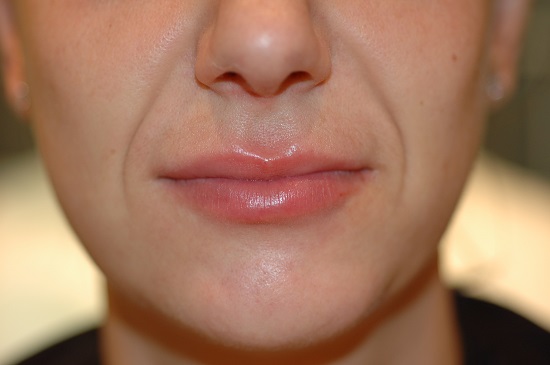 ---
Female hand rejuvenation. Before and after treatment with Redexis 1ml in each hand, 3 treatments in total.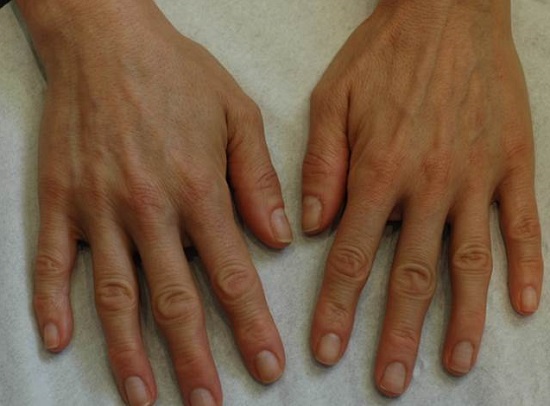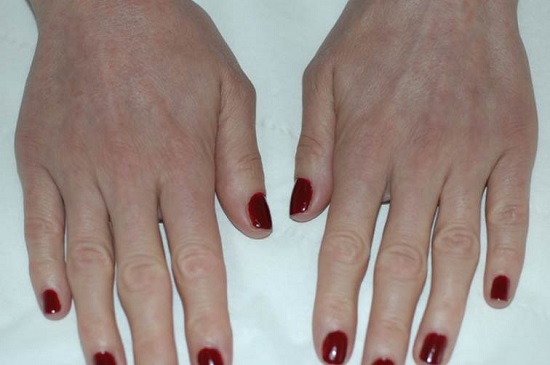 ---
Female following total facial makeover. Several treatments performed over an 18 month period with Revanesse Pure, Revanesse and Revanesse Ultra.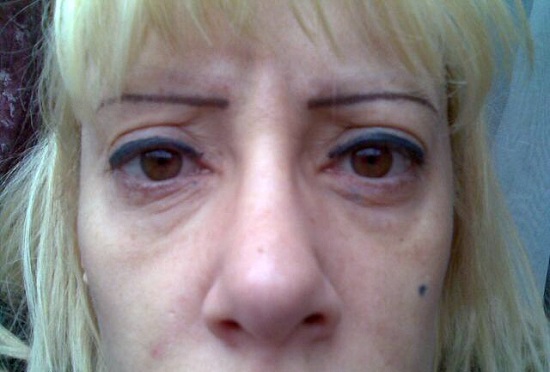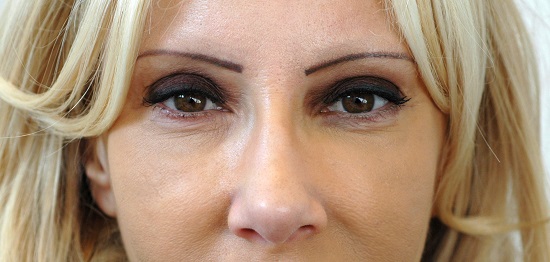 ---
Male Naso-labial lines, before and after 1ml of Revanesse Ultra.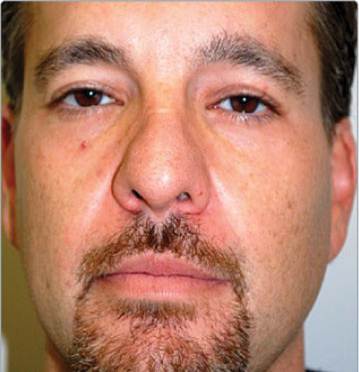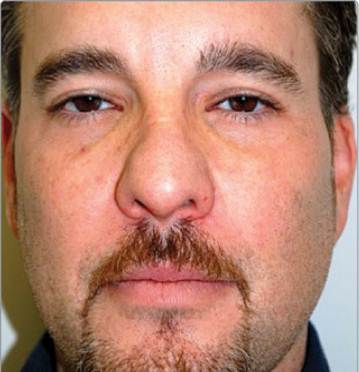 Do you have a question? Ask one of our experts NOW