Product Summary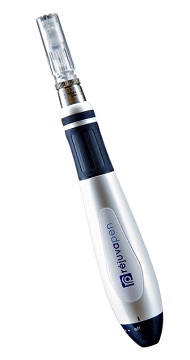 Réjuvapen® is an automated micro-needling device developed and manufactured in the United States by RefineUSA and distributed in the UK by Skin Brands Ltd. Since its original launch in the UK, the next generation device, the Réjuvapen NXT® has also been launched.
It is used to treat the signs of ageing, scarring, burns, and uneven skin tone by activating cell regeneration and enhancing the absorption of active serums and topical agents through collagen induction therapy or medical skin needling. It can be used on all skin types including dry, combination, normal, oily, mature, acne-prone, sensitive, pigmented skin, and rosacea or other problem-prone skin.
It has the only microneedle tip that has an integrated HEPA filter to block airborne blood pathogens, minimising the chance of infection.
Technical specifications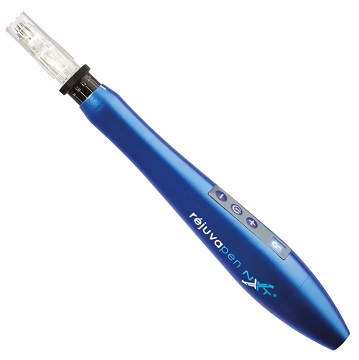 The Rejuvapen needle cartridge features 9, sterile, 33-gauge micro-needles (the Rejuvapen NXT has 12), and a unique bevelled or scallop-edged tip with an integrated medical grade HEPA filter, that prevents suction and clogging, as well as blocking airborne pathogens.
There is an adjustable depth feature for the micro-needles, for precise and bespoke treatments on differing skin types and thicknesses. Finally, the Rejuvapen has an adjustable speed dial, with 4 different settings, (the Rejuvapen NXT comes with 9 separate settings) enabling custom treatments for patients. The depth of the needles can be adjusted from 0.01 to 2.5mm.
How does it work?
The Rejuvapen works by accelerating the skin`s repair process, using micro-needles to create microscopic channels to the deeper layers of the skin, allowing for improved absorption of topical products.
Furthermore, the micro-needles stimulate the skin's natural repair process, by creating precise micro-injuries that trigger the action of keratinocytes and fibroblasts, which are responsible for the production of growth factors and new collagen. As the channels into the skin are so small, the healing process occurs without the formation of scar tissue.
License status
European CE marked medical device.
American FDA registered class I medical device in the United States.
Should be used by
The Rejuvapen should only be used by trained medical professionals (doctors, nurses etc.) or trained advanced aestheticians at a fully insured clinic.
What is it used to treat?
The Rejuvapen is an automated micro-needling pen and can be used on all areas of the face and body to treat and correct:
Fine lines and wrinkles
Stretch marks
Hyperpigmentation
Acne and chicken pox scars
Other scarring, such as surgical scars or those from trauma
Uneven skin texture
How long does it last?
Your skin will look more radiant almost immediately following treatment and improve as the skin`s natural repair process progress over the following 2 to 4 weeks, leading to further improvements in skin quality.
Depending on the area treated and the problem being addressed, 3-6 treatments will be required with a space of 4-6 weeks between sessions. Optimum results will be seen between 6-12 months after the final treatment, when following the recommended aftercare regime with Rejuvapen topical treatments. Top-up treatments are usually recommended to maintain long-term results.
Side effects & risks
The Rejuvapen has been designed so treatment can be tailored to each individual, with different depths of needle penetration available for different indications and different areas of the face and body. This makes treatment tolerable and comfortable for most people. A topical anaesthetic, or numbing cream, can be applied before the procedure to ease any discomfort experienced during treatment. You will usually be given a post-procedure skincare product or recovery kit to use after your Rejuvapen treatment.
Following the procedure there will be some minor redness, warmth and skin tightness, akin to a feeling of sunburn, that will last for 12-48 hours. The area treated will feel tender and sore to the touch, with minor swelling, but this too, should only last for a short while. If you experience any other adverse effects, or your skin remains red and tender for more than 7 days, get in touch with your practitioner as soon as possible.
Rare complications include scarring and pigmentation changes.
Not to be used in
The Rejuvapen can be used on all skin types and colours, and thanks to the different depth settings, it can be used on most parts of the body including: face, décolletage, neck, abdomen, back, hands, arms and legs. However, the treatment is not suitable for pregnant or breastfeeding women, as the treatment stimulates growth factors and regenerative nutrients that may be required for the baby.
Furthermore, treatment is not advised for those with a history of keloid scarring, scleroderma, cardiac abnormalities, collagen vascular diseases, a haemorrhagic disorder, or if you have an active bacterial, viral or fungal infection at the treatment site, such as the herpes simplex virus, commonly known as cold sores.
Let your practitioner know about any underlying medical conditions, before undergoing any cosmetic or aesthetic procedure.
Treatment regime
A session with Rejuvapen usually lasts between 30 and 60 minutes, depending on the area being treated. A topical serum will be applied to the skin which is aimed at assisting and accelerating skin regeneration. The 9 or 12 micro-needles of the Rejuvapen or Rejuvapen NXT will help the serum to penetrate the deeper layers of the skin for improved results.
You will be provided with a detailed aftercare regime, tailored to your skin. This is likely to include applying an ice pack to reduce swelling, and avoiding rubbing, massaging or scrubbing the skin, washing the treatment area in tepid water only. You should do your best to avoid any trauma to the affected area, by refraining from picking any scabs, using exfoliating face washes and avoiding exercise. An antibiotic cream may be prescribed in some cases to help prevent infection.
Most people can resume their normal skincare regime (including make-up), a few days after treatment. A sunscreen with an SPF of at least 25 should be used throughout your treatment programme and up to 7 days after the final treatment.
Cost of treatment
Prices will vary between clinics, but you can expect to pay approximately £250 per Rejuvapen treatment. It is common practice for clinics to offer a discount if a full course of 3 treatments is booked.
Clinical results
Your practitioner will be able to explain your expected results from your individual treatment plan.
Before and after pictures feature real Rejuvapen patients, individual results may vary.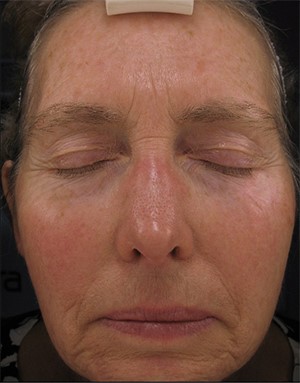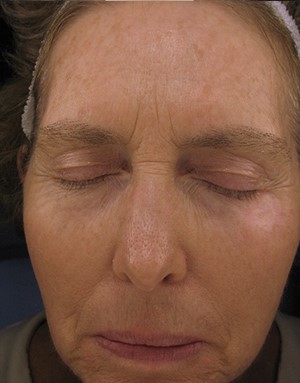 Improvement in facial fine lines and redness with Rejuvapen. Before (left), After (right).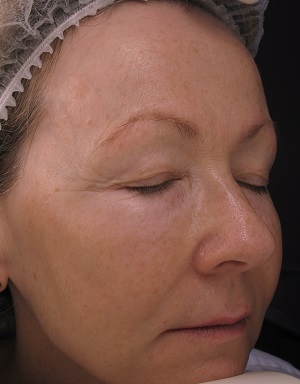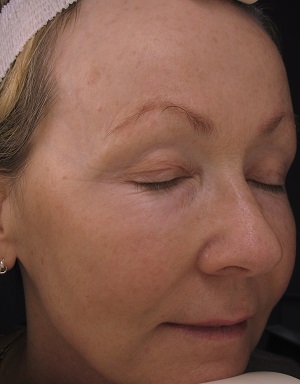 Improvement in facial fine lines and wrinkles with Rejuvapen. Before (left), After (right).
Images courtesy of MediZen Ltd
Do you have a question? Ask one of our experts NOW