Product Summary
PROSHOCK ICE™ from PromoItalia combines ICE-Lipolysis™ (cryolipolysis or fat freezing) with SHOCK-therapy™ (acoustic wave therapy), for an innovative new treatment method for body reshaping and toning, as well as reducing excess fat, and the appearance of cellulite.

It is a non-invasive procedure, requiring no anaesthesia and virtually no downtime.

It is designed to specifically target fat cells, therefore leaving surrounding tissue untouched.

The makers claim that results for both fat reduction and improvement in the appearance of cellulite, are visible within two weeks.

Multiple areas can be treated in one session, with immediate measurable results.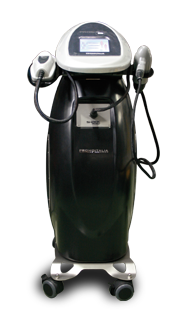 Technical Specifications
The PROSHOCK ICE has two probes:

• Freezing Probe – Targets specific areas of localised fat, and creates a vacuum so the skin maintains contact with the probe. The ice probe temperature ranges from -5°C to +5°C.

• Shock Probe – Treats skin imperfections such as cellulite using shockwave or acoustic wave technology. The shock probe pressure ranges from 100 to 500 bar; the frequency from 1 to 16 Hz; and the duration 8 msec.
How Does It Work?
The PROSHOCK ICE device works using the innovative and patented technology referred to as Ice-Shock-Lipolysis™, which combines two technologies, for a completely new treatment method.

• Ice Lipolysis – A controlled and precise cooling system that disrupts and destroys excess fat cells, by crystallisation following freezing (cryolipolysis), without affecting the surrounding tissues. The damaged cells are then metabolised and expelled naturally by the body.

• Shock Therapy – The use of sound, pressure or shock waves boosts blood circulation, improves elasticity and stimulates metabolic processes, helping to tighten tissue in the treated area, which can improve the overall appearance of cellulite.
Licence Status
European CE mark certified.
Should Be Used By
PROSHOCK ICE treatments should only be carried out by fully trained medical professionals or aestheticians that have the relevant certifications. Use the time during your consultation, to ask your practitioner any questions that concern you about the procedure.
What Is It Used To Treat?
PROSHOCK ICE is used to treat areas of small, localised, excess body fat which is resistant to diet and exercise, and for the improvement in the appearance of cellulite, as well as general body contouring and reshaping.

It is suitable for both men and women. It is most commonly used on the hips, thighs, buttocks and abdomen.

Considered to be a very versatile treatment, it can be used on almost all areas of the body, barring the chin and face. It is an alternative treatment option for those who are not suitable for liposuction, or who do not want to go down the surgical route.

It is not a weight loss solution.
How Long Does It Last?
Once the damaged fat cells are metabolised by the body, the results should be permanent and long lasting, as long as you adopt and maintain a healthy diet and regular exercise following treatment.
Side Effects & Risks
PROSHOCK ICE is classed as a non-invasive treatment method, therefore potential side effects are considered minimal, and no downtime is required.

There may be some temporary redness in the treatment area, which will disappear after a few hours, possibly lasting longer in more sensitive skin.
Not To Be Used In
Consult with your GP before going ahead with PROSHOCK ICE to ensure that there are no underlying health conditions that could affect your suitability for treatment.

As with all cosmetic procedures – invasive or non-invasive – it should be avoided by women who are pregnant or breast feeding.
Treatment Regime
The programme depends on whether you are undergoing treatment for excess fat or cellulite.

• Excess Fat – The session begins with ice lipolysis, with the low temperatures of the freezing probe triggering the destruction of the fat cells. Ice lipolysis is followed by the shock therapy treatment. The usual recommended course of treatments is six sessions, performed 7 to 14 days apart, on average every 10 days until completion.

• Cellulite – Ice lipolysis and shock therapy are alternated over a 30-minute treatment session, with the freezing probe reaching higher temperatures than in the excess fat treatment.

Measurements and photographs are usually taken before and after treatment, so your progress can be seen.
Cost of Treatments
The price for PROSHOCK ICE will vary between clinics, with an estimated cost of £600 - £800 per treated area.
Clinical Results
Immediately after the first session there should be a decrease in the circumference (centimetres) of the fatty tissue, and/or an improvement in the appearance of cellulite, i.e. a smoothing of the dimpling `orange peel`appearance of the skin. More noticeable results are visible two weeks following treatment, with optimum results showing following your recommended course of treatment.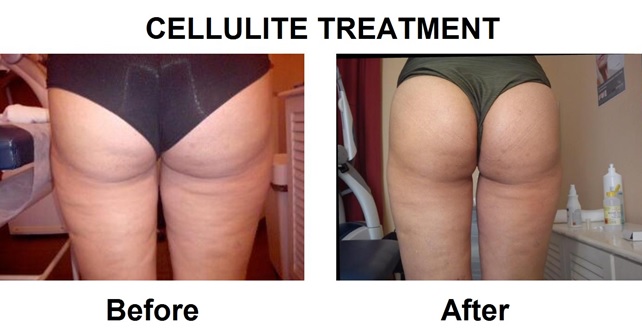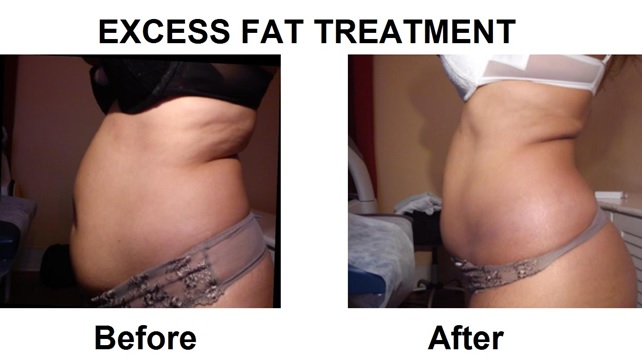 Images courtesy of Harley Street Skin Clinic
(All images are real patients, your results may differ.)
Do you have a question? Ask one of our experts NOW