The first time you visit a clinic, you will need to attend a consultation with the miraDry practitioner in order to assess your suitability for the treatment. The discussion should realistically and clearly highlight your expectations from this treatment.
The practitioner will take a medical history to make sure that there are no reasons why you are not suited to be treated with miraDry. Then you would normally be asked to sign a consent form indicating that you have understood what the treatment may do and any potential side effects.
The practitioner may also do some tests to establish the extent of your hyperhidrosis, such as a starch iodine test, which shows up the levels of sweating. This type of test is not always needed.
The procedure
Before treatment, each axilla is injected with local anaesthetic. A temporary ink template is placed on the armpit, to guide the practitioner during treatment.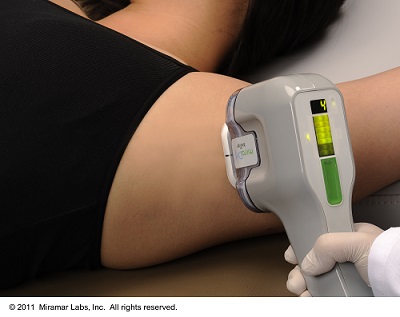 The specially designed miraDry handpiece is placed against the armpit and activated. The skin is pulled towards the treatment head using a vacuum action and the device delivers the energy. The energy is directed to the region where the sweat glands reside and at the same time, the outer layer of the skin is continuously cooled.
After the correct amount of energy has been delivered, the handpiece is moved to the next position on the armpit, using the template for guidance.
The process is controlled by a computer and it takes about 60 - 90 minutes to complete both armpits.
Following treatment, the underarm is immediately iced for 20 minutes.
Repeat treatments
Two treatments spaced at least three months apart are generally recommended, however some patients may find that one treatment provides an adequate reduction in sweat.