The use of light as a medical treatment has grown significantly in recent years. There are now a number of devices which can deliver different types of light for an ever-increasing array of new cosmetic uses.
The use of laser light for medical procedures began in the 1960s when they were first used in operations as cutting tools by some surgeons. Laser technology has developed over the last few decades to treat patients with a variety of different skin problems including the effects of sun damage, removal of body hair and tattoo inks, and recently the treatment of psoriasis and acne.
Many people decide to get tattoos, often when they are young and impetuous, and can then go on to regret the decision later in life, especially where the tattoo features a name or symbol which they later do not want to be associated with, and which can result in psychological distress. All of this can, at worst, impact on their quality of life with regards to friends and family, or the progression of their career.
The removal of tattoos using lasers has been carried out for approximately 20 years, and has become more widespread since the mid-1990s.
Professional tattoos are those where the inks are injected deep into the lower layer of the skin or dermis, where they become surrounded by a network of collagen fibres that effectively lock them away, making removal without damaging the rest of the tissues in the skin quite difficult.
Other ways of removing tattoos have relied on more extreme methods such as surgical excision and skin grafting, dermabrasion or chemical removal through salts and acid tattooing which carry significant risks of damage to the surrounding tissue, and which often result in scarring. Also, these may not remove all the tattoo pigment, thus providing disappointing results.
There has been a recent resurgence of acid tattooing using lactic acid tattooed into the unwanted tattoo; marketing messages, claiming treatment to be 'organic' or 'natural, confuse the reality which is that aggressive chemicals are injected into the skin with the aim of creating a deep chemical burn. It is claimed that unwanted tattoo pigment is rejected with the damaged tissue and that the healed result will be pigment free – this may be so but it is certainly not guaranteed.
Beware as these services often claim to be scar-free, and may be carried out by people with no experience of tattoos or tattoo removal.
---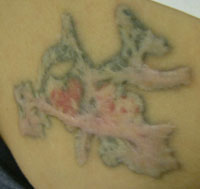 Above Image: Unusually, the entire tattoo had been treated with lactic acid tattooing (usually, only 20% of the tattoo is covered with each treatment). Silicone gel was provided to try and flatten the scarring.
Image Courtesy of The Mapperley Park Clinic.
---
The use of certain lasers, which do not damage surrounding skin and which can, with multiple treatment sessions, produce good results, have become the preferred method for tattoo removal treatment.
According to 2017 statistics from the American Society for Aesthetic Plastic Surgery (ASAPS), 15,745 tattoo removal procedures were performed in the U.S., a decrease of 42.2% on 2016 figures. They chose not to gather data for this treatment in 2018.
If you are considering Laser treatment for tattoo removal, the following information will give you a basic understanding about what's involved. It can't answer all your questions, since a lot depends on the individual patient and the practitioner. Please ask a practitioner about anything you don't understand.