Product Summary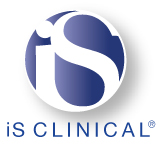 iS Clinical® is the exclusive, cosmeceutical skincare range created by INNOVATIVE SKINCARE, distributed throughout the UK and Ireland by Harper Grace International,
Their mission is to "dispel the myths" in the skincare industry, and produce clinically proven formulations and results orientated products. iS Clinical disclose all their active ingredients, as well as clinical peer-reviewed evidence in support of their products' therapeutic effects.
Using state of the art technology and pharmaceutical grade botanical ingredients, iS Clinical create skincare products to target and treat various skin complaints. The product range offers treatments for acne, hyperpigmentation, eczema, rosacea, as well as the signs of ageing.
The iSClinical products are only available through medical, cosmetic and skincare specialist clinics, including via dermatologists, plastic surgeons , cosmetic doctors, aesthetic nurses and advanced aestheticians.
What Does It Contain?
The iS Clinical product range contains a wide range of clinically proven botanical-based formulas, each specialised to a certain skin condition or symptom.
For example, their cleansing complex to treat acne prone skin contains (amongst other ingredients):
• Salix alba (white willow bark) extract – a source of salicylic acid.
• Saccharum officinarum (sugar cane) extract – a source of glycolic acid.
• Retinyl palmitate – vitamin A.
• Ascorbyl palmitate – vitamin C.
•Tocopherol acetate – vitamin E.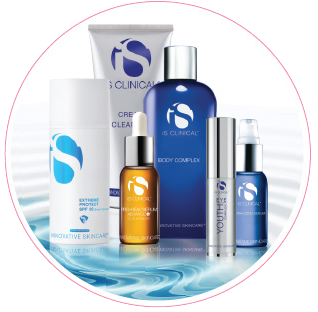 Their most popular product is Active Serum which is used to target sun damaged, acne prone and hyperpigmented skin, as well as being used as a pre-procedure protocol before other medical aesthetic treatments. Active Serum is a powerful blend of botanical acids and contains:
• Saccharum officinarum (sugar cane) extract - a source of glycolic acid.
• Vaccinium myrtillus (bilberry) extract - a source of lactic acid.
• Salix alba (white willow bark) extract - a source of salicylic acid.
• Arbutin.
• Polyporus umbellatus (mushroom) extract - a source of kojic acid.

A full list of active ingredients is available for each product via the iS Clinical website, or by speaking to a specialist stockist.
How Does It Work?
The iS Clinical products work through their active formulation that encourages the restoration of the skin through an acceleration of the natural processes of cell regeneration and exfoliation. Products are targeted to different skin complaints, containing different botanical ingredients with specific actions. (See Product Range section for more information).
What Do They Claim To Treat?
The iS Clinical product range can be used to address several skin conditions and symptoms, as both a stand-alone skincare solution, or in conjunction with other medical aesthetic treatments, as part of an overall treatment programme, including:

• Hyperpigmentation
• Acne
• Rosacea
• Dry Skin
• Erythema
• Mild Scarring
• Post Procedure Healing
• Sunburn
• Stretch Marks
• Ageing
• Inflammation
• Radiation Dermatitis
• Minor lesions and burns.
Product Range
iS Clinical has a wide skincare range, which several full skin care regimes, targeted to treat different skin complaints and symptoms. The product regimes include:
Acne Regime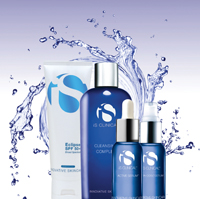 Contains products that treat infection and inflammation, whilst encouraging exfoliation.
1. Cleansing Complex – Prepares the skin for the maximum effect and absorption of other products, by opening pores, removing debris and removing blackheads and whiteheads.
2. Active Serum – Even skin tone and complexion, reducing the discolouration of skin associated with acne.
3. Hydra-Cool Serum – Hydrates skin without clogging pores, soothing inflamed and irritated skin.
4. Eclipse – Broad spectrum sun protection at SPF50+, which absorbs quickly for a non-greasy finish.
Hyperpigmentation Regime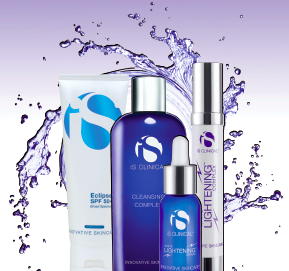 Contains products that treat an overproduction of melanin, promote exfoliation, and provide sun protection to prevent recurrence.

1. Cleansing Complex – As before.
2. White Lightening Serum – Brightens the skin, as well as reducing the appearance of fine lines and wrinkles, and the symptoms of acne.
3. White Lightening Complex – This moisturising complex reduces inflammation, inhibits the production of melanin, gently exfoliates, and provides antioxidant protection.
4. Eclipse – As Before
Rosacea Regime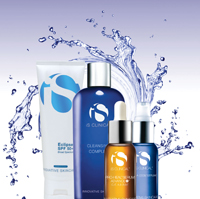 Contains products to calm the inflammation, irritation and redness that is associated with rosacea.
1. Cleansing Complex – As before.
2. Pro-Heal Serum Advance – Contains a high concentration of anti-oxidants to fight free radical damage, soothing inflammation and improving skin health.
3. Hydra Cool Serum – As before.
4. Eclipse – As before.
Ageing Regime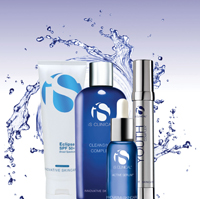 Contains products to treat the signs of ageing, by providing antioxidant protection, reducing the appearance of wrinkles, and pigmentation marks.
1. Cleansing Complex – As before.
2. Active Serum – As before.
3. Youth Complex - Anti-oxidant rich botanical acids, exfoliates and removes impurities to give the appearance of tighter and plumper skin.
4. Eclipse – As before.

There are also other products in the cosmeceutical skincare range, including cleansers, anti-ageing serums, and moisturisers to firm and hydrate. The skincare brand also has a product range specifically targeted to men`s skin.

As well as the take-home skincare products, it also has a range of professional and prescriptive facials that can be carried out by medical professionals and aestheticians following a consultation, such as the Fire and Ice Resurfacing treatment which uses two intensive treatment masques. Others include the Eye Bright treatment. Foaming Enzyme Optimising treatment and the iS Clinical Prescriptive Facials for acne, rosacea, dry skin and hyper-pigmented skin.
Furthermore, iS Clinical has several integrated skin care protocols for in-clinic use, including treatments and aftercare regimes to use in conjunction with, but not limited to:
• Non-surgical facelift
• Radio frequency
• Laser hair removal
• Micro-dermabrasion
• Laser resurfacing
Not To Be Used In
The products are suitable for all skin types. However, those product containing salicylic acid may cause redness and irritation. Additionally, an allergic reaction is possible, so it is paramount that you work with a trained skin care specialist or medical professional, before going ahead with any iS Clinical treatment.
Duration of Effects
The effects of iS Clinical will be visible within a few weeks of use, and will become improved the longer your recommended treatment regime is followed. The effects will be long lasting if the products are used on a regular basis.

Users should be aware that, although some products can improve the signs of ageing, it does not stop the natural ageing process completely. Results will vary from person to person.
Costs
Prices start at around £30 for Eclipse SPF and the Cleansing Complex, up to £50-70 for Eye and Youth Serums, and up to approximately £150 for the advanced anti-ageing treatments. The cost of the complete skin regimes is approximately £195.
Clinical Data
This is a skincare brand that prides itself on producing scientific papers which provide evidence supporting the positive effects of their active ingredients. They have conducted scientific papers that show the positive results of their Youth Complex, Active Serum, and Super Serum, which are reflected in the before and after images below taken from these studies.

A 3-month study for Active Serum showed an 82.7% improvement in pore size, a 73.1% improvement in skin texture and a 64.7% improvement in fine lines and wrinkles after 3 months of use across all ages studied. Similarly, it's use for acne, showed a 94.4% improvement in active acne and an 83.3% improvement in acne scars across the same time and use period. And finally, for hyperpigmentation, Active Serum showed a 56.8% improvement in pigment irregularities over 3 months of use.

A fibroblast induction study for Youth Complex which looked to evaluate the ability of the product to induce collagen synthesis (new collagen production) in human fibroblasts (skin cells), showed that it did in fact significantly improve collagen synthesis.
Before and After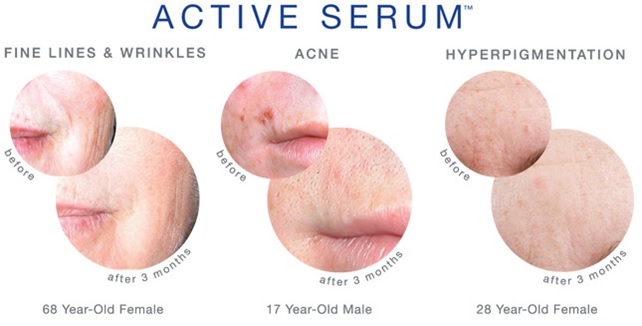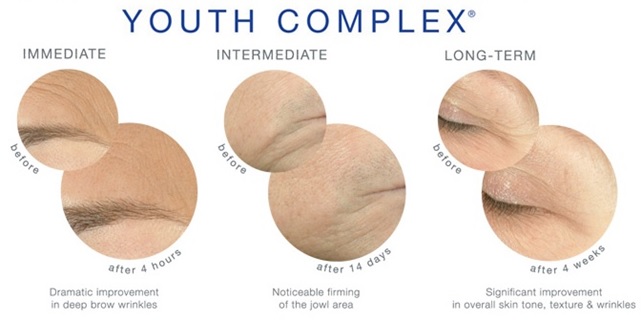 Images courtesy of Innovative Skincare
Do you have a question? Ask one of our experts NOW