With the number of cosmetic and functional concerns that can arise from misaligned teeth, it's no surprise that the demand for dental braces continues to rise. According to the National Health Service (NHS), nearly one million people in the UK initiated orthodontic treatment in 2011, and that's just the tip of the iceberg when you factor in private dental services. major health concern if they interfere with proper chewing function or dental hygiene.
Interestingly enough, dental braces are not a modern development. Humans have been trying to improve the look of their teeth for thousands of years. Archaeologists have even discovered mummified remains with teeth that were "wired" with crude metal bands.
It wasn't until the 1970s that orthodontists discovered that adhesives could be used to fix braces to the teeth, rather than wrapping wire around each tooth individually.

From this invention came the first "invisible braces" known as lingual braces, which served as an alternative for those who wanted their teeth straightened without the social stigma of visible, "train track" braces.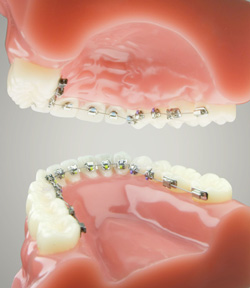 Lingual braces, which are still in use today, are fixed behind the teeth and thus obscured from view. Over the past few decades, orthodontists have refined this technique further and lingual braces still remain a popular, invisible alternative to traditional wire braces.

In the late 1980s other invisible braces, made from a translucent plastic began to hit the market. These braces were often ill-fitted, cumbersome and far more expensive than traditional wire braces. In 2000 however, a further enhanced system of invisible, removable braces called Invisalign® was first introduced to the public.

Using high-tech computer imaging graphics, Invisalign® is just as effective as conventional braces, but without most of the pain or the need for quite so constant adjustments. As a result, Invisalign® and other clear invisible aligners, such as Clearstep Braces have become a popular treatment option for both adults and children.

When it comes to orthodontics, you have a lot of options. If you're considering invisible braces, the following information will give you a basic understanding of treatment. It can't answer all of your questions, since a lot depends on the individual and the practitioner. Please ask a qualified dental practitioner about anything you don't understand.