Product Summary
The Dermatix® range includes silicone gel and silicone sheet products aimed at preventing and reducing the appearance of scarring.
The manufacturers claim that Dermatix® products offer scar management options that satisfy both clinical efficacy and patient convenience.
The Dermatix brand was successfully re-launched by Meda Pharmaceuticals Ltd when they acquired European businesses from the American company Valeant in 2008.
Product Range
Dermatix® Silicone Gel is an advanced topical silicone gel, used to help prevent scars in freshly healed wounds and also reduce prominent immature scars. It is clinically tested and proven to soften, flatten and smooth scars, and relieve the itching, pain and discomfort associated with them. It maintains the skin's moisture balance and provides elastic protection to the skin.
Dermatix® Silicone Gel is easily applied to most areas of the body, including the face, joints and other parts of the skin. It is quick drying and transparent. It is supplied in a 15g tube and can be obtained with or without a prescription. A 60g tube is also available for larger scars.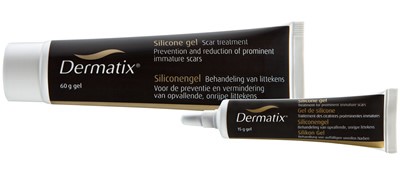 Dermatix® Silicone Sheet Clear provides a unique combination of transparency, flexibility and adhesiveness. The silicone reduces hypertrophic scars and keloids, while the transparency offers minimal visibility of the sheet. Dermatix® Silicone Sheet Clear does not require adhesive aids such as tape or netting, making it ideal for wearing on exposed body parts (e.g. face and hands). It can be washed with mild soap and water, making it easy to reuse.
Dermatix® Silicone Sheet Fabric is thin, self-adhesive and fabric backed. It is lined on one side with silicone, which sticks to the skin reducing and preventing scars. The other side is lined with silky-smooth fabric, which makes it comfortable and convenient to use under clothing. It can be washed with mild soap and water, making it reusable and easy to care for.
Available sheet sizes:
4 x 13 cm = 52 cm2 (1.5 x 5 inch)
13 x 13 cm = 169 cm2 (5 x 5 inch)
13 x 25 cm = 325 cm2 (5 x 10 inch)
20 x 30 cm = 600 cm2 (8 x 12 inch)
All Dermatix products are indicated for use on patients with larger scars or someone who has undergone a skin graft operation or suffered a burn, who will be at a higher risk of scarring
What is it used to treat?
Dermatix® is primarily targeted at visibly improving established and newly healed scars, keloid, atrophic and hypertrophic scars, including surgical scars on the face and body.
What does it contain?
Polysiloxane.
How does it work?
Dermatix® is a clear quick-drying gel that helps maintain the skin's moisture balance, whilst treating scars resulting from surgery, burns, and other injuries.
Dermatix® gel is very simple to apply and should be used at least twice a day (morning and evening).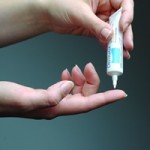 Step 1
Clean the area to be treated with mild soap and water, pat dry.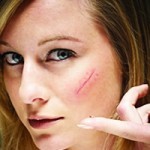 Step 2
Cut the tip of the tube. Apply a very thin coat of Dermatix Gel to the scar as soon after healing as possible, and rub it in gently.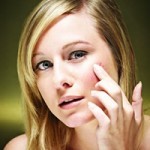 Step 3
Allow to dry for 4 – 5 minutes. If the gel has not dried, remove the excess product.
You can apply make-up over the Dermatix® to cover the scar. The recommended minimum duration of treatment is two months. Continue to use Dermatix® for as long as benefits are experienced.
For the Dermatix® Silicone Sheet the process is equally as simple.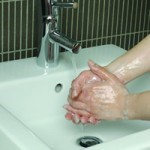 Step 1
Clean the area to be treated with mild soap and water. Pat dry.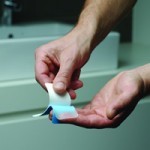 Step 2
Remove the protective layer and save it. Place Dermatix® Silicone Sheet with the "sticky side" down, directly on the scarred area. The Silicone Sheet should extend slightly beyond the area of the scar.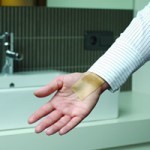 Step 3
Keep in place for at least 12 hours and up to 23 hours.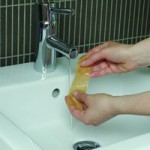 Step 4
At least once a day, wash the scarred area and both sides of the Dermatix® Silicone Sheet with mild soap and water. Rinse thoroughly and allow the Dermatix® Silicone Sheet to dry before re-applying.
Between uses, store Dermatix® Silicone Sheet using the protective layer. The recommended minimum duration of treatment is two months. Continue to use Dermatix® for as long as benefits are experienced.
Not to be used in
Dermatix® should not be applied to open or fresh wounds, (apply to clean, dry skin only). It should not be placed in contact with mucous membranes or too close to the eyes. It should also not be applied over antibiotic skin preparations or other skin treatment products.
The Dermatix® Gel may stain clothing if not completely dry.
If redness, pain or irritation occurs, discontinue use and consult your physician. For external use only.
Duration of effects
According to the manufacturers benefits from the use of Dermatix® is usually seen within 4–5 weeks of usage.
You will notice an improvement in the level of itching and discomfort of the scar, but generally a significant improvement in appearance will not be seen until a minimum of 2 months of continuous use.
Reported side effects
Very rarely Dermatix® can cause redness, pain and irritation.
Costs
Dermatix® is available with or without prescription and can be purchased directly online. A lot of people are prescribed Dermatix® on the NHS.
The Gel is available in 15g (RRP £36) and 60g (RRP £108) tubes. Prices for the sheets vary depending on size and start from an RRP of £13.
Clinical Data
Chan KY et al. Plastic Reconstructive Surgery 2005; 116: 1013 – 20
A randomised, placebo-controlled, double-blind, prospective trial of Silicone Gel for prevention of hypertrophic scar development in median sternotomy wounds was carried out. Asian patients were chosen for the study as hypertrophic scarring is more prevalent within this portion of the population. 100 wounds in 50 patients randomised equally to matching active and control gels applied to upper and lower half of each sterna wound, thus selection and assessment biases and confounders were eliminated.
WOUNDS ASSESSED USING VANCOUVER SCAR SCALE: SCORES AS BELOW

0
1
2
3
4
5
Pigmentation
Normal
Hypo-pigmentation
Hyper-pigmentation
Vascularity
Normal
Pink
Red
Purple
Pliability
Normal
Supple
Yielding
Firm
Banding (rope-like)
Contracture
Height
Flat
1 - 2mm
2 - 5mm
> 5mm
Pain
None
Occasional
Requires medication
Itchiness
None
Occasional
Requires medication
The study found that the semi-liquid form of Silicone Gel proved to be effective in preventing hypertrophic scar development in sternotomy wounds. There were no side effects found when this type of Silicone Gel was used and patient compliance was satisfactory.
Do you have a question? Ask one of our experts NOW