Product Summary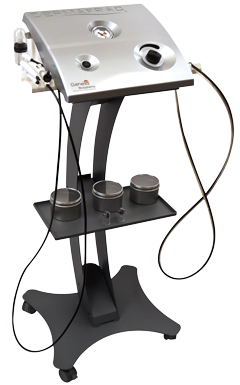 The DermaFrac system was launched on the UK market in 2011 by Eden Aesthetics Ltd and is manufactured by the American company Genesis Biosystems. It is marketed as the Micro-needling treatment, without the downtime.

The DermaFrac system combines a micro-needling treatment with the deep tissue infusion of skin serums. It is mostly pain free with no need for topical anaesthetic.
Specifically it combines Crystal Free Microdermabrasion, Micro-needling and LED Therapy.
Technical Specifications
There are three different model options of the DermaFrac, all of which are customisable for an individual's skin and their condition and can be combined and used in bespoke treatment programmes.
The three different treatment modules that are available with the DermaFrac system, have their own technical specifications.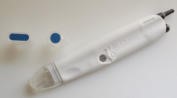 • Crystal Free Microdermabrasion – Uses a specially designed and innovative Bio-Barrier disposable tip that prevents bacterial or viral cross contamination, meaning that there is no sterilising needed between treatment. Plus, there is a range of different disposable tips that vary in abrasiveness for precise and optimal results.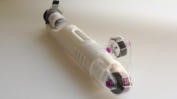 • Micro-needling – This handset delivers active ingredients via fine micro-needles to the dermal-epidermal junction of the skin, facilitated by a vacuum drawing the skin against the needles. There are two needle depth choices, so your practitioner can customise your treatment, depending on the area being treated, skin texture and skin condition.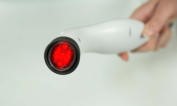 • LED Therapy – The Coolbreeze™ handset keeps the skin comfortable with a cool air flow, with LED lights available in Blue (415nm) or Red (627nm) for targeting both acne treatments and skin rejuvenation. It delivers higher energy light therapy than similar devices, reducing the treatment time.
How does it work?
How does it work?The DermaFrac system has been specifically designed to deliver topical solutions and serums to the dermal-epidermal junction through micro-channels. This has a benefit over other micro-needling systems that requires the serums to be applied to the skin before treatment and then forced into the skin with the needles.

The DermaFrac uses a precise hand piece with a vacuum that pulls the skin into contact with hundreds of micro-needles. These needles create micro-channels for the infusion of specific serums. This means that there is optimal absorption of the serum, as well as stimulating the skins healing response, which may improve collagen production and fibroblast activity to renew the skin cells.
There are four main types of DermaFrac serum, each designed to target a specific condition:

• Hydrate - Contains hyaluronic acid to trigger intense hydration of the skin. The patented HylaSponge formulation helps to deliver high levels of water to the deeper layers of the skin. This may result in the improvement of fine lines and wrinkles, as well as smoothing the skin. Hydrate also contains Vitamin A, an antioxidant that can promote new skin growth.

• Rejuvenate – Features five active ingredients that have been shown to have the potential to promote collagen and fibroblast production. This cocktail can also lead to the release of
neurotransmitters that temporarily relax muscles in the skin.

• Clarify – Contains salicylic and lactic acids which help to clear and cleanse blocked oily pores, and kills bacteria, for clear and fresh skin.

• Lighten – Has the active ingredient Kojic acid, which evens out pigmentation marks, by lightening the skin. It also has antibacterial and antifungal action.

• Growth Factor – A new addition recently introduced to deliver a Growth Factor Rejuvenation Complex (GF-R) in conjunction with a rich blend of moisturisers, peptides and vitamins to repair ageing skin and sun damage at the cellular level. There are three differing serums which carry the growth factors which can be used for treatment. GF-R is made using transformed bacteria and 100% homologous human protein (i.e. similar in nature to our own) meaning that there will be no adverse reactions from topical application.

All the serums are water based and therefore are less likely to form granulomas or lumps, which can occur with skin care products not specifically designed to be absorbed into the deeper layers of the skin.
Licence status
Genesis Biosystems, the company that produces DermaFrac is a certified ISO 13485 manufacturer of aesthetic and biomedical products. The device itself conforms to European CE mark regulation for electromagnetic cosmetic devices.
Should be use by
As with all cosmetic procedures, the Dermafrac system should only be operated by a fully trained doctor, nurse or other medical professional, or aesthetician. During your consultation, dont be afraid to ask your clinician anything you need to know about the DermaFrac procedure, or to see their relevant certifications.
What is it used to treat?
The DermaFrac system can be used to treat a wide number of skin complaints and imperfections including improving:

• The appearance of fine and wrinkles.
• UV damage to the skin.
• Pigmentation marks, including brown spots, uneven skin tone, and mild acne scarring.
• Active acne outbreaks.
• Scars and stretch marks
• Ageing skin, making it look more youthful by improving epidermal density and strength.
• General skin health and dehydration.

How long does it last?
To get the optimal results from treatment, DermaFrac is usually recommended to be carried out for 6 treatments, with one every two weeks. Then top-up treatments will need to be carried out every two months. Your practitioner will be able to perfectly customise your treatment plan in regards to your specific needs.
Side effects and risks
The micro-needles for the DermaFrac hand piece come in two sizes or lengths, 0.25mm or 0.5mm, which penetrate the skin above the capillaries (blood vessels) and nerve endings. This means that there will be no bleeding and should be no pain, and therefore no real downtime. Should you wish, you can apply your make-up straight after the procedure. There will be some redness immediately following treatment, with the microdermabrasion and micro-needling, but it will fade quite quickly. You may be provided with an aftercare programme to take home with you including appropriate skincare products.
Not to be used in
Unlike some rejuvenating treatment methods, DermaFrac is safe and suitable for all skin types, as well as addressing the most common skin complaints and conditions. Pregnant and breast feeding women should consult their general practitioner before going ahead with any aesthetic procedure, and will usually be advised to wait until after this period of time.
Treatment regime
Once you have your specified treatment plan, the first step will be microdermabrasion of the skin with the Crystal Free Tips, with an abrasion level suited to your skin.

The second step is micro-needling under the vacuum, which draws the skin against the fine needles that gently puncture the skin. The selected serum is simultaneously delivered through the micro-channels into the deeper layers of the skin.

The third and final step is the LED light therapy which uses Coolbreeze technology that keeps the skin comfortable with the flow of cool air. The light wave chosen will depend on your skin condition, and it operates at a higher energy for a quicker treatment method.

Treatment typically takes 15 minutes instead of the 60 minutes for roller micro-needling, as DermaFrac requires no topical anaesthetic.
Cost of treatments
The price of a single DermaFrac treatment starts at around £125, but most clinics will offer a package deal for a course of treatments.
Clinical Results
The before and after images are of real patients, be aware that your results may differ depending on the number of treatments and the level of skin damage.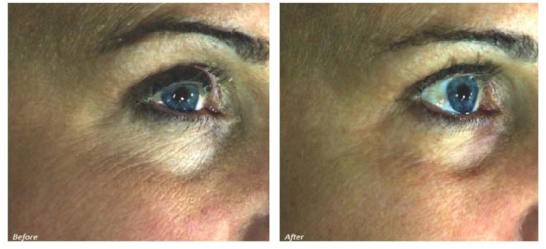 Before (left) and after (right) 6 DermaFrac treatments around the eye area.
Programme included crystal-free microdermabrasion, micro-needling with anti-ageing peptide infusion and red LED light therapy.

Before (left) and after (right) showing significant improvement in dark circles under the eyes following DermaFrac treatment.
Programme included 8 DermaFrac treatments (4 x anti-ageing and 4 x lightening). Treatment consisted of crystal-free microdermabrasion, micro-needling with anti-ageing peptide and kojic lightening infusion.



Before (left) and after (right) showing significant pigment changes.
Programme included 8 DermaFrac treatments (4 x anti-ageing and 4 x lightening). Treatment consisted of crystal-free microdermabrasion, micro-needling with anti-ageing peptide and kojic lightening infusion.

Images courtesy of Eden Aesthetics Ltd.
Do you have a question? Ask one of our experts NOW