Product Summary

DERMAFILL® is the first of a so-called '4th generation' of safer, and more effective, pure, monophasic injectable hyaluronic acid based dermal fillers which exceed the stricter standards imposed by the American Food and Drug Administration (FDA) for very low levels of BDDE in filler products.

It is specially designed to be injected into the skin to treat superficial or fine lines, up to deep wrinkles, and to add volume and address overall facial reshaping.

It is manufactured in Canada by the French company SBS-Med, who specialise in corrective dermatology and entered the UK cosmetic marketplace in the autumn of 2015. It is now quite widely available.

Generic name
Monophasic, cross-linked, non-animal derived hyaluronic acid (HA) dermal filler.
What does it contain?
Non-animal hyaluronic acid and very low levels of 1,4-Butanediol Diglycidyl Ether (BDDE) for cross-linking.
How is it made?
The product is a three-dimensional pure gel made of very strong chains of HA molecules. This is achieved utilising the innovation of their unique Time-X® technology, which results in a product that is easier to use and deliver into the skin. This technology claims to maintain the integrity and formation of the HA gel during injection, thanks to its elastic properties which resist deformation, and allow the HA gel to retain its original shape once in position within the skin. It also claims to preserve the product purity as they eliminate a large amount of the residue from the cross-linker used during manufacture, during a purification process.
Is a skin test required before treatment?
A skin test is not required before application of DERMAFILL.

Hyaluronic acid is completely broken down within the skin over a period of months, eventually leaving no trace of the filler.
Licenced status
European CE marked medical device.
Should be used by?
DERMAFILL should be administered by trained and qualified medical professionals only.
Product range
The DERMAFILL range is presented as 4 products, each specific to the concerns being treated and available in 1ml syringes.
DERMAFILL Global Xtra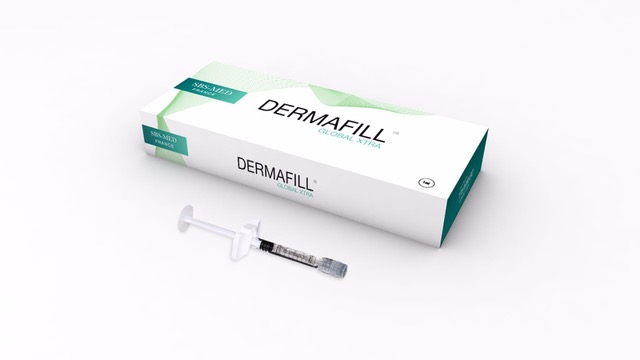 25mg/ml (BDDE +++)
For treating all types of wrinkles from fine, medium to deep, as well as redefining the lip contour. Cannot be used in the area around the eye. Product is injected at the superficial, mid to deep dermal layers for a longer lasting effect.
DERMAFILL Volume Ultra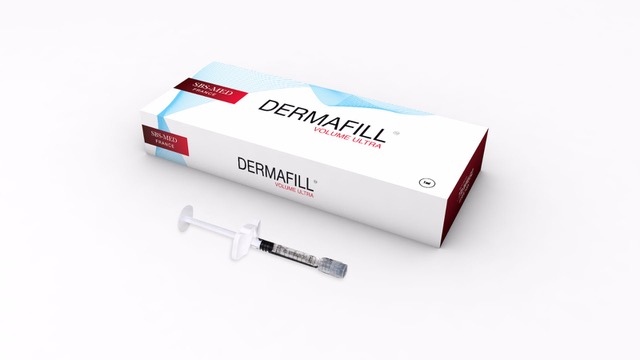 25mg/ml (BDDE +++++)
Injected deep into the dermis, it reduces and corrects deep wrinkles and restores facial volume for optimal contouring. This product uses a more strongly cross-linked HA than Global Xtra.
DERMAFIL Lips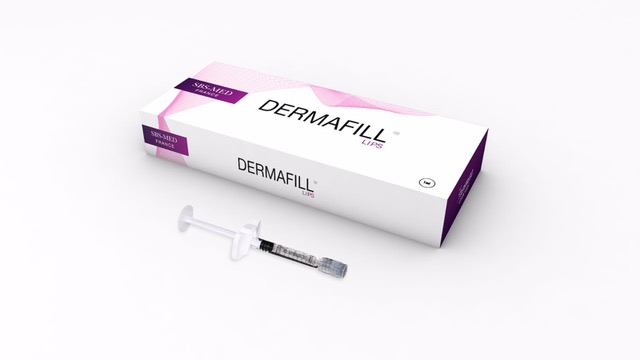 25mg/ml (BDDE ++++)
To redraw the natural curve of the lips for a long-lasting effect and contour, and enhance volume. This product is for lips only.
DERMAFILL Regen
14mg/ml (non-cross linked HA)
Ideal for treating the ageing of the face, décolletage, neck, and hands, it is applied to the superficial dermis to restore an even skin tone and for optimal hydration of the skin, using a mesotherapy application technique. Regen contains non-cross linked hyaluronic acid and can be used in combination with Global Xtra and Volume Xtra during treatment.
Not to be used in
Those with a known sensitivity to hyaluronic acid.

Pregnant and breast feeding women should not have DERMAFILL treatment.

Treatment should not be performed in areas where there is an active infection, acute or chronic skin disease or skin inflammation, such as the herpes simplex virus (cold sores).

A full medical history should be taken before embarking on treatment to rule out any other medical reasons to avoid using this product.
Duration of effect
Results from DERMAFILL are visible instantly after the treatment session. Results are optimised around ten days afterwards as any swelling subsides. Depending on the treatment area, results will last for several months before re-treatment is required.

Results from the Regen mesotherapy-style treatment are expected to last 3 to 4 weeks, and will be repeated in a programme of treatment sessions done 3 or 4 times within the year to improve the overall skin condition. Once a programme of three treatments is completed, results are expected to last for 4 months, with top-up or maintenance treatments recommended throughout the year.
Reported side effects
Expect temporary redness, pain, swelling, itching, discolouration or tenderness at the injection site. This should resolve quite quickly, within a couple of days to a week, depending on the area treated.

Local anaesthetic, numbing cream, may be applied at the injection site to reduce discomfort, as the products do not contain lidocaine. However, DERMAFILL uses fine 27½G (gauge) needles for most applications which should result in minimal pain and swelling.
Costs
The price of DERMAFILL depends on the area being treated and the number of syringes required for treatment, as well as the individual practitioner. Expect to pay, for example, from £200 for a 1ml syringe of DERMAFILL Lips.
Do you have a question? Ask one of our experts NOW