Product Summary
The Collagen P.I.N. (Percutaneous Induction Needling) device is produced by Induction Therapies in the U.S.A.

It is an automated micro-needling device used for a treatment which is referred to as Percutaneous Collagen Induction Therapy or PCIT. This is a method by which skin is introduced to a controlled wound, setting off a natural healing mechanism, and the release of growth factors, rejuvenating collagen and elastin, and reducing fine lines, wrinkles, and other signs of ageing.

The manufacturers note that Collagen P.I.N. application causes less damage to the visible outer layer of the skin than traditional dermaroller micro-needling, yielding quicker healing times and faster results.
Technical Specifications
Collagen P.I.N. uses a surgical grade needle pin arrangement in an applicator head of either 12 x 32 gauge needles or 36 x 30 gauge needles which can penetrate to depths in the skin from 0.5mm up to 3mm for the 36-pin configuration or up to 2.75mm for the 12-pin configuration, depending on the skin concern being targeted. The 12-pin configuration is mostly used for body treatments, such as addressing stretch marks and other scarring. The depth of the penetration can be altered by the practitioner using an incremental scale on the barrel of the device.
The practitioner is also able to vary the speed of the device and the insertion rate of the needles. Additionally, the device can be used both corded and cordless, for ease of use by the practitioner when addressing hard to reach areas.

How Does It Work?
Collagen P.I.N. represents an evolution of the micro-needling process, boasting three times more needles than many other devices currently on the market. By triggering a release of new collagen and elastin, it is the most technologically advanced micro-needling device used by trained professionals, state the makers.

Before Collagen P.I.N. is administered, you will have a topical anaesthetic or numbing cream applied to the area to be treated for added comfort during treatment. Next, the practitioner will attach the single-use, sterile, disposable micro-needle head to the Collagen P.I.N. A topical serum, based on hyaluronic acid, is then applied to ease the smooth movement of the micro-needling, and to deliver additional hydration to the skin. The device is then gently glided over the skin in one direction, with the needles inserting and exiting in a rhythmical fashion, until it has covered the treatment area. Depending on the concern being treated, multiple passes may be used. During the process, thousands of microscopic channels are created throughout the area. As well as creating the controlled trauma to initiate the healing response, this also permits both topical products and serums to enter the targeted areas for optimal results.
Licence Status
European CE Marked medical device.

U.S. FDA (Food & Drug Administration) registered as a Class I medical device.
Should Be Used By?
Collagen P.I.N. should only be used by trained medical professionals such as doctors and nurses or advance trained aestheticians.
What Is It Used To Treat?
Collagen P.I.N. is designed to treat a wide variety of issues, including fine lines and wrinkles, skin ageing, pigmentation, uneven skin tone, acne scars, stretch marks, large and open pores and can be used on the face, neck, arms, legs, hands, back and stomach to address such concerns.
How Long Does It Last?
As skin ages, the natural production of collagen declines. Collagen P.I.N. helps to stimulate and promote new collagen and skin cells to emerge. You can expect healthier, more vibrant signs of skin regeneration within 2 - 6 weeks. By using a prescribed daily skincare regimen at home, overall results last longer, and is recommended for the best results.
Results from one treatment should be expected to show improvement for at least a year. You may be offered a top-up or maintenance treatment programme.

Side Effects & Risks
This treatment is considered to be well tolerated, particularly as a topical anaesthetic is used, and downtime is not significant. Using the Collagen P.I.N. device results in minimal side effects, with slight bleeding, discolouration, redness and swelling (or puffiness) reported as the most common occurrences.

After treatment, you are advised to apply an ice pack to the treated areas for a few hours. Overall, healing is said to be much faster using Collagen P.I.N., with many women able to use make-up 72 hours after treatment. Specialist camouflage products and mineral make-up can be used sooner. A full recovery takes approximately 7 days, when skin will start to appear brighter and clearer.

After a Collagen P.I.N. procedure, the skin must be protected against ultraviolet (UV) rays from the sun, or sunbeds, for the first 7 -10 days after treatment, using a broad-spectrum sun cream. This is to minimise the risk of hyperpigmentation formation (dark patches).
Not To Be Used In
Collagen P.I.N. is safe for use in every skin type. Men and women that are healthy and free of skin diseases or infections around the area in question are eligible for treatment. People that suffer from acne or herpes simplex (cold sores) should not have this treatment as it can cause flare-ups in the conditions.

Pregnant women or those still breast feeding are also advised against treatment.

Precautions are recommended for people with a history of keloid (raised) scarring, eczema, psoriasis, a history of diabetes, raised moles or warts. Contraindications include collagen vascular diseases, scleroderma, rosacea, fungal infection, immune-suppression, scars that are less than 6 months old, and facial fillers in the area within the past 6 months.
Treatment Regime
A Collagen P.I.N. treatment session takes 30 minutes to an hour. In most cases, and depending on the size of the area being treated, a series of 3 - 6 treatment sessions is advisable. A practitioner can devise a treatment schedule to meet your specific goals.

Treatments are typically scheduled in 4 week intervals. For people who have deep wrinkles, stretch marks, advanced sun damage, or other types of scarring, 6 or more treatments may be necessary to achieve optimal results.
Cost Of Treatment
Treatment prices will depend on the area(s) being treated, the indication being targeted, and the number of sessions needed, overall treatment costs will range from £225 to £1,000.
Clinical Results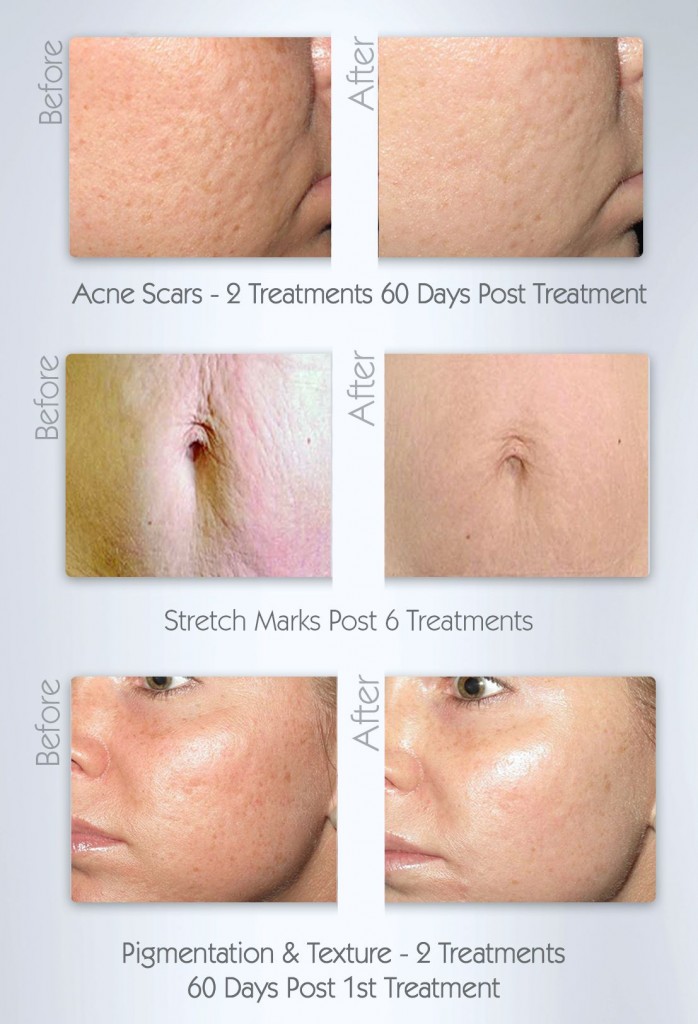 Images courtesy of Induction Therapies
(All before and after photographs are real patients, your results may differ.)

Do you have a question? Ask one of our experts NOW