Product summary

BodyTite was introduced into the UK in 2009 and is manufactured and distributed by Invasix.
BodyTite provides minimally invasive body tightening and skin contraction through a combination of blood vessel and fatty tissue coagulation, with simultaneous aspiration (sucking out of the fat), and precision heating in the skin layers to target areas of stubborn fat without damaging any of the surrounding tissue.
The treatment carried out by BodyTite is known as radiofrequency assisted liposuction (RFAL). It is also referred to as lipotightening as it has a tightening effect on the overlying skin as the fat is extracted.
This form of liposuction is designed to be more minimally invasive and thus result in less downtime for the patient.
Technical Specifications
The BodyTite system has a number of handpieces specifically designed to treat certain parts of the body, including:

BodyTite - used for treating areas of the body including the thighs and abdomen

FaceTite - a non-aspirating handpiece used for skin contracting and contouring in smaller areas, including the face, knees, breasts, lower arms and inner thighs

NeckTite - an RF (radiofrequency) and aspirating handpiece used for fat removal in smaller areas

CelluTite - a cannula that cuts the fibrous, fatty tissues (known as cellulite) that cause dimpling in the upper layers of skin, smoothing lumps and bumps
How does it work?
BodyTite uses radiofrequency assisted liposuction (known as RFAL), which deploys heat energy into the fatty tissue via an internally inserted liposuction cannula to an electrode placed outside of the skin.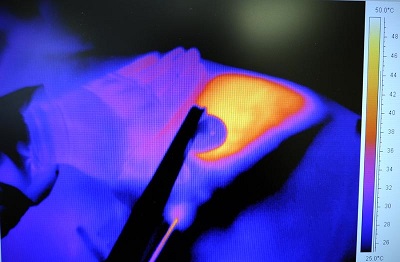 This is shown by the image of the hand piece above, the cannula at the bottom goes inside the body and the radiofrequency electrode on the top arm glides around the surface of the skin as the cannula is moved around within the fatty tissue.
The cannula is inserted through an incision which is approximately 3mm in size, which makes it more minimally invasive and speeds up recovery times.
A local anaesthetic (liquid) will also be infiltrated into the area to avoid pain during the procedure.
This focuses heat energy within the fat areas, which helps to break down and liquefy the fat cells only, and the liquefied fat is then removed by aspiration through the handpiece, with no effect on the surrounding tissue.
This aims to ensure that the end result is smooth and consistent.
An animation showing how the BodyTite™ works can also be viewed on the video below:
License status
BodyTite is CE marked in Europe.
U.S. FDA (Food & Drug Administration) approval is currently pending for its use as a medical device.
Should be used by
Trained cosmetic surgeons and doctors only.
What is it used to treat?
BodyTite and its corresponding handpieces can be used for body contouring, skin contracting and fat reduction in the any areas with excess skin and fat including: abdomen, hips, arms, thighs, neck, chin and male chest.
How long does it last?
Results from a BodyTite radiofrequency assisted liposuction procedure should be permanent. However this will only be the case if you continue to maintain a healthy diet and lifestyle following treatment. BodyTite does not prevent future weight gain.
Side effects & risks
Potential side effects from a BodyTite procedure include: uneven skin for approximately two to three weeks following treatment, some minor bruising and swelling and some minor redness and sensitivity in the area which can generally be controlled using over the counter pain medication and will typically disappear within a day or two.
You may experience soreness and tenderness immediately post-procedure, but will usually be able to leave the clinic within a few hours following treatment, provided that you have tolerated the anaesthetic well. You will normally still need assistance in getting home from a friend or family member as driving will not be possible and walking may be uncomfortable.
Not to be used in
As long as you are generally healthy and don't have any skin diseases or infections in the area treated, there are few medical reasons why you should not undergo this treatment.
However, some people will not be suitable for treatment, including pregnant and breast feeding women, people with certain diseases, including auto-immune disease, skin diseases and skin infections and a known intolerance to the local anaesthetics used during treatment.
Treatment regime
The time taken for the BodyTite procedure will depend upon the size of the area and indication being treated, but will generally take between 30 minutes and 90 minutes. Only one radiofrequency assisted liposuction procedure is usually needed, although some people (approximately 2% according to the manufacturers of the device) may require a second procedure to get the best result.
Cost of treatment
The cost of BodyTite radiofrequency assisted liposuction depends on the area(s) being treated and the clinic but will generally be between £2,500 and £5,000.
Clinical Results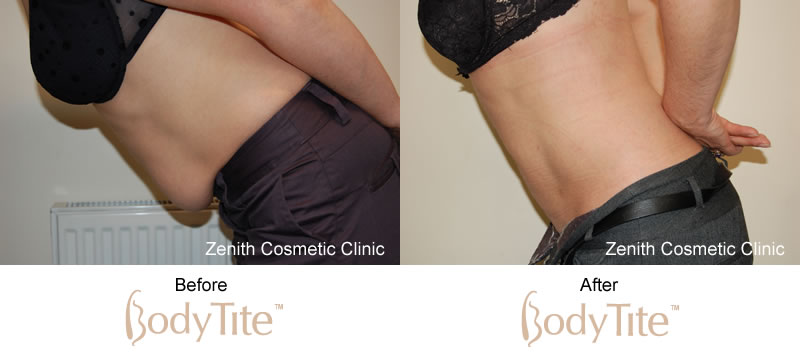 Before and after Bodytite treatment on the abdomen
---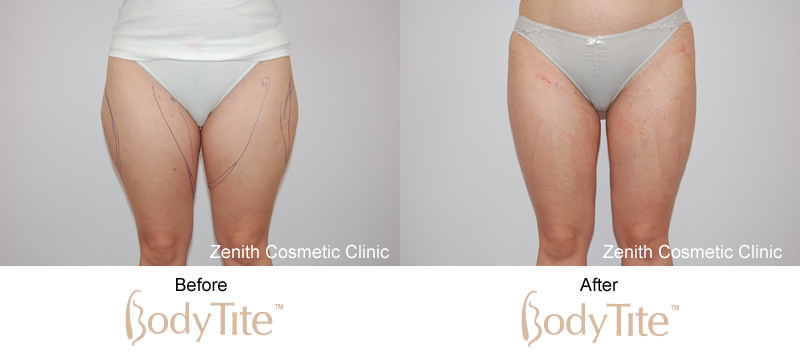 Before and after Bodytite radiofrequency assisted liposuction on the thighs
---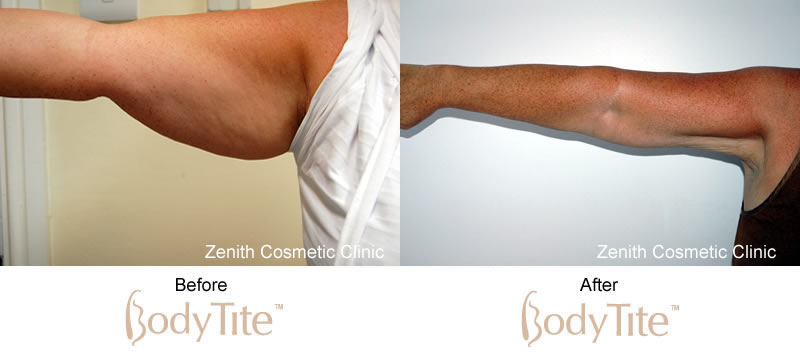 Before and after Bodytitel RFAL on the upper arms
Images provided courtesy of Zenith Cosmetic Clinic
(All before and after photographs are real patients, your results may differ).
Do you have a question? Ask one of our experts NOW