Product summary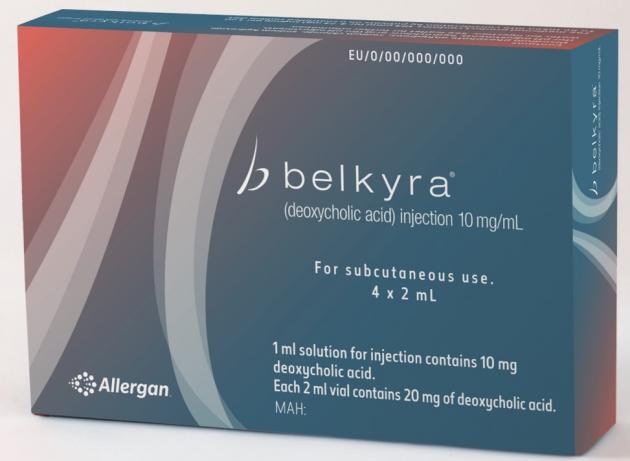 BELKYRA® is an injectable lipolytic or fat dissolving injection that has been available in the UK since 2021. It is a prescription only medicine which contains deoxycholic acid and is used to treatment submental fullness or double chins.
It is made by Allergan Aesthetics, the same manufacturers as the botulinum toxin brand, Botox®, and is marketed as BELKYRA® in the UK, Australia, Canada, and other European countries. It has been approved in the USA since April 2015 where it is marketed under the brand name KYBELLA®.
Prior to approval as a medicine in both the USA and the UK, it was known in clinical trials as ATX-101, thus many of the published clinical papers about its safety and efficacy refer to it as ATX-101.
What does it contain?
The active ingredient is 20 mg of deoxycholic acid in each 2ml vial of solution. There are 4 x 2ml vials in each per patient box of BELKYRA® which should be enough to treat a single patient over the course of several sessions.
Each vial also contains water for injection, sodium chloride, sodium hydroxide (for dissolution and pH adjustment), disodium phosphate anhydrous, and hydrochloric acid (for pH adjustment). The pH of the solution is 8.3, making it slightly alkaline and on a level with sea water.
How does it work?
The manufacturers note that deoxycholic acid is a cytolytic drug. When it is injected into the subcutaneous layer where the fat sits, its mechanism of action is to disrupt the cell membrane of the fat cells or adipocytes. By destroying the fat cell walls and making them leak out their liquid fat content, or lipids, this stimulates a wound healing response in the body, which sets about eliminating the debris through the natural metabolism and ridding the body of the excess fat which has been targeted for removal. It also stimulates the production of new collagen in the area as a reaction to the trauma with further tightens and contours the under-chin area.
During treatment, your practitioner will inject 0.2 ml (2 mg) per injection site into the subcutaneous level below the skin where the fat resides, injection points are spaced 1 cm apart under your chin and will be marked out prior to treatment. You will usually need more than one treatment session for optimal results.
To ensure comfort, the procedure is usually performed using either topical anaesthetic cream or local anaesthetic injection to numb the area being treated. A cold compress may also be applied.
License status
BELKYRA® became widely available and licensed in the UK in 2021 following several years of clinical trial amongst UK physicians.
BELKYRA® is licensed in the UK and indicated for "the treatment of moderate to severe convexity or fullness associated with submental fat in adults when the presence of submental fat has an important psychological impact for the patient".
The U.S. Food and Drug Administration in America approved the product in April 2015 under the brand name KYBELLA® for the "improvement in the appearance of moderate to severe convexity or fullness associated with submental fat in adults".
The medicine is not recommended for use in anyone under 18 years of age.
Should be used by
Appropriately trained and qualified members of the medical profession only.
Currently only available on prescription through GMC-registered doctors.
What is it used to treat?
BELKYRA is indicated for treating moderate to severe submental fat, more commonly known as a double chin.
The idea patient is either male or female and is bothered by the area under their chin, they feel it makes them look older or heavier in appearance, and despite eating well and exercising the double chin or submental fullness does not reduce.
How long does it last?
Because treatment with BELKYRA® under the clinical trial name AXT-101 and the brand name of KYBELLA® has been available for longer in the USA, the long-term results from treatment have been more thoroughly assessed. From the original clinical trials, a subset of those treated have continued to be followed-up for further study and this has demonstrated the continued effects of treatment for up to 5 years.
Reported side effects & risks
Very commonly reported side effects following treatment with BELKYRA include, redness, pain, swelling, itching, or bruising at the injection sites. Other common side effects include headache, nausea, a feeling of tightness or warmth to the skin in the area treated. Most common reactions including swelling and discomfort resolve within 10-14 days.
More severe and rare complications include nerve injuries, which can take a few months to resolve.
You can take over-the-counter pain medication to ease discomfort after each treatment session.
Not to be used in
Pregnant and breast-feeding women, or the under 18s.
Should not be used in anyone with a known sensitivity to deoxycholic acid or any of the other ingredients within the product.
Treatment cannot take place if there is an active infection in the area to be treated.
Due to the inclusion of salt within the product, patients on a controlled sodium diet may not be suitable for treatment.
Treatment regime
You will be recommended to have 2-4 treatment sessions up to a maximum of 6. These will be spaced at least 4 weeks apart.
Cost of treatment
The cost of treatment depends on the size of the area being treated and the amount of treatment sessions required. Be prepare for prices to be between £750-£1,000 per treatment session.
Clinical Results
The manufacturers have performed various randomised, double-blind, placebo-controlled trials at multi-centres across the USA, Canada, and Europe over the last decade to gather pivotal data required for medicines approval in the various territories. The U.S. and Canadian Phase III trials were known as REFINE-1 and REFINE-2 (Randomised Double-blind Evaluation of Submental Fat Reduction IN ATX-101 TrEated Patients) and enrolled more than 1,000 patients who were treated with ATX-101 or placebo, in 70 centres. Similar trials were conducted in Europe.
The various trials have demonstrated results which show that 68.2% of subjects treated with KYBELLA experienced a ≥1-grade improvement with the use of the product compared to 20.5% of placebo-treated subjects; this was based upon validated physician and patient measurements. 16% of patients experienced a ≥2- grade improvement, compared to 2% of patients who responded to placebo. Similarly, KYBELLA treatment resulted in high patient satisfaction – 79% of patients reported satisfaction with their appearance in association with their face and chin. Patients also reported improvement in the visual and emotional impact of submental fat when asked how happy, bothered, self-conscious, embarrassed, old, and overweight they felt following treatment in relation to the amount of their submental fat.
Clinical papers
Improvements in Submental Contour Up to 3 Years After ATX-101: Efficacy and Safety Follow-Up of the Phase 3 REFINE Trials.
Humphrey S, Cohen JL, Bhatia AC, Green LJ, Green JB, Bowen B.
Aesthet Surg J. 2021 Feb 22:sjab100.
Uncommon Adverse Effects of Deoxycholic Acid Injection for Submental Fullness: Beyond the Clinical Trials.
Metzger KC, Crowley EL, Kadlubowska D, Gooderham MJ.
J Cutan Med Surg. 2020 Nov/Dec;24(6):619-624. Epub 2020 Aug 5.
Deoxycholic acid in the submental fat reduction: A review of properties, adverse effects, and complications.
Farina GA, Cherubini K, de Figueiredo MAZ, Salum FG.
J Cosmet Dermatol. 2020 Oct;19(10):2497-2504. Epub 2020 Jul 29.
Efficacy and safety of ATX-101 as a treatment for submental fullness: A retrospective analysis of two aesthetic practices.
Zarbafian M, Karavan M, Greene R, Fabi SG.
J Cosmet Dermatol. 2020 Jun;19(6):1328-1332. Epub 2019 Sep 25.
ATX-101 (Deoxycholic Acid Injection) Leads to Clinically Meaningful Improvement in Submental Fat: Final Data From CONTOUR.
Behr K, Kavali CM, Munavalli G, Teller CF, Yoelin S, Breshears L, Sangha S.
Dermatol Surg. 2020 May;46(5):639-645.
Real-World Experience With 100 Consecutive Patients Undergoing Neck Contouring With ATX-101 (Deoxycholic Acid): An Updated Report With A 2-Year Analysis.
Shridharani SM.
Dermatol Surg. 2019 Oct;45(10):1285-1293.
ATX-101 (Deoxycholic Acid Injection) for Reduction of Submental Fat: Results From a 12-Month Open-Label Study.
Beer K, Weinkle SH, Cox SE, Rubin MG, Shamban A, Somogyif C.
J Drugs Dermatol. 2019 Sep 1;18(9):870-877.
The Use of Deoxycholic Acid for the Clinical Reduction of Excess Submental Fat in Indian Patients.
Shome D, Khare S, Kapoor R.
J Drugs Dermatol. 2019 Mar 1;18(3):266-272.
Efficacy and Safety of ATX-101 by Treatment Session: Pooled Analysis of Data From the Phase 3 REFINE Trials.
Dayan SH, Schlessinger J, Beer K, Donofrio LM, Jones DH, Humphrey S, Carruthers J, Lizzul PF, Gross TM, Beddingfield FC 3rd, Somogyi C.
Aesthet Surg J. 2018 Aug 16;38(9):998-1010.
ATX-101 (Deoxycholic Acid Injection) Treatment in Men: Insights From Our Clinical Experience.
Shridharani SM, Behr KL.
Dermatol Surg. 2017 Nov;43 Suppl 2:S225-S230.
The development, evidence, and current use of ATX-101 for the treatment of submental fat.
Georgesen C, Lipner SR.
J Cosmet Dermatol. 2017 Jun;16(2):174-179. Epub 2017 Apr 21.
Prevention and Management of Injection-Related Adverse Effects in Facial Aesthetics: Considerations for ATX-101 (Deoxycholic Acid Injection) Treatment.
Fagien S, McChesney P, Subramanian M, Jones DH.
Dermatol Surg. 2016 Nov;42 Suppl 1:S300-S304.
Management of Patient Experience With ATX-101 (Deoxycholic Acid Injection) for Reduction of Submental Fat.
Dover JS, Kenkel JM, Carruthers A, Lizzul PF, Gross TM, Subramanian M, Beddingfield FC 3rd.
Dermatol Surg. 2016 Nov;42 Suppl 1:S288-S299.
Overview of ATX-101 (Deoxycholic Acid Injection): A Nonsurgical Approach for Reduction of Submental Fat.
Dayan SH, Humphrey S, Jones DH, Lizzul PF, Gross TM, Stauffer K, Beddingfield FC 3rd.
Dermatol Surg. 2016 Nov;42 Suppl 1:S263-S270.
REFINE-1, a Multicenter, Randomized, Double-Blind, Placebo-Controlled, Phase 3 Trial With ATX-101, an Injectable Drug for Submental Fat Reduction.
Jones DH, Carruthers J, Joseph JH, Callender VD, Walker P, Lee DR, Subramanian M, Lizzul PF, Gross TM, Beddingfield FC 3rd.
Dermatol Surg. 2016 Jan;42(1):38-49.
[The use of deoxycholic acid (ATX-101) in aesthetic medicine: A promising treatment].
Hersant B, Calmon A, Meningaud JP.
Rev Stomatol Chir Maxillofac Chir Orale. 2015 Dec;116(6):350-2. doi: 10.1016/j.revsto.2015.09.003. Epub 2015 Dec 1.
Results from a pooled analysis of two European, randomized, placebo-controlled, phase 3 studies of ATX-101 for the pharmacologic reduction of excess submental fat.
McDiarmid J, Ruiz JB, Lee D, Lippert S, Hartisch C, Havlickova B.
Aesthetic Plast Surg. 2014 Oct;38(5):849-60. Epub 2014 Jul 2.
Efficacy, patient-reported outcomes and safety profile of ATX-101 (deoxycholic acid), an injectable drug for the reduction of unwanted submental fat: results from a phase III, randomized, placebo-controlled study.
Ascher B, Hoffmann K, Walker P, Lippert S, Wollina U, Havlickova B.
J Eur Acad Dermatol Venereol. 2014 Dec;28(12):1707-15. Epub 2014 Mar 8.
Reduction of unwanted submental fat with ATX-101 (deoxycholic acid), an adipocytolytic injectable treatment: results from a phase III, randomized, placebo-controlled study.
Rzany B, Griffiths T, Walker P, Lippert S, McDiarmid J, Havlickova B.
Br J Dermatol. 2014 Feb;170(2):445-53.
Do you have a question? Ask one of our experts NOW