Product Summary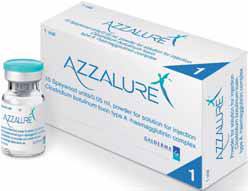 Azzalure®, botulinum toxin type A, has been available in the U.K. since the early 1990s as the brand name Dysport®, which has licences for various indications in 67 countries worldwide, including the United Kingdom and many European markets.
It gained approval for cosmetic use in the UK in early 2009 and is marketed for this indication, with dosing specific to treat glabellar (frown) lines, under the brand name Azzalure®.
It is manufactured by the French company Ipsen and commercialised by Galderma.
Generic name
Clostridium botulinum toxin (type) A haemagglutinin neurotoxin complex. (125 Speywood units per vial).
How is it manufactured?
Azzalure® is made from purified type - A neurotoxin produced by the bacteria Clostridium botulinum.
How does it work?
It temporarily prevents the release of acetycholine from sympathetic nerve terminals.
Licenced status
Prescription only medicine
Who can administer the drug?
It should be used by trained members of the medical profession only.
Licenced UK indications
In March 2009, Azzalure® was granted a licence in the UK from the Medicines and Healthcare products Regulatory Agency (MHRA) for the "temporary improvement in the appearance of moderate to severe glabellar lines (vertical "frown" lines between the eyebrows) in adult women and men aged 65 and younger, when the severity of these lines has a psychological impact for the patient" .
The approval was based on several clinical trials involving more than 2,600 patients.
It was later approved for treating lateral canthal lines (crow'`'`'`'`'`'`'`'`'`'`'`'`'`'`'`'s feet lines) seen at maximum smile.
Who should not be treated?
Individuals with a known hypersensitivity to any component of the formulation.
Patients who have generalised disorders of muscle activity (e.g. myasthenia gravis).
Patients where aminoglycoside antibiotics or spectinomycin are already being used or are likely to be used.
Patients who have bleeding disorders of any type.
Pregnant or lactating women.
Not recommended by the manufacturer for use in individuals under 18 years of age.
Treatment interval should not be more frequent than every three months as this can increase the risk of antibody formation.
Reported side effects associated with cosmetic use include
Bruising, swelling, irritation or bleeding at the site of injection, headache, and rarely eyelid ptosis or diplopia, and brow droop.
Clinical data
During the clinical development of Azzalure®, more than 2,600 patients were included in the different clinical trials.
In clinical studies, 1907 patients with moderate to severe glabellar lines have been treated at the recommended dose of 50 Speywood Units. Of these, 305 were treated with 50 units in two pivotal Phase III double-blind placebo-controlled studies and 1200 treated with 50 units in a long-term open-label repeated dose Phase III study. The remaining patients were treated in supportive and dose-ranging studies.
The median time to onset of response was 2 to 3 days following treatment, with the maximum effect observed at day thirty.
In both pivotal placebo-controlled phase III studies, Azzalure® injections significantly reduced the severity of glabellar lines for up to 4 months. The effect was still significant after 5 months in one of the two pivotal studies.
Costs
Most clinics and practitioners charge by area of the face treated. These areas are usually defined as crow's feet, forehead lines, and glabellar lines (frown lines between the eyes).
Azzalure® is a registered trademark of Galderma.
Do you have a question? Ask one of our experts NOW