Product summary
AQUALYX™ is an injectable treatment of 12alfa-dihydroxy-5beta-24-oico cholanic acid sodium salts, which is a modified compound of cholanic acid. It is not a simple solution of deoxycholate. It is being marketed for 'Aqualysis' or 'Aquaplasty' treatment as a means of body contouring. This is a form of injection lipolysis, lipotherapy or intralipotherapy.

It was developed by Professor Pasquale Motolese, president of the Italian Society of Aesthetics and Medicine and first introduced in 2009. It is sometimes referred to as 'Motolese`s Solution'.
AQUALYX is manufactured by the Italian firm Marllor and was first launched in the UK in 2013. It is distributed in the UK by Healthxchange Pharmacy.
AQUALYX was developed to treat localised pockets of fat underneath the surface of the skin.
It can be used to treat fat pockets on the back, chin, stomach, underneath the buttocks, hips, thighs and knees. It can also be used to treat pseudo-gynaecomastia, the development of fatty tissue around the nipple, resulting in a "breast"-like appearance in men, (due to weight gain rather than the growth of actual breast tissue as seen in genuine male gynaecomastia).
Clinical data shows that the application of AQUALYX is effective and safe, leading to an increasingly contoured appearance.
What is AQUALYX?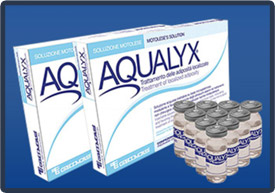 AQUALYX is an aqueous compound solution, with slow-release sugar that reduces the biological half-life of the solution, minimising side effects.
The ingredients are a polymer from 3, 6-Anhydro-L-Galactose and D-Galactose (0.5%), buffer systems (4.2%), sodium salt of (3α, 5α, 12α) - 3, 12-dihydroxy-5-cholan-24-acid (7.5%), water for injection purposes (87%) and sodium chloride (0.8%).
The buffer system within AQUALYX ensures that the 12alfa-dihydroxy-5beta-24oico cholanic acid sodium salt is delivered to the target area.
Deoxycholic acid has been used in various fields of human medicine since its discovery. Present also in the human body, deoxycholic acid is used in the emulsification of fats for the absorption in the intestine.
How does it work?
The solution is injected into the treatment area whereby the 12alfa-dihydroxy-5beta-24-oico cholanic acid sodium salt of AQUALYX alters the surface tension of the fat cell membrane and increases the permeability of the membrane. An ultrasound device is then applied over the surface of the skin in the targeted area and this causes the movement of liquids both inside and outside the fat cells. The fat cells start to balloon and break up, leading to the drainage of micro droplets of fatty liquid into the body, which is then metabolised through the lymphatic system and excreted.
What happens during treatment?
One AQUALYX treatment typically consists of two injection sites. A local anaesthetic, lidocaine, will usually be administered before the treatment commences. The practitioner may prefer however to add the lidocaine anaesthetic to the AQUALYX solution so that the two are injected together. Either method should minimise discomfort during the procedure.
The practitioner will use an ultrasound device in conjunction with the AQUALYX injections to assist in the dissipation of the fat cells.
Treatment regime
The time taken for a treatment session will depend upon the size of the area and indication being treated.
Treatment can take between 30 - 60 minutes per treatment and you will typically require 2 - 8 treatments, 4 weeks apart. Some people may see significant results after 1 or 2 sessions.
Treatment for fat pockets underneath the neck and chin, for example, may require 1 - 3 treatments of 2 - 3 injections, while treatment for fat pockets on the hips and thighs may require 8 treatments.
License status
Medical Device. European CE Mark approved in December 2012. The CE registration for AQUALYX is granted for use of the solution in a two-step treatment with an external ultrasound device.
Should be used by
AQUALYX should only be used by fully trained medical professionals such as doctors and nurses.
What is it used to treat?
AQUALYX can be used to treat stubborn fat pockets in a number of areas, including the hips, thighs and knees, the area underneath the buttocks, the stomach and back and the chin and the area underneath the chin.
It is used to treat pockets of fat that are difficult to remove through diet and exercise alone. Aqualtx is not a weight loss solution.
How long does it last?
The results of an AQUALYX treatment are permanent under the condition of maintaining a constant weight measurement (i.e. assuming you don`t gain weight). Once the freed fatty acids have been processed through the body's lymphatic system, they don't reappear.
However, the procedure is only permanent if you follow a healthy diet and exercise frequently following treatment. If you regain weight, it is likely that the fat pockets will reappear. If a healthy lifestyle is maintained, the results should be permanent.
Side effects & risks
People treated with AQUALYX will typically experience minimal side effects when compared to more invasive procedures, such as liposuction.
Side effects include some redness, swelling and tenderness in the treated area.
Some people may experience some light bruising, but this and any other side effects will usually resolve within a few days. You may need to take over the counter painkillers to control any pain-related side effects.
The manufacturers report that to date no major side effects of AQUALYX use have been reported to them.
Not to be used in
As long as you are generally healthy and don't have any skin diseases or infections in the area treated, there are few medical reasons why you should not undergo this treatment.
However, AQUALYX is not recommended for women who are pregnant or breast feeding. It is also not recommended for those people who have been diagnosed with lipodystrophy or any pathological conditions.
It should only be used in people aged 18 - 60.
Cost of treatment
The cost of treatment depends on the area(s) being treated and the indication and can range from approximately £395 - £495 per session. A smaller area, such as under the chin, may be priced at around £250.
Clinical Results
Before and After images are pending
(All before and after photographs are real patients, your results may differ).
Clinical papers
Cavitational adipocytolysis with a micro-gelatinous injectable for subcutaneous adipose tissue volume reduction: ex-vivo histological findings
Giovanni Salti MD, Pasquale Motolese MD, Professor Formest of the University of Ferrara, Italy
The European Journal of Aesthetic Medicine and Dermatology, 2012;2(2):94-97
Intralipotherapy patient satisfaction evaluation study (IPSES)
Hernan Pinto, Graciela Melamed, Luca Fioravanti at the Thermalift Center, Paris
The European Journal of Aesthetic Medicine and Dermatology, 2012;2(1):29-34
Non-surgical reduction of buffalo hump deformity, case report and literature review
Raffaele Rauso MD
The European Journal of Aesthetic Medicine and Dermatology, 2011;1(1):29-
Do you have a question? Ask one of our experts NOW