Product Summary
Launched into the UK professional skincare market in 2016, AlumierMD aims to help everyone attain the clear and beautiful skin that they desire.


A team of experienced PhD biochemists, physicians and skin care specialists, with a combined experience of over 100 years, have created effective formulations containing the correct percentages of the highest-grade active ingredients, as proven by clinical studies. Products can be used on all Fitzpatrick skin types (I-IV), to tackle a multitude of skin concerns, providing you with progressively more youthful and glowing skin.

The brand name is based on the word 'illuminate' meaning 'to make clear or bright'.

Their range includes cleansers, moisturisers, antioxidant serums, exfoliators, eye creams, sunscreens, a neck and décolleté cream and chemical peels; products being for both in-clinic and home use.

AlumierMD is proud to be an eco-friendly skincare brand. All their packaging is recyclable, and no products are covered in cellophane. Their exfoliating agents are biodegradable, and all ingredients are sustainable. Furthermore, none of their products are tested on animals.

What Does It Contain?
All of AlumierMD`s products contain clinically-proven ingredients at optimal concentrations, including encapsulated retinol, hinokitiol, L-ascorbic acid (vitamin C), sea whip, oyster phoenix mushroom, oligopeptide-10, encapsulated salicylic acid, matrixyl synthe'6, glutathione, gluconolactone and haloxyl.

They do not add any extras into their products; stating that if it doesn`t have a proven therapeutic effect, it doesn`t go in. Furthermore, they are kinder to the skin, as they contain no artificial scents or perfumes. The products also do not contain chemical preservatives such as parabens.
How Does it Work?
AlumierMD recognise that everyone`s skin is different. A product that may work wonders for one person, may have less than impressive effects for another, depending on skin type and condition. Therefore, there is no one-size-fits-all anti-ageing formula that will bring radiance and smoothness to everyone. Specially trained AlumierMD stockists will customise a skincare regime for you to achieve your optimal results using the correct regime of ingredients for a daily (morning and evening) skincare regime.
What Do They Claim To Treat?
The AlumierMD product range claims to target and treat a variety of skin care concerns, including:

- Reducing the signs of ageing.
- Sun damage.
- Rosacea.
- Hyperpigmentation (dark patches on the skin).
- Acne and related issues, including large pores and oily skin.
- Dry and uneven skin.

Product Range
AlumierMD products are only available through approved skincare specialists, medical professionals and aestheticians. It is important that you undergo a consultation with your trained specialist, so they can determine which products are best for your skin.

Their range includes antioxidants, moisturisers, cleansers, exfoliators, serums, eye and neck creams, sunscreens, and in-clinic chemical peels.

Specific products in the range include:

Vitamin Rich Smoother (C&E), HydraLight Moisturizer, HydraDew Moisturizer, EvenTone Brightening Serum, AluminEye, Retinol Eye Gel, Calm-R, Acne Balancing Serum, HydraBoost Cream Cleanser, SensiCalm Cleanser, Acne Clarifying Cleanser, Purifying Gel Cleanser, Bright & Clear Solution, Lotus Scrub, AHA Renewal Serum, Enzymatic Peel, Retinol Resurfacing Serum 0.25, Retinol Resurfacing Serum 0.5, Retinol Resurfacing Serum 1.0, HydraCalm Moisturizer, HydraSmooth Moisturizer, Ultimate Boost Serum, Intellibright Complex, Matticlear, Neck and Décolleté Firming Cream, Moisture Matte Broad Spectrum SPF 40 (Ivory), Moisture Matte Broad Spectrum SPF 40 (Sand), Moisture Matte Broad Spectrum SPF 40 (Amber), Clear Shield Broad Spectrum SPF 42, Sheer Hydration SPF 40 (Untinted) and Sheer Hydration SPF 40 (Tint).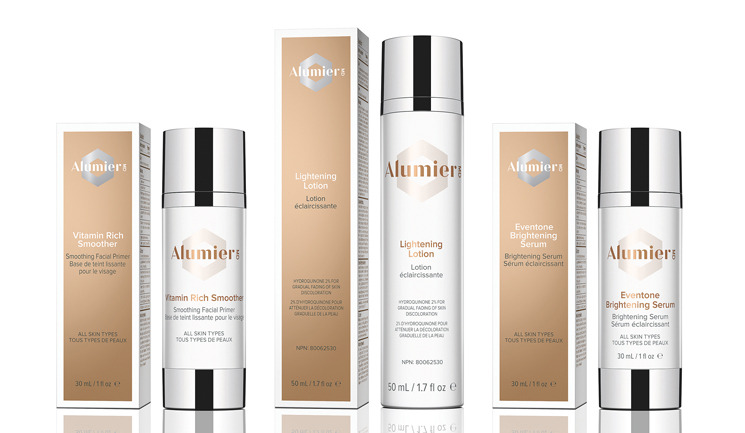 Not To Be Used In
The AlumierMD range can be used on all Fitzpatrick skin types (I-IV).

Those who are pregnant or breastfeeding, or those with any underlying medical conditions, should consult with their general practitioner (GP) before undergoing any treatment from AlumierMD.
Duration Of Effects
You will notice an improvement in your skin after a few weeks of following your specially designed skincare regime. The duration of the effects will last for as long as the products are used, but it is important to note, that although some reduce the signs of ageing, they do not stop the ageing process.

A single chemical peel can provide an immediate effect to brighten skin; however, for optimal and more significant results when treating complexion concerns, including fine lines, skin texture and acne, it is recommended to have multiple peels, as advised by your specialist. Visible results with significant improvement should be seen after approximately eight weeks.
Reported Side Effects
Side effects and reactions are rare with AlumierMD products, so you are advised to contact your skincare specialist if you experience any unexpected reaction during use.

You may experience mild redness, irritation and peeling when using the retinol based products (Retinol Resurfacing Serum 0.25. 0.5 & 1.0). It is recommended to acclimatise the skin to this ingredient, by starting with a low percentage retinol product first, and increasing from every couple of days to daily use. The retinol based products in AlumierMD use a microencapsulated technology which is designed to offer a slow release of the retinol into the skin to minimise any irritation, but preconditioning is still advised, especially for the 1.0 concentration.
Costs
The cost of AlumierMD in-clinic peels start at around £70.

Home use skincare products, available from specialist cosmetic clinic stockists have prices ranging from £30 to £75.
Clinical Data
An independent clinical study has shown the effects of AlumierMD home skincare products on adult acne. Following 56 days of home treatment, where only their products were used, the following results were recorded:

– 82% agreed that AlumierMD treatment penetrated and cleaned pores.
– 76% reported softer and smoother skin.
– 71% noticed a reduction in excess shine and oil.
– 65% felt their skin tone was more even and acne blemishes were reduced.

56% of trial participants rated the tested products as a performing anti-acne skincare line.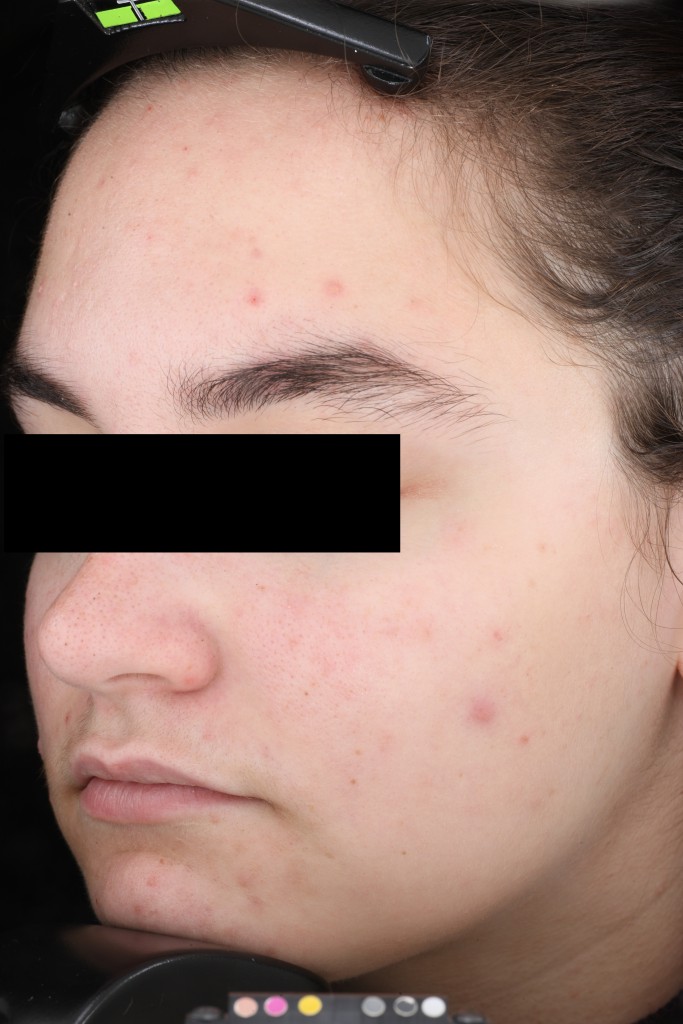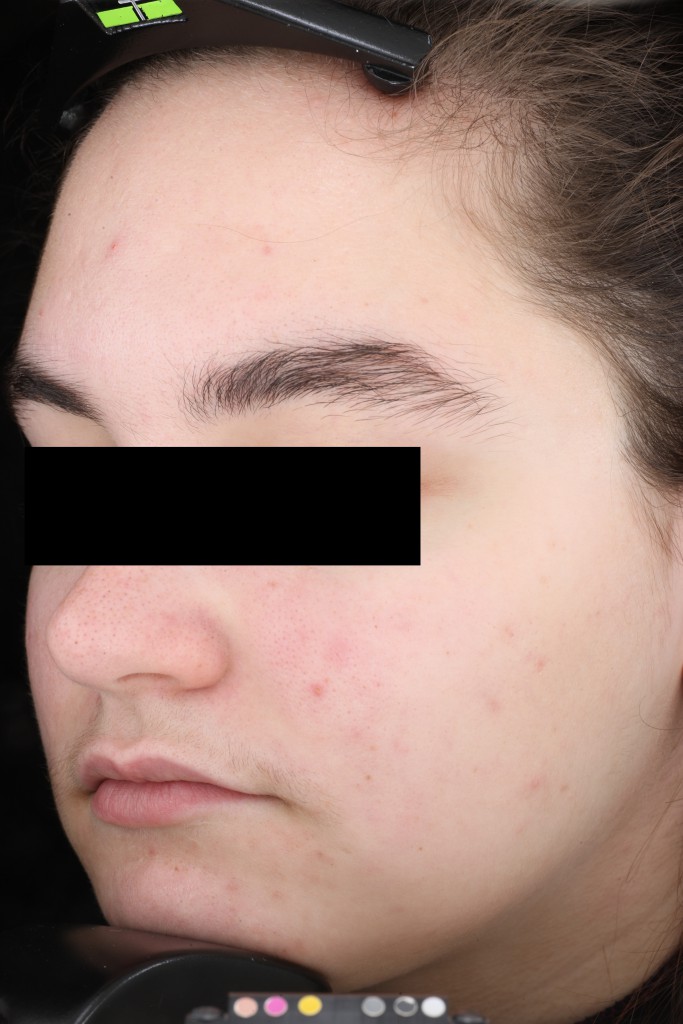 One photograph from the trial, left, at day zero and right, at day 56.
Courtesy of AlumierMD.

Do you have a question? Ask one of our experts NOW