Product Summary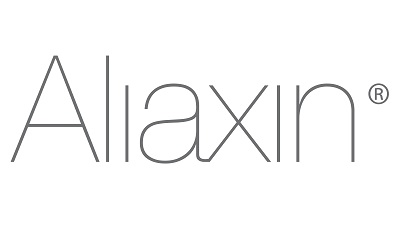 Aliaxin® is a monophasic dermal filler product range containing a combination of well-defined molecular weights of hyaluronic acid to obtain different biological and mechanical effects. Key features of the Aliaxin are high tissue integration and stability, resulting in natural, but at the same time long-lasting results. It is manufactured by IBSA Farmaceutici Italia in a U.S. FDA approved site in Italy, and distributed in the UK & Ireland by HA-Derma Ltd.
Generic name
Non-animal hyaluronic acid (HA).
What does it contain?
IBSA's hyaluronic acid is an ultrapure grade hyaluronic acid, produced through a patented bio-fermentation process, of Streptococcus Zooepidemicus, which ranks worldwide as 'top quality' in terms of purity, safety and its high resistance to thermal production processes.
How is it made?
The Aliaxin cross-linking process results in a ready-to-use gel without the need for additional fragmentation or manipulation, with a low cross-linking percentage (<10%) and a low content of BDDE residue (<0.1ppm). All of which makes the final product safer and easier to inject thanks to the optimisation of the viscoelastic characteristics.
Is a skin test required before treatment?
No allergy test needed
Is it temporary or permanent?
Hyaluronic acid is completely broken down within the skin over a period of months, eventually leaving no trace of the filler.
Licenced status
Medical device. CE Marked.
Should be used by
Trained members of the medical profession only.
Product range
The Aliaxin range takes full advantage of HA characteristics, supporting not only the LIFT action (filling) but also the HYDRO action through rehydration and tissue stimulation.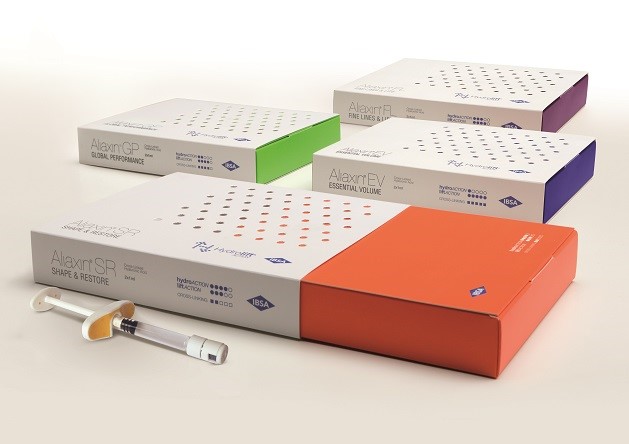 There are 4 different formulations for Aliaxin® available which include:
Aliaxin SR (2 x 1ml) – Grade 1 – For tear trough and broad areas, as well as facial contour definition with a long-lasting effect.
Aliaxin FL (2 x 1ml) – Grade 2 – "Fine lines" – Specific treatments for fine lines with an ideal viscosity for restoring firmness and natural definition. Also used to define the vermillion border of the lips.
Aliaxin GP (2 x 1ml) – Grade 3 – "Global performance" – Ideal for treating the most common facial imperfections, offering a corrective and prolonged action for wrinkles and more pronounced folds (nasolabial folds, nose, chin, lip augmentation and cheeks).

Aliaxin EV (2 x 1ml) – Grade 4 – "Essential volume" – Ideal for subcutaneous implants, restoring facial volume and its symmetries with natural results, thanks to an optimal lifting capacity.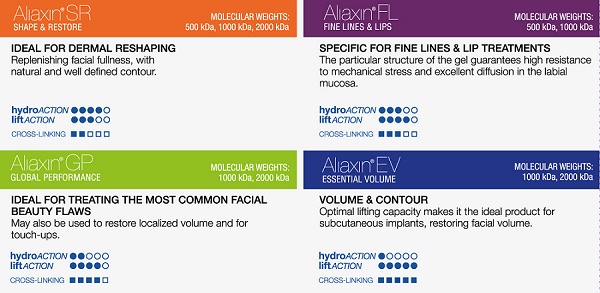 Not to be used in
Individuals with a known hypersensitivity to hyaluronic acid. Pregnancy and breast feeding.
Duration of effect
This depends upon the degree of correction required, your age and lifestyle as well as the correct placement of the product by a practitioner. The manufacturer IBSA claims that Aliaxin is long-lasting and effective from 6 to 12 months and suggest that one or two treatments per year are sufficient - depending on a grade used.
Reported side effects
Transient erythema (redness), swelling, pain, itching, discolouration or tenderness at the implant site.
Costs
This depends on the area treated and how much is required, and the practitioner doing the treatment, but price ranges are in the region of £200 - £350 per syringe.
Before and After Photographs
Before and after patients are real people, your results may differ.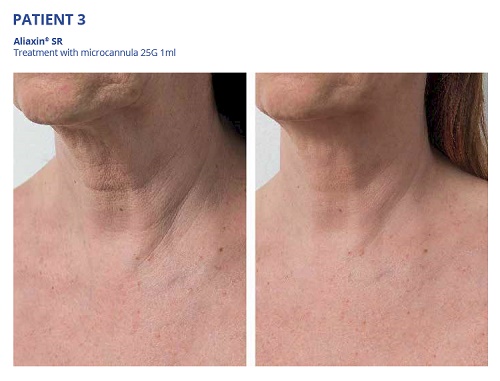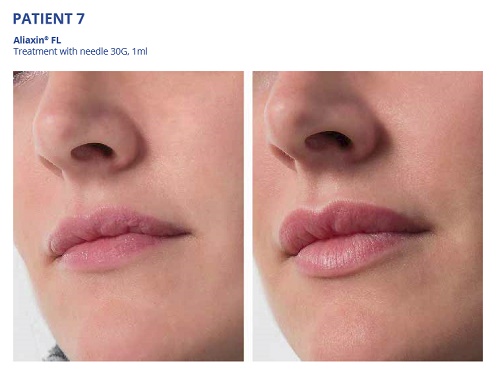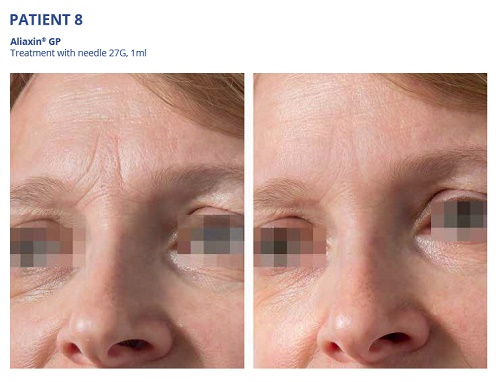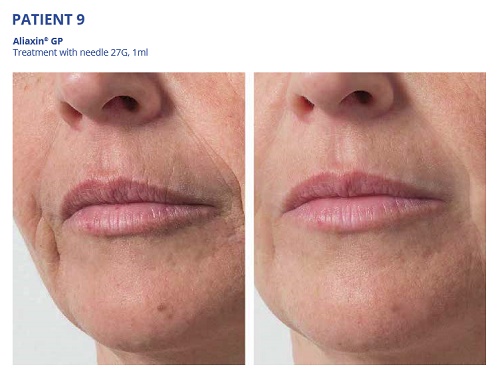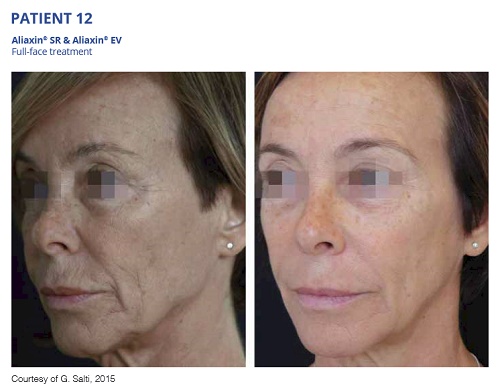 Images provided courtesy of IBSA Farmaceutici Italia
Clinical Trials
Retrospective observational multicenter study on patients treated with a non-animal origin cross-linked hyaluronic acid with different molecular weights for nasolabial folds
Gebriells Fabbrochini et al
Journal of Plastic Dermatology 2014;10,1
Experimental and Clinical Efficacy of Two Hyaluronic Acid-based Compounds of Different Cross-Linkage and Composition in the Rejuvenation of the Skin.
Iannitti T, Morales-Medina JC, Coacci A, Palmieri B.
Pharm Res. 2014 Jun 25.
Do you have a question? Ask one of our experts NOW