Product Summary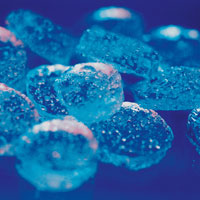 This brand has a lot of support from practitioners and is currently one of the most popular dermal fillers used in the U.K..
Since the manufacturer, Q-Med, (now part of Galderma) launched Restylane® in 1996 it is estimated that over 15 million treatments have been carried out worldwide (data as at 2013). The product range has since been expanded to consist of differing sizes of gel particle specifically designed for use in certain areas of the face.
As of 2009, some of the product range is available with the addition of 0.3% lidocaine (Restylane® Lidocaine and Restylane® Perlane Lidocaine) for improved patient comfort.
In 2016, the EMERVEL range of hyaluronic acid-based fillers, also from Galderma, was integrated into their Restylane range to create one large range of hyaluronic acid fillers incorporating NASHA Technology and Optimal Balance Technology into one product brand. This meant that EMERVEL ceased as a brand name and all product derivatives were renamed.
The product brand also include Restylane SkinBoosters.
Restylane® Eyelight™ was released in 2022 to combat tired-looking eyes. When we lose (or simply lack) volume in the tear trough area, it gives rise to a hollowness, a groove, under the eyes. The groove deflects the light and casts shadows onto the skin, leading to dark under-eye shadows that make us look tired and fatigued. Using NASHA® technology, Restylane® Eyelight™ treats the root cause of the problem – the lack of volume – by filling up the groove, making the area smooth again, with reduced hollowness, so that light can reflect differently from the skin.
Generic name
Non-animal stabilised hyaluronic acid (NASHA) gel.
How is it made?
By bacterial fermentation from streptococci bacteria.
The products which form part of the EMERVEL collection benefit from what the manufacturers call its Optimal Balance Technology™.
Is a skin test required before treatment?
No.
Is it temporary or permanent?
Hyaluronic acid is completely broken down within the skin over a period of months, eventually leaving no trace of the filler.
Licenced status
Medical device.
Treatment should be performed by
Should be used by trained members of the medical profession only.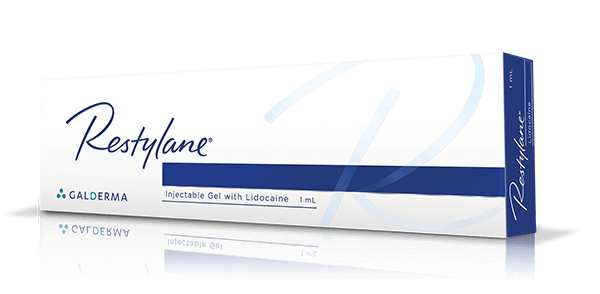 Restylane® Product range
Restylane (Classic)
This has an intermediate gel particle size that makes it suitable for moderate wrinkles and lip enhancement. It is recommended that it is injected into the middle part of the dermis (middle layer of skin). Available with the addition of lidocaine.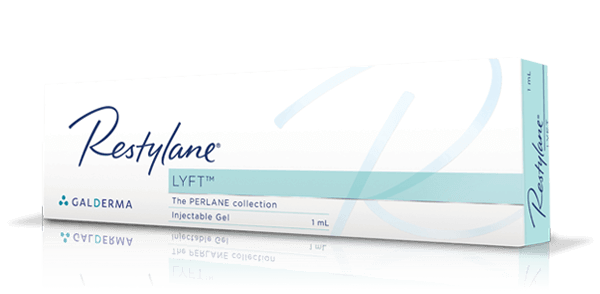 Restylane Lyft (formerly Restylane Perlane)
This has a larger gel particle size and is used for deep lines, facial contouring, and lip enhancement. It is injected into the deep layer of the dermis. Available with the addition of lidocaine.
Restylane Refyne (formerly Emervel Classic)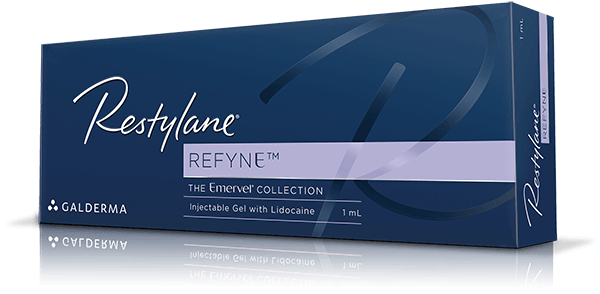 Provides a medium lifting effect and is ideal for moderate lines and wrinkles, such as the naso-labial folds (nose-to-mouth lines).
It is injected into the dermis.
The addition of lidocaine ensures comfort during treatment.
Restylane Fynesse (formerly Emervel Touch)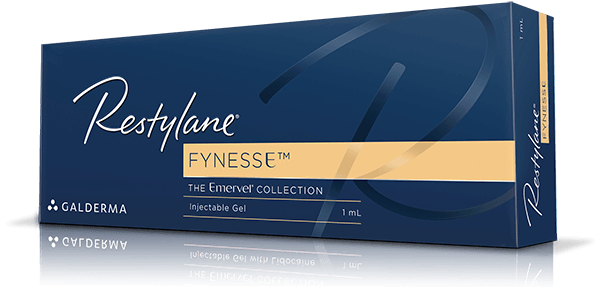 A soft and subtle formulation for the treatment of superficial wrinkles, such as peri-oral lines (around the mouth) and peri-orbital lines (around the eyes, crow's feet).
It is injected into the superficial dermis and is not available with the addition of lidocaine.
Restylane Volyme (formerly Emervel Volume)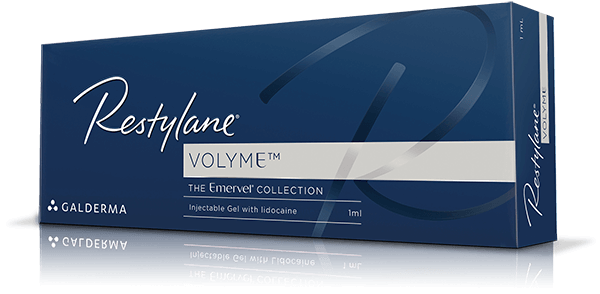 Has a very high volume lifting effect and integrates with the skin matrix to address lost facial volume associated with ageing. It is suited to patients wishing to enhance or recontour their facial features such as the cheekbones, cheeks, chin, or the whole facial oval. It is injected into the subcutaneous layer and comes with the addition of 0.3% lidocaine.
Restylane Defyne (formerly Emervel Deep)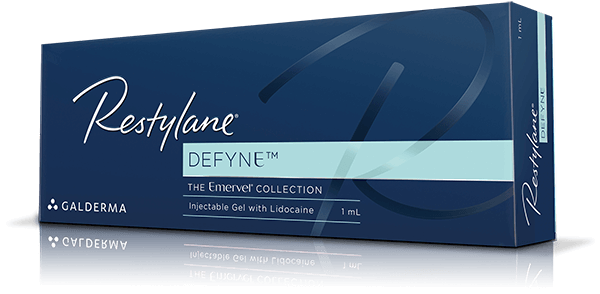 Has a high volume lifting effect and integrates with the skin matrix to smooth away deep wrinkles or folds such as naso-labial and marionette lines (mouth-to-chin lines). It is injected into the deep dermis or upper subcutaneous layer and has the addition of 0.3% lidocaine for comfort during treatment.
Restylane Kysse (formerly Emervel Lips)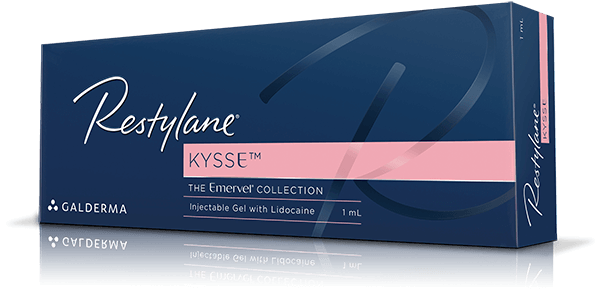 Specifically formulated to enhance, define or augment the lip body and border. It is injected into the body of the lip and the border and comes with the addition of lidocaine.
Restylane Vital and Vital Light (SkinBoosters)
This group of products, marketed as RESTYLANE Skinboosters is aimed at a whole new approach to skin rejuvenation, using mesotherapy, (sometimes called biorevitalisation) techniques. It is targeted at a broad range of treatment areas including the face, neck, décolletage (the area between the neck and breasts) and hands; designed to replenish the hyaluronic acid lost through ageing, hence hydrating the skin and improving its elasticity and tone. For more information, please see our Restylane® SkinBoosters page.
Restylane Touch (discontinued)
Has the smallest gel particle size in the Q-med range and is used for the correction of very thin superficial lines. It is injected into the upper part of the dermis. This product is now discontinued in light of the Restylane Skinboosters range.
Restylane Lip Volume (discontinued)
This product was originally branded as Restylane Lipp but was later rebranded as Restylane Lip Volume. It has been specially designed and formulated for injecting into the lips for enhancement and contouring of thin looking lips, the cupid's bow, or to simply add fullness. It claims to be structured to withstand the range of mouth movements and strains – like talking, smiling, laughing and kissing - that characterise the lip area and therefore last longer. This product has also been discontinued and replaced with Restylane Kysse, formerly EMERVEL Lips.
SubQ (discontinued)
It has the largest gel particle size in the range and is used to replace fat loss in the face and create or restore a more defined facial contour. The procedure requires a larger needle and deeper injections below the skin layers.
This product is promoted as an alternative to fat transfer . As a result, you will find fewer practitioners who are adequately trained to use SubQ.
Not to be used in
Individuals with a known hypersensitivity to hyaluronic acid.
Duration of effect
This depends upon the degree of correction required, your age and lifestyle as well as the correct placement of the product by a practitioner.
Clinical trials indicate that it is effective for six to twelve months for the treatment of wrinkles and for around six to nine months for lip augmentation.
Reported side effects
Transient erythema (redness), swelling, pain, itching, discoloration or tenderness at the implant site. Typically resolution is spontaneous, within one or two days after injection into the skin, and within a week after injection into the lips.
Additionally, temporary palpable lumpiness has been noted after injection in some patients.
Localised reactions thought to be of a hypersensitivity nature have been reported in about 1 in every 2000 treated patients. Redness, tenderness and rarely acneform papules may occur.
In addition in rare cases (in less than 1 in 15,000 treatments) granuloma, superficial necrosis and urticaria have been reported.
Costs
Again, this depends on area treated and how much is required, and the practitioner doing the treatment, but ranges are in the region of: £250 to £400 per treatment.
Before and After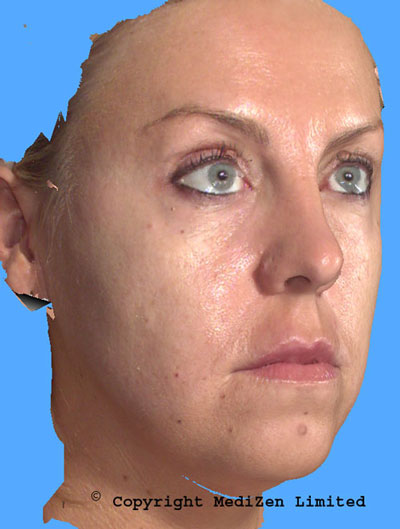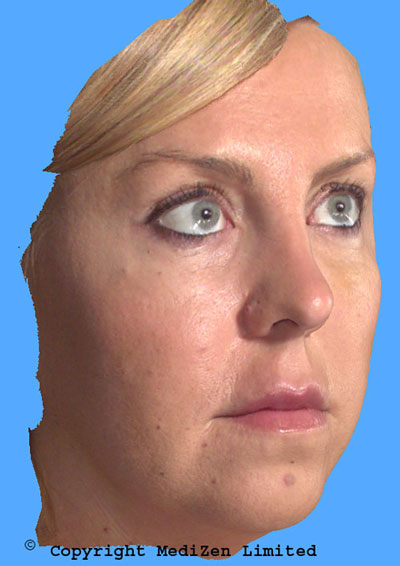 Before treatment (left) and subtle reshaping of the cheeks with Restylane SubQ (right)
(Images taken using MediZen`s VECTRA 3D imaging system.
Images provided courtesy of Dr David Eccleston at MediZen .
---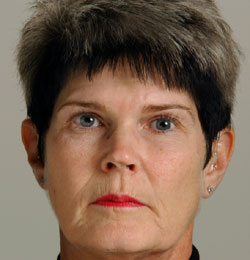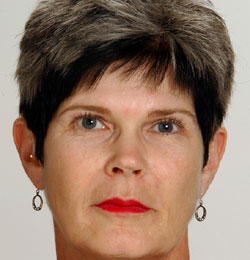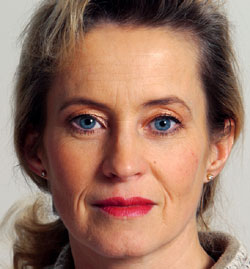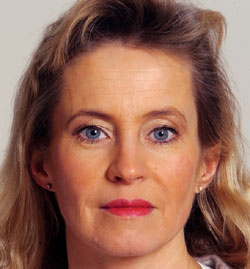 Left: Full face pictures prior to treatment. Right: Full face pictures following rejuvenation using the Restylane® dermal filler range, (a combination of Restylane, Touch and Perlane) to revitalise facial appearance.
---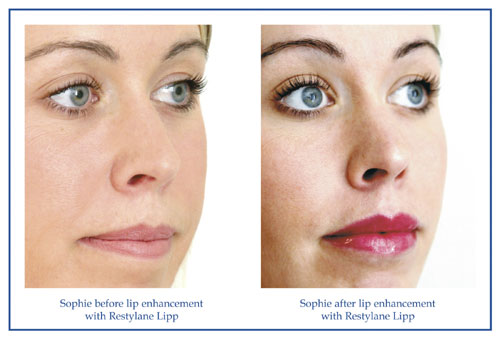 Images provided courtesy of Q-med Limited.
All before and after photographs are real patients, your results may differ.
Bibliography
Olenius,M
The First Clinical Study Using A New Biodegradable Implant For The Treatment Of Lips, Wrinkles And Folds.
Aesthetic Plastic Surgery;1998:22:97-101

Duranti,F et al
Injectable Hyaluronic Acid Gel For Soft Tissue Augmentation: A Clinical And Histological Study.
Dermatologic Surgery;1998:24:1317-25

Troilius,C
Soft-tissue fillers: What options are available today?
Aesthetic Surgery Journal; 1999:19(6):502-5

Cantisano-Zilkha, M, Bosniak, S
Hyaluronic Acid Gel Injection For Facial Rejuvenation: A Three Year Clinical Experience.
Operative Techniques In Oculoplastic Orbital And Reconstructive Surgery; 1999:2(4):177-81

Bousquet, M-Th. and Ågerup, B
Lip Implantation: European Experience.
Operative Techniques In Oculoplastic Orbital And Reconstructive Surgery; 1999:4(2):172-6

Erian, A
Erian's Original Technique Of Lip Enhancement.
International Journal Of Cosmetic Surgery And Aesthetic Dermatology; 2000:2(1):17-19

Friedman, P.M., Mafong, E.A., Kauvar, A.N., Geronemus, R.G.
Safety data of injectable nonanimal stabilized hyaluronic acid gel for soft tissue augmentation.
Dermatol Surg 2002 Jun;28(6):491-4.
Do you have a question? Ask one of our experts NOW