Product Summary

The Princess® range of dermal fillers is produced by the Austrian company Croma-Pharma GmbH, a company with a long history of creating hyaluronic acid (HA). They ensure that their products are of the highest quality, with carefully selected components and a unique, automated manufacturing process. The range is distributed in the UK by Schuco.


Princess dermal fillers are designed to combat the signs of ageing, with natural results. Naturally occurring in the body, hyaluronic acid is essential for maintaining skin firmness, elasticity, as well as helping to keep the skin hydrated. Ageing and environmental factors, such as sun exposure and free radicals, cause the levels of HA to decrease over time. This is turn results in the appearance of fine lines and wrinkles, sagging skin, and a lack of hydration.

Treatment is largely painless, thanks to a combination of HA and lidocaine (local anaesthetic), and results will be visible immediately following treatment, lasting several months, depending on the specific product. They can be used for treating forehead furrows, perioral wrinkles around the mouth, nasolabial (nose-to-mouth) folds, marionette (mouth-to-chin) lines, contouring the cheeks and chin, the temple region and for adding volume to the lips.
Generic Name
Princess dermal fillers are clear, sterile, biodegradable, viscoelastic, isotonic homogenised, and monophasic; they use cross-linked (using 1,4-Butanediol Diglycidyl Ether or BDDE) and non-cross linked non-animal derived hyaluronic acid (HA) created through biofermentation.

Some products within the range are available with, or without, the addition of a local anaesthetic, lidocaine, for pain relief.

One product also comes with added glycerol to aid hydration.
What Does It Contain?
There are three different products in the Princess filler range, which all have slightly different formulations:
PRINCESS FILLER 1ML

PRINCESS RICH 1ML

PRINCESS VOLUME 1ML

Concentration of Hyaluronic Acid
2.30% (23mg/ml)
1.80% (18mg/ml)
2.30% (23mg/ml)
Cross-linking
Ingredient

BDDE (9%)
Non-cross linked and stabilised with glycerol
BDDE (14%)
Other
Ingredients

Phosphate-buffer and NaCl
Glycerol (20 mg/ml), Phosphate-citrate-buffer
Phosphate-buffer and NaCl
Lidocaine
Available with and without
Not available
Available with and without
How Is It Made?
Princess are manufactured by Croma-Pharma using their ground-breaking system called SMART (Supreme Monophasic and Reticular Technology). This manufacturing process is said to increase the life span of the dermal filler, when it is injected under the skin, by optimising the cross-linking and reticulation (inter-locking) of the HA molecular chains.
Is A Skin Test Required Before Treatment?
No, a skin test is not required before treatment.
Is It Temporary Or Permanent?
Treatment with Princess dermal fillers is not permanent. The hyaluronic acid is completely broken down over several months, with no trace of the filler remaining.
Licenced Status
CE Marked Medical Device.
Should Be Used By
Treatment with Princess dermal fillers should only be performed by trained medical professionals such as doctors, dentists and nurses.
Product Range
There are three different products within the Princess range:
Princess® Filler – A monophasic hyaluronic acid gel filler which has many applications, including the treatment of moderate to severe wrinkles, lip contouring and volumising; as well as treating forehead furrows, glabellar (frown) lines and wrinkles around the mouth. Injected into the mid to deep dermis with a 27½G needle, it can be used on all areas of the face apart from the eye contour. The results are natural and have a long-lasting effect. It is available with or without the addition of lidocaine for additional comfort during treatment.
Princess® Rich – A hyaluronic acid product which is used for a mesotherapy technique, injected into the superficial dermis with a 30G needle. It has a high concentration of non-cross-linked HA, with a high molecular weight (3.0 mio Daltons), and incorporates glycerol, which improves skin hydration, by helping to retain moisture. It is used to improve the elasticity of the skin, reduce the visible signs of ageing, whilst giving radiance to the skin, for a long-lasting rejuvenation effect. Initial treatment is recommended with 3 sessions, at 3 weekly intervals, followed by future maintenance top-up treatments.
Princess® Volume – A highly cross-linked, viscoelastic, monophasic hyaluronic acid gel filler which is best used to correct deep wrinkles, folds and scarring, for facial contouring and building volume. Injected in the deep dermis with a 27G needle, it is available with or without the addition of lidocaine for additional comfort during treatment.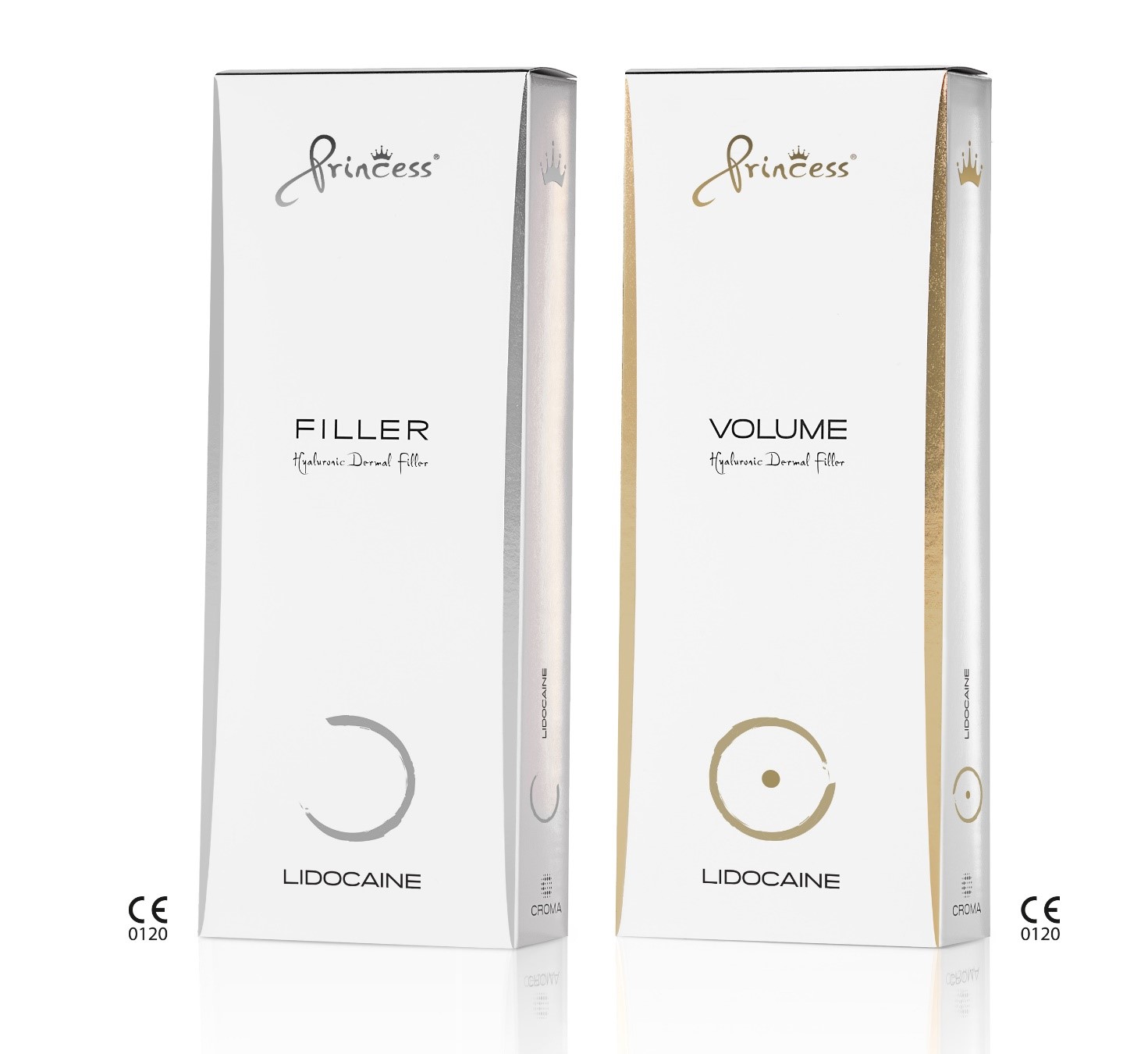 Not To Be Used In
There are some people that are not suitable for treatment with Princess Products. If you fit any of the following criteria, unfortunately you are not a suitable candidate:
– Are under 18 years old.
– Women who are pregnant or breastfeeding.
– Have a history of auto-immune disease, or are currently receiving immune therapy.
– Have a tendency to develop hypertrophic scars.
– Are hypersensitive to hyaluronic acid.
– The area that you wish to have treated is currently injured, inflamed or infected.
Duration Of Effect
The manufacturers state that the results can last for several months, up to a year, depending on the Princess product used, the treated area, and the individual's metabolisation of the implanted HA.

Princess Filler is expected to last between 6 to 9 months and Volume between 8 to 12 months.
Reported Side Effects
Most treatments are performed using a very fine needle, making it a pain free treatment. A topical anaesthetic cream can be applied to the injection site before treatment, to minimise any discomfort, or the practitioner can use the Filler and Volume products which come with added lidocaine if you require additional pain relief.

Serious side effects with Princess dermal filler products are rare thanks to a high level of safety and skin tolerance. Allergic reactions are rare as hyaluronic acid is a compound that occurs naturally in the body.

Most people can return to their daily activities immediately afterwards.

Following treatment, you may experience some mild discomfort, such as temporary swelling, redness, bruising and tenderness at the injection sites. You can soothe the area by applying a cold compress or ice pack for a short amount of time. These symptoms are considered mild to moderate and should resolve on their own in less than 7 days. If you experience prolonged side effects, or other more serious side effects, contact your practitioner to review your case as soon as possible.

You can reduce the risk of bleeding or bruising at the injection sites, by avoiding anti-inflammatory and anti-coagulant medications in the 7 days prior to your treatment.

The treated area should be kept make-up free for at least 12 hours after the procedure. Exposure to sun or hot temperatures, such as in saunas and steam rooms should be avoided for one week. Your practitioner should provide you with full aftercare advice.
Costs
The price of treatment with Princess dermal fillers depends on the product derivative being used, the area being treated and the number of syringes required. Prices will vary between clinics, but you can expect to pay around £250 per syringe of the universal filler product.
Clinical Data
One study using Princess Volume showed nearly 98% of patients were satisfied with the product.

An open-label uncontrolled, multi-center study for the evaluation of the efficacy and safety of the dermal filler Princess® VOLUME in the treatment of nasolabial folds.
Biomed Res Int, 2015, 195328.
Koperad D., Palatin M., Bartsch R., Bartsch K., O'Rourke M., Holler S., Baumgartner R. R. & Prinz M. 2015

Do you have a question? Ask one of our experts NOW