Product Summary
The Obagi Medical Products are marketed as a leader in skin health.



Based in California, U.S.A., Obagi Medical Products Inc., develops and sells proprietary skin care systems for the clinic-only professional skin care market sold across 47 countries worldwide.

It was founded in 1988 with the creation of the Obagi Nu-Derm® System by Dermatologist, Dr. Zein Obagi. Over the years the company has developed clinically proven, prescription strength, skin care products and programmes used in dermatology, plastic surgery aesthetic clinics. Dr. Obagi sold his interest in the company and later went on to launch another range called ZO® Skin Health in 2007. He now has no connection with Obagi Medical Products.

Obagi Medical Products has developed several different treatment programme systems of skincare products in addition to the Nu-Derm System, including the Obagi-C® Rx System, the Condition & Enhance® System, the ELASTIderm® family of products, the CLENZIderm M.D.™ Systems, Blue Peel®, Blue Peel RADIANCE®, and the Rosaclear® System.

They developed a technology called Penetrating Therapeutics™ which means that Obagi products are designed to improve the penetration of prescription and cosmetic ingredients through the skin barrier so they can work to minimise the effects of premature ageing, skin damage, hyperpigmentation, acne, sun damage, and the signs and symptoms of rosacea.

Because the Obagi treatment programmes and products contain prescription-strength formulations, they are only available through specialist cosmetic clinics and medical professionals. Some of the products contain components such as hydroquinone or tretinoin, which must be prescribed and their use tightly controlled and monitored by a medical professional.

Product Range
Nu-Derm

The Obagi Nu-Derm system is a prescription strength skin care range available only via medical professionals and cosmetic clinics. Products are designed to be used in a step-by-step programme and you will be prescribed a specific dose and told how frequently to use it to get the maximum results.

The products in the range which form the steps to treatment include: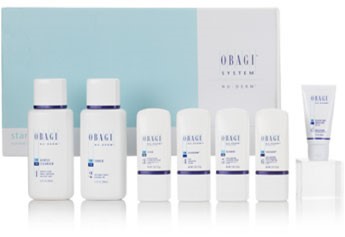 • Prepare
o Nu-Derm Foaming Gel, Nu-Derm Gentle Cleanser, Nu-Derm Toner

• Improve
o Nu-Derm Clear, Nu-Derm Exfoderm®, Nu-Derm Exfoderm Forte

• Stimulate
o Nu-Derm Clear, Nu-Derm Clear FX™, Nu-Derm Blender®, Nu-Derm Blender FX™

• Protect
o Nu-Derm Healthy Skin Protection SPF 35, Nu-Derm Sunfader®, Nu-Derm Physical UV Block SPF 32, Nu-Derm Sun Shield SPF 50

• Complement
o Nu-Derm Eye Cream, Nu-Derm Tolereen®, Nu-Derm Action®

• As Prescribed
o Tretinoin Cream

Obagi CLENZIderm

Obagi CLENZIderm M.D. Systems are the only prescription-strength acne treatments that contain a patented, solubilised form of 5% benzoyl peroxide. This penetrates deep into the hair follicle and treats acne where it starts, by reducing the acne cause P.acnes bacteria. It is available for normal to oily skin or normal to dry skin, as a simple, 3-step, programme prescribed by a medical professional.

Obagi-C Rx

Obagi-C Rx skincare products are aimed at promoting skin rejuvenation from the inside out by using a formulation of prescription-strength ingredients, which reduces the appearance of hyperpigmentation and age spots, combined with 10% L-ascorbic acid (Vitamin C). Vitamin C is the only topical antioxidant proven to stimulate the production of new collagen and to protect your skin from future damage.

Obagi Professional-C Serums

Obagi Professional-C Serums give you maximum daily antioxidant protection and claim to have a greater penetration than other Vitamin C products, meaning more benefit for your skin. Vitamin C neutralises free radicals to prevent skin cell damage.

ELASTIderm

ELASTIderm has a special eye treatment. It aims to help restore the elasticity around your eyes and reduce the appearance of visible fine lines and wrinkles using a bi-mineral complex called Copper Zinc Malonate.

The ELASTIderm Décolletage System consists of two patent-pending technologies which use the Obagi Penetrating Therapeutics™ technology and are clinically proven to help restore healthy skin using a prescription strength Skin Lightening Complex, for reducing hyperpigmentation and age spots on the skin, as well as a Wrinkle Reducing Lotion which is formulated with ELASTIderm'`'`'`'`'`'`'`'`'`'`'`'`'`'`'`'`'`'`'`'`'`'`'`'`'`'`'`'`'`'`'`'s Restorative Elasticity Complex including the Copper Zinc Malonate. Used together, this clinically proven skincare system reduces the signs of ageing and rejuvenates the vulnerable skin of the décolletage.

Rosaclear

The Rosaclear® System is the first and only complete therapeutic system developed specifically for treating the signs and symptoms of rosacea.
Not to be used in
Tretinoin – This is a topical prescription treatment for acne. It must be prescribed by a medical professional and used as directed.

Nu-Derm Clear, Blender and SunFader – This contain hydroquinone. Treatment should be limited to relatively small areas of the face or body at one time as some people can experience short term skin reddening and a mild burning sensation. This does not mean they cannot use the product for the treatment, but it must be managed and used as directed by a medical professional.

Topical hydroquinone should only be used on pregnant women when clearly necessary and prescribed by a medical professional.
Cost of treatment
Obagi Medical Products should only be bought through a medical professional or cosmetic clinic, or via an online shop affiliated with such. Do not be tempted to buy the products online from unknown sources as fakes have been reported. Similarly, for prescription-strength products you need to be diagnosed and advised on their use by a medical professional. Prices for Obagi Medical Products start from £35 for the Nu-Derm range, up to approximately £85. Sets or programmes of products can also be purchased, which may carry a discount.
Do you have a question? Ask one of our experts NOW