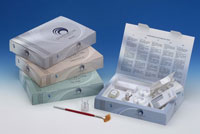 Product Summary
Compositum cold linked gel peels launched in the U.K. in 2003.
Active peel components
TCA, Azeleic acid and Salicylic Acid.
Is this a superficial, medium or deep peel?
Medium depth peel.
What skin problems does it claim to treat?
Using the Compositum peel range can visibly diminishes the look of fine lines and wrinkles, and areas of hyperpigmentation.
It can also be used to improve the appearance of acne scars and to help in the treatment of active acne.
Licenced status
Medical device.
Should be used by
Trained members of the medical profession only. It should not be used by beauty therapists.
Product range
Base : For skin rejuvenation with rapid recovery.
Plus : For photoageing and scars.
Acne : As an adjunct for the treatment of active acne.
Macula : For reducing and removing skin pigmentation.
Peels not to be used in
Pregnant or breastfeeding women.
Costs
This depends on area treated and how much is required, and the practitioner doing the treatment, but prices start from £300 upwards, often including aftercare products.
Do you have a question? Ask one of our experts NOW