Unlock the full potential of your aesthetic clinic or practice with ConsultingRoom.com, the leading platform trusted by over 800 of the UK's Leading aesthetic clinics (we count SK:N, Courthouse Clinics, The Private Clinic, Dr Leah Clinics, MediZen, Medikas, Revere Clinic, Harley Street Skin Clinic, Dr Rita Rakus, Karidis Clinic and Dr Haus Dermatology amongst our Members). We offer an unbeatable value proposition, delivering a steady stream of new customer referrals and access to top-quality industry insights.
With over two decades of experience serving both industry giants and boutique businesses, we know what it takes to propel your success.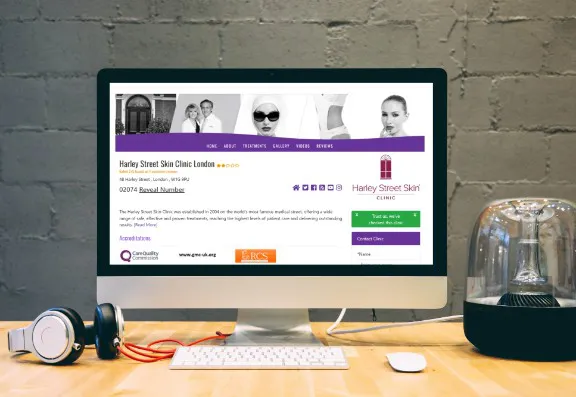 Experience enhanced online visibility and optimised search engine performance to generate valuable leads for your clinic. As a ConsultingRoom.com Member, you'll unlock a stronger web presence, ensuring you never miss out on valuable opportunities. Our comprehensive solutions empower you with a consumer-facing clinic profile that drives engagement and delivers results.
As a Member, you will have exclusive access to your own Members Area, packed with resources and information to support the development and growth of your clinic.
We are excited to work with you and your clinic team, ensuring you derive maximum value from your Membership subscription. Our dedicated admin team is here to ensure your consumer-facing profile is comprehensive and compelling. We will assist you in improving your profile, filling in any gaps, and transforming it into a powerful tool to attract and engage potential customers. With our expertise, your profile will shine, leaving a lasting impression on visitors and driving meaningful interactions.
Additionally, as a Member, you'll have full access to your clinic's statistics in your Members Area. This allows you to closely monitor performance, gain valuable insights, and achieve optimal return on investment (ROI). By tracking the annual click metrics for each of your links, you can further refine your strategies and make informed decisions.
Experience the power of enhanced online visibility and optimised search engine performance with ConsultingRoom.com. Start attracting valuable leads and taking your clinic to new heights in the digital landscape.
We offer much more than just client referrals.
Membership gains you and your staff access an array of exclusive benefits designed to accelerate your business growth. Showcase your expertise with a comprehensive directory listing, positioning yourself as the go-to expert in your field. Connect with a vast network of potential clients actively seeking your services.
We take pride in being the longest-running dedicated aesthetic information hub for clinic owners, providing comprehensive business-building strategies, advice, and practical tips accumulated over decades in the aesthetic industry.
Our extensive collection includes thousands of pages of business support and educational content, along with statistics, CPD content, feature articles, UK legislation and clinical paper abstracts.
When you become a ConsultingRoom.com Member, you also gain access to a wide range of benefits and features to support your business. These include but are not limited to:
These resources and tools are designed to help you and your clinic staff thrive in the aesthetics industry and achieve your goals. Plus, our knowledgeable staff are always available to support you with their vast experience in the medical aesthetic industry.
As a trusted resource, we are committed to helping you navigate the complexities of running an aesthetic clinic. With over 800 clinics as our Members, Consulting Room is the UK's largest and longest-running aesthetic industry education site.
We not only help you build your business but also keep you informed about the ever-changing landscape of running an aesthetic clinic. To drive traffic and reach new customers, personalising your clinic profile page is a tried, tested, and proven method.
Learn more about how Consulting Room Membership offers you and your staff comprehensive business-building education, information, and guidance for running a successful clinic today.
No referral fees. No commission. No minimum term.
No hidden fees. No risk to your marketing budget.
We are open and upfront about our clinic fees. Membership costs just £32 inc VAT per month (or £20 inc VAT for qualifying practitioners) paid through convenient monthly Direct Debit via GoCardless.
Just one referral, converted into a paying customer who spends hundreds, if not thousands, of pounds during their lifetime with you, will cover your membership fees and give you a quick and best-value ROI, whilst also boosting your profit-earning ability.
Maximise your exposure with our highlighted listings for just an additional £3.00 per month (including VAT), making your clinic truly stand out for a total investment of £35.00 per month.
Scroll down for more detailed payment information.
We believe that ConsultingRoom.com Membership is a no-brainer!
But don't just take our word for it; let's hear directly from our Member clinics about their experience with ConsultingRoom.com Membership:
Working with the Consulting Room team this past year has been invaluable. Their wealth of knowledge, support, and advice has proved extremely beneficial. The website is a great tool, both for promotion and industry information. We have not looked back since signing up with them and I'd strongly recommend Consulting Room to anyone.

- Dr. Lisa Delamaine, Persona Cosmetic Medicine, Kent - Member since 2008
A fantastic service overall. I found that when I needed to add or amend The Private Clinic page I was assisted almost immediately. The Staff are efficient and friendly and always get back to you. It is a great place to enhance exposure such as new treatments and doctors.

- Sue-Ellen Horwood – Manager of The Private Clinic, London - Member since 2006
We were among the original cohort of service providers approached by Ron Myers with regard to the proposed information site that was to become consultingroom.com. We signed up among the founder-subscribers and have remained signed up ever since.

The benefits consultingroom.com have provided to us are:

Direct and measurable 'hits' from the find-a-clinic section. Consistent and 'high-quality' traffic from a growing number of well-informed service-seekers.
Analysis shows consultingroom.com to provide some of the highest quality traffic from any of our linked sources – could do with lots more of it!
Access to the best industry information in the sector through the monthly bulletin. Essential reading in a sector where information is not necessarily very useful.
Recruitment pages have been useful in the past
Buying and selling equipment – we have successfully both bought and sold
Support in various lobby functions from advertising standards to the regulation of injectables and lately, lasers.
General support and expertise.
In short, consultingroom.com is an essential information and support resource for aesthetic service providers, providing best-in-class value for the investment.

- Paul Stapleton, Managing Director of The Mapperley Park Clinic in Nottingham - Member since 2003
I have had on many occasions over the last few months to say "it's the best few hundred pounds I have spent!"

- Dr Bea Brookes, MBBS FRCS, Owner of Viridian Medical in Guildford - Member since 2006
I would like to congratulate you on your latest newsletter which contained a detailed analysis of your website's statistics. The data you provided will be used as an invaluable tool to help me review my marketing strategy for this difficult year ahead. This sort of information would have cost me thousands had I sourced it to an external agency, and even then, I doubt they would have had the industry knowledge to interpret the data.

For that article alone, my subscription has been well worth it, probably saving me thousands in consultancy fees.

Having analysed my patient data over the last two years, I can safely say that the return on investment on the subscription has been at least 10 fold.

- Dr Ravi Jain, Medical Director, Riverbanks Clinic - Member since 2008
I have been both a Member and an Adviser to Consulting Room for well over a decade, and in that time I have seen the website grow to become the premier information resource that it is today; both for consumers and for clinicians.

Consulting Room is much more than just a directory site. They keep me abreast of all that I really need to know via email communications, weekly newsletters, a dedicated online members area and a very comprehensive monthly magazine. This saves me the time and effort of searching out news or updates relevant to my cosmetic practice.

Their core values advocate patient safety, encourage best practices and promote regulatory compliance amongst their membership. They are not afraid to report on, and highlight controversial news when they see it! As a Former President of BAAPS it is important to me that we promote the highest standards within the aesthetic industry, and I am reassured that Consulting Room takes the time to vet their members and permit entry only to those applicants who can demonstrate regulatory compliance and medically-led businesses. With the government lacking an appetite for statutory regulation of our sector, any vetting by websites like Consulting Room is a real help for the consumer to narrow down their choice of reputable cosmetic practitioners.

I would have no hesitation in recommending the team at Consulting Room. The website and the information they provide is a credit to their experience and expertise. Consulting Room is in my opinion, the premier resource for information and news within the Aesthetic sector in the United Kingdom.

- Mr. Rajiv Grover, Plastic Surgeon and Former President of BAAPS, - Adviser to the Consulting Room - Member since 2003
Consulting Room really is a fantastic asset for any busy aesthetic practitioner. Aesthetics is a constantly evolving and volatile industry and when you don't have time to research new products, policies, regulations or emerging issues, Consulting Room are there to do the research for you and accurately relate the facts and figures you need to know.

- Yvonne Senior, RGN, INP and Founder of PIAPA, Aesthetic Nurses Support Group
I wanted to say thank you. Without Consulting Room, I would have had only a third of the business I have had. I have recommended you to an aesthetic community Facebook group and anyone who has asked me about starting up.

- Julie Gilbert, Sk1n Aesthetics Clinic - Member since 2018
I'm delighted with Consultingroom.com, the subscription is worth its online presence in gold! The treatment information content, which explains how treatments work, is regularly updated, and can be easily understood by patients so that they can learn more in their own time. The newly-published, quarterly industry magazine also has great content, focused not only on the clinical side but also on the business aspect. It has a great online directory with clinics in the UK, so patients can decide who is the best for them, and of course, find you and your clinic. Remember, you can have the best treatments, but if people can't find you then they will not reach you. I have no hesitation in recommending Consulting Room to other aesthetic professionals.

- Dr Jorge Zafra, Zafra Medical - Member since 2017
Excellent customer service and the best ROI.

For the last 6 months, I have been promoting my clinic via Consulting Room and I am very happy with the results. So far, my marketing with Consulting Room has the best investment/return from all the marketing channels used, the reason why I have decided to upgrade to add my 2 other clinics as well. The collaboration is very transparent, simple and efficient without pushing you to complicated contracts and the patients are having most of the time the right information when are enquiring. Rebecca Harding is my account manager and she was always happy to help me in a very positive manner. I would definitely recommend Consulting Room and thank you for our clinics very busy.

- Florina Borsan, Clinical Director, Eve Clinics - Member since 2018
We have two types of Membership options: Single Speciality and Full. Both of these include two options an annual or monthly payment.
If you have any questions please call our Membership Manager Rebecca on 07568 359 741. Alternatively, you can email us at admin@consultingroom.com.
Monthly Subscription Option
Monthly Member benefits can be obtained for just £32.00/month inc. VAT. We will debit your bank account monthly through Go Cardless unless you notify us differently or cancel your Membership. The benefits of subscribing monthly are that it breaks down the annual Membership costs of £384.
Annual Subscription Option
Annual Member benefits can be obtained for just £384.00/yearly inc. VAT. We will debit your bank account monthly through Go Cardless unless you notify us differently or cancel your Membership. An invoice will be sent automatically via email after your payment is received.
Single Specialty Subscription Monthly Option (Single-Handed Practitioners)
We offer a reduced Membership of just £20/month inc. VAT for clinics/salons specialising in just one treatment (for example, a clinic focused on cosmetic dentistry, laser hair removal, or micropigmentation) or a single-handed practitioner. If you have any questions concerning this option, please speak to our Membership Manager, Rebecca before you complete your subscription.
Single Specialty Subscription Yearly (Single-Handed Practitioners)
Annual Membership benefits for the single specialty option can be obtained for just £240/year inc. VAT. We will debit your bank account annually through Go Cardless unless you notify us differently or cancel your Membership. An invoice will be sent automatically via email after your payment is received.
Highlighted Listings
Stand out from the crowd by investing in a highlighted listing to make your profile more prominent in your local search results.
Highlighted listings are charged at an extra £3.00 per month (inc. VAT), hence £35.00 per month for a full Membership or £23.00 per month for a single specialty.
From a financial, business-building and lead-generation stance, Membership really is a no-brainer!
Don't Forget to Follow ConsultingRoom.com's Clinic-Facing Social Media Platforms: