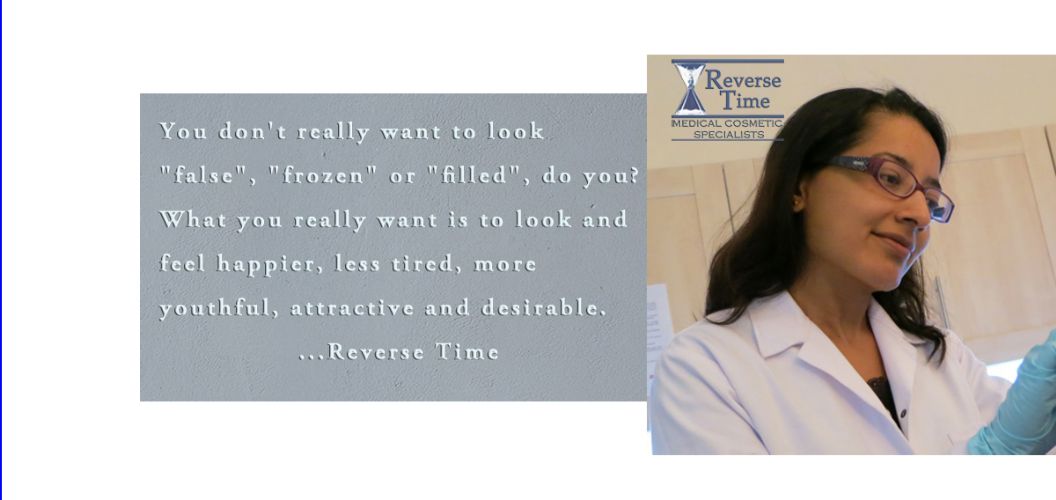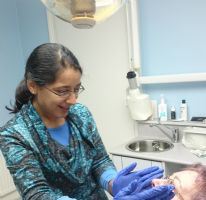 About Reverse Time Aesthetic Treatments
31 Junction Road , Andover , SP10 3QU
0333 Reveal Number
Call Now
Profile
---
Reverse Time (Dr Aarti Narayan-Denning) provides bespoke anti-ageing/specialist aesthetic advice for patients seeking safe medical treatments to maintain the healthy appearance of their skin and to prevent the appearance of premature aging. Services offered range from skin/structure/ageing assessment, wrinkle relaxing injections, dermal fillers, mesotherapy to improvement of facial sagging with reabsorbable threads (Silhouette Soft and PDO). These usually work best in combination.
1 - Wrinkle relaxing injections, and temporary improvement of excessive sweating (hyperhidrosis) with botulinum treatment following medical consultation. 2 - Non-surgical facelifts with approved dermal filler combinations - Radiesse V lift, Juvederm 8 point lift and Periorbital Rejuvenation to refresh the appearance of skin around eyes. 3 - To help repair damage caused by sun and injury (Cryotherapy, Scar needling, Pigmentation assessment and advice) 4 - Evidence based skincare to prevent premature ageing of skin (Obagi, Dermaceutic). 5 - Collagen Induction therapy: Genuine Dermaroller(TM), Dermastamp (for acne scarring, stretch marks) 6 - Improvement of unevenly pigmented, sun-damaged, dull or tired looking skin by medical exfoliation with medium depth chemical peels eg Easy TCA, Dermaceutic. 7 - Autologous Platelet Rich Plasma (PRP) treatments for rejuvenating ageing skin (face / decolletage) 8 - Improving the appearance of facial descent (sagging) with reabsorbable threads (Silhouette Soft) usually in combination with fillers and wrinkle relaxation for optimum results (please note this is NOT the same as a surgical facelift!) 9 - Traditional (Pistor) Mesotherapy sessions for improvement in appearance of cellulite, toning up skin, temporary relief of musculoskeletal pain and spasm - these are specially tailored to individual patient needs following consultation. 10 - Contouring of stubborn localised fat deposits, double chins, jowls, with fat-dissolving injections (Aqualyx). All consultations and treatments are performed by a qualified GP / Aesthetic Doctor. We pride ourselves on our commitment to continued professional development, honest advise and follow up.
Venues: Andover, Winchester (Fri), Southampton (Mon, Sat) all easily accessible across the South Coast. Andover (Tues & Wed): Dr A N Denning provides non-surgical treatments such as botulinum, 8 point lifts, PDO and Silhouette Soft thread lifts, and cellulite treatments. This is a modern treatment suite within a Victorian house conversion in the picturesque market town of Andover, alongside a well respected dental practice, with whom we share a reception. There are 2 hour roadside parking spaces adjacent to the practice. It is a short walking distance of Andover town centre and the mainline train station, with various car parks and shopping close by including a multi storey.
Winchester (Friday 8:30am to 5:30pm) : Consultation and treatments are offered in a CQC monitored purpose-built clinic in the Lawrence House Practice. This is a relaxed and elegant setting guaranteed to put you at ease, with ample roadside parking and easy access.
Our charter - Consultations will be honest and impartial, if the results you seek would be better provided by other treatments or surgical means, the Doctor will advise you of this. - In the best interest of our patients, and in view of peer pressure and social media resulting in inappropriate cosmetic treatments to young or vulnerable people, Dr Denning requests that all patients seeking cosmetic enhancements be at least 21 years of age. Of course, this does not apply to younger patients with scars and injuries who wish to seek advice, preferably with the support of their family. - We do not have any time-bound inducements to purchase, there are no offers. Rest assured you will never be pressured into having or trying a treatment that may not be for you. - Fees are well researched and reflective of the expertise of the person treating you. - There is a modest consultation fee to ensure that the Doctor's time is covered, and will be deducted from the cost of treatment booked as a result of the consultation. - While many clinics offer Free consultations, you will find this is unsustainable unless the patient is encouraged to have a treatment or buy a product each time. - You will be offered a free review / follow up for each treatment. Thank you once again for viewing our profile.
Our Staff
Dr Aarti Narayan-Denning
GP / Cosmetic Doctor
Dr Aarti Narayan-Denning is a General Practitioner in Hampshire with a keen interest in Dermatology and Aesthetic technologies.
Directions
Consulting Room is the ONLY online cosmetic clinic search directory, for the UK & Ireland, who check that all clinics listed with us are compliant with relevant regulatory requirements for the provision of cosmetic surgery, medical aesthetic treatments, hair transplant surgery and cosmetic dentistry. To find out what this means, why you can have peace of mind and trust the checks we do for you click here.