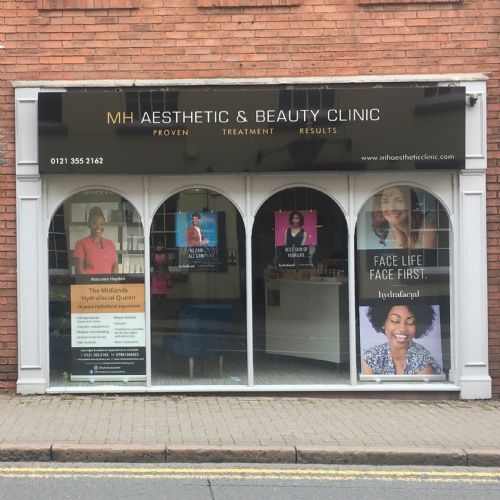 M H Aesthetic Clinic Reviews
34 High Street, Sutton Coldfield , West Midlands , B72 1UP
01213 Reveal Number
Call Now
-1.82288199999994
52.5659384
Reviews
---
Eamu Begum
Location: Birmingham
April 27, 2021
I have been coming to MH Aesthetic & Beauty Clinic for over 6 months now and can honestly see a massive difference in my skin. Thank you Maureen for always providing an excellent level of service! And always listening to my skin issues!
---
Sharmine Akhtar
Location: Sutton Coldfield
January 19, 2021
I have been a fan of hydrafacials for almost 7 years now and I can say its the best treatment that my skin has on a regular basis. Maureen is a perfectionist and she commits 100% into the treatment with the best products. She has an eye for detail and will treat a specific area more than once if she needs to. I have never found her to be rushed with her treatments on me. The hydrafacial gives an instant glow and is perfect before any occasion. I am having these on a monthly basis to keep my skin looking clear and healthy. I have also used products Maureen has recommended to help aid in the reduction of pigmentation on my skin. She is an expert in the field. I would highly recommend her!!! I am yet to try microneedling! Excited to try this next with her!
---
Carmen Huskins
Location: Birmingham
January 19, 2021
Amazing hydrafacial and dermaplaning from Maureen.. My skin always looks amazing after the hydrafacial but even better now I am incorporating the dermaplaning.. Such a professional as always. Cannot recommend enough.. Thank you x
---
Farabelle Green
Location: Birmingham
November 2, 2020
I have been coming now for about a year and was very sceptical at first due to having extremely sensitive skin. Since starting Maureen has given me the best products to maintain my skin and I have not looked back since.
---
I've recently just finished a course of medical needling with Practitioner Maureen, I loved the results so much I booked another. I cannot explain how much I love this treatment. Having had more invasive treatments in the past, I find nothing compares to this. I'm hooked on the instant plumping it gives! At M H Aesthetics, you can expect to be treated with the best care and such professionalism. I would not go anywhere else! If you have ever thought about medical needling, you must give it a go, the results are worth it!
Clinic Reply
Dear Katie Thank you for taking the time to leave your thoughts and feedback following on from your course of Medical Microneedling. We are so very pleased that you had such good results and look forward to welcoming you into clinic again soon.
---
Natasha Powell
January 15, 2020
After learning of the many benefits of a Hydrafacial I was eager to find an experienced professional to take me through the process in the hope of evening my pigmented skin tone and reducing my congested oily skin. The whole experience at MH Aesthetics was nothing short of amazing, from the warm welcome and thorough consultation, Maureen made me feel at ease. The results from my 1st visit were truly impressive, my skin looks much brighter and youthful, tighter and plump and feels smoother in appearance. Cannot wait for my 2nd visit next month and trying my new Medik8 products. Great job
---
Louise 1983
October 5, 2019
Maureen was amazing! The treatment was relaxing and professional. She went the extra mile making it a great experience and I look forward to returning. Thank you
Clinic Reply
Thank you for your wonderful feedback and was a pleasure having you in for treatment. I look forward to welcoming you in again soon. Maureen
---
Jean-Paul
September 4, 2019
Visited MH Aesthetics for a hydrafacial and it was a very relaxing experience. Very much a novice when it comes to skin care, Maureen took the time to explain exactly what each step of the treatment was and also some simple steps to improve my skin care going forward. I could feel the difference straight away and had comments about a glow I had when I saw family the next day, so it was definitely a noticeable change.
Clinic Reply
Thank you for taking the time to leave your feedback and so happy it was a positive experience and pleased with the results.
---
Amazing! Maureen is fantastic!
Clinic Reply
Thank you for taking the time to leave a review and your kind words. Look forward to welcoming you back in soon. Maureen
---
Tom B
Location: Birmingham
August 6, 2019
Amazing! The treatment was very relaxing, and was very effective. My skin is now not only the cleanest it has ever been but also the smoothest i have ever seen it. All blocked pores and blackheads are now removed, and my skin feels much more hydrated than ever. Definitely worth the money, and i will be returning in a few weeks. Out of all of the big company's and small companies i have tried over the years, this has got to be the best one by a clear mile. Recommend to anybody who wants an effective facial in the Sutton Coldfield/Birmingham area!
---
Marcia Neveu
Location: Birmingham
August 6, 2019
Oh my goodness. My face feels and looks absolutely amazing. I was shocked when i saw the before and after pictures (thought my skin was pretty good before I saw those). Looked in the mirror and my skin looks great. Relaxing atmosphere. Maureen really is the queen of hydrafacial. Book now for the same results!
Clinic Reply
Thank you for leaving a review Marcia, I am so glad you was happy with the results and found the experience so rewarding. Look forward to seeing you again for your next Hydrafacial.
---
Annemieke Doornbos
Location: Sutton Coldfield
August 6, 2019
I've visited the M H Aesthetic Clinic for a Hydrafacial treatment earlier this month. I'd never had one and wasn't sure what to expect but that wasn't a problem at all. Maureen was very welcoming and started off by going through my skincare routine and any concerns I had. She then talked me through the treatment by explaining the different stages in a way that was so easy to understand. I could tell she knew her stuff and had a lot of experience. She carried out the treatment in a very professional way and the results were amazing. Throughout the process, Maureen was so professional, clear and did such a nice job that I would definitely recommend visiting her to get the treatment done.
Clinic Reply
Thank you for taking the time to leave a review Annemieke, it was a pleasure having you in for treatment. Look forward to welcoming in in again soon.
---
Emma bagnall
July 14, 2019
I had a micro needling treatment a week ago- and my skin had never felt so soft. I am so very pleased. My skin is just incredible... The treatment itself was totally painless, as I had numbing cream applied. I actually found the process relaxing. Maureen was so lovely, and explained everything in detail. Am so very pleased...thanks Maureen xx
Clinic Reply
Thank you for taking the time to leave a review Emma. It was a pleasure treating you and so glad you was pleased with the service and treatment. Look forward to seeing you again soon.
---
Consulting Room is the ONLY online cosmetic clinic search directory, for the UK & Ireland, who check that all clinics listed with us are compliant with relevant regulatory requirements for the provision of cosmetic surgery, medical aesthetic treatments, hair transplant surgery and cosmetic dentistry. To find out what this means, why you can have peace of mind and trust the checks we do for you click here.