Product Summary
Cellulaze is a minimally invasive surgical treatment that has proven to be effective in helping women who have problems with the appearance of cellulite. It was first introduced into the UK market in 2011.

With the majority of women struggling with cellulite, Cellulaze is the first surgical treatment that claims to offer a long-lasting result for patients. Cellulite does not respond to diet or exercise, and is caused by structural problems within the skin. This mean that connective tissue, in the form of fibrous bands, beneath the skin is tight, and this causes enlarged fat deposits to get trapped between then and push upwards towards the skin, where the overlying skin becomes bumpy and dimpled in appearance. Cellulite is less about a problem with fat, and more about the fibrous connective tissue beneath the skin.

Cellulaze is made by Cynosure, a leading aesthetic laser company who are also known for developing and commercialising the SmartLipo laser lipolysis system made by Deka. Cellulaze is believed to be the only treatment that uniquely focuses on the skin to change its structure, to improve the appearance of cellulite by helping to thicken your skin, restore its elasticity and eventually get rid of the lumps and bumps. Currently, it is recognised as the only cellulite removal procedure that is effective in the prevention and reparation of cellulite.

It includes the unique side-firing fibre known as SideLaze3D™ and the thermal sensing cannula ThermaGuide. These are the key features behind its precision in delivering clinically proven results; safely and effectively.
Technical specifications
Cellulaze uses an energy wavelength of 1440nm from an Nd:YAG laser in the SideLaze3D™. It has a red aiming beam for treatment.

It has been designed with multiple parts to the device, all with specific jobs:

· ThermaView - this includes a monitoring screen that gives video feedback of the area under your skin to be treated. In general, this is effective in improving the accuracy of the process for the practitioner.

· ThemaGuide - this is a special add-on to the Cellulaze model and is tasked with measuring the temperature under your skin. It basically helps the practitioner to maintain optimum temperature levels to support skin tightening.

· Smart-Sense - this is a motion-sensing handpiece that the practitioner uses to control the energy level being delivered within your skin.
How does it work?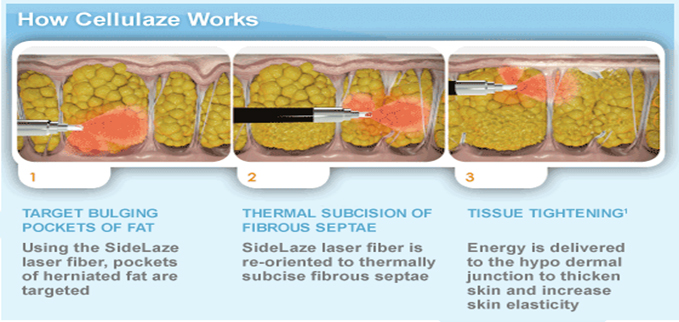 Image courtesy of Cynosure
Cellulaze works by treating the fibrous bands that lie beneath your skin. It also thickens and adds elasticity to the skin through collagen stimulation. It has proven to deliver long lasting results, just from a single anti-cellulite treatment.

With a marker pen, the operating surgeon or physician will mark the areas to be treated for cellulite. They will then make a couple of tiny incisions, usually the size of the tip of a pen. You will be awake during the procedure, so you will be given a numbing solution of local anaesthetic (known as tumescent anaesthesia) into the area to be treated. The SideLaze3D™ Cellulaze laser fibre is passed through a very tiny tube called a cannula and this is then inserted through the incision site marked earlier. The SideLaze3D™ is then moved around inside the area, and laser energy fired into the tissue to target (and destroy) some of the fat cells to even out the deposits. It treats the dimples by simply releasing the fibrous bands that pull down on the skin and stimulates collagen production through heat in order to increase your skins elasticity and depth for a smooth and improved surface appearance. Finally, your practitioner will gently press out the liquefied fat through the insertion holes formed during the procedure.
Licence status
European CE Marked Medical Device.

Received American FDA 510(K) clearance for cellulite treatment using laser technology in early 2012.
Should be used by
Trained medical professionals only including – doctors and cosmetic surgeons.
What is it used to treat?
Cellulaze is specially designed to treat cellulite – often referred to as the 'cottage-cheese' or 'orange peel'-like appearance of the skin in the lower body. It is defined as a structural problem below the skin which causes fibrous bands to pull down around fat cells, making the bumpy appearance. This device will remove fat and improve the appearance of cellulite by reducing the tension on the fibrous bands that cause the dimples in the buttocks, thighs and hips.
How long does it last?
The results are considered long lasting, making it a popular solution for women with problem cellulite. Clinical data proves results that last up to 3 years.

From one clinical study, results show that a single treatment improved cellulite appearance for a year without any side effects. 93% of patients surveyed admitted that they were either satisfied or very satisfied with the results just a year after the procedure.

It is not a permanent solution, and diet, lifestyle and age can all affect the reoccurrence of cellulite, so repeat treatment may be a consideration.
Side effects and risks
Being a minimally invasive treatment procedure, Cellulaze has few serious side effects.
After your treatment, you will experience some bruising, tenderness, pain and discomfort which can be managed with over the counter pain medication and should only last for a few days to a week. You may also notice a small amount of fluid leakage from the incision points. It is important to follow aftercare advice given by your practitioner to avoid infection risks.

You can expect to get back to your normal daily routine just a few days after the procedure, although strenuous exercise avoidance will be advised for a little longer, up to a couple of weeks.

Normally you will be advised to wear a compression garment after the procedure. This garment will help heal and restructure your skin appropriately and uniformly.

The incision sites for the cannula are typically very small but you can expect a small amount of scarring at these points. You practitioner may offer you some aftercare creams to help them to heal so that they become barely visible.
Not to be used in
As long as you are generally healthy, there are few medical reasons why you should not undergo treatment with Cellulaze. Certain conditions will make you unsuitable for treatment and they include:

• Implanted medical device

• Serious skin infection

• Keloid scarring

• Pregnancy (or breast feeding)

• Seizure disorder

It is important to note that Cellulaze is not a weight loss solution.
Treatment regime
In general, the procedure requires a single treatment session that takes roughly 1 - 2 hours, depending on the size of the treatment area. On average, it will take 3 to 6 months to experience the optimal results, as the body heals and restructures the skin and metabolises any remaining liquefied fat cells. Final, longer term results will be evident after a year.

The results will depend on the individual and the area being treated. Additional treatment sessions may be needed over time, depending on the specific cellulite concerns, age and skin type etc.
Cost of treatment
The cost of treatment will depend on several factors such as the size of the area to be treated and the individual practitioner. On average, it will cost between £2,500 - £3,500 per area of treatment.
Clinical results
Recent clinical research has shown that patients demonstrate an increase in skin thickness of up to 23% and 29% within a month and a year of treatment respectively. These results have proven that Cellulaze is quite effective in providing improvements in the appearance of cellulite in women.
Clinical data
DiBernardo BE, MD.
Cellulite Treatment using the Nd:YAG 1440 nm Wavelength Laser with side-firing fiber: 3-year follow-up. Plastic Surgery Pulse News. 2013

DiBernardo BE, MD.
Treatment of Cellulite Using a 1440-nm Pulsed Laser With One-Year Follow-Up.
Aesthetic Surgery Journal. 2011.

Burns, MD.
Commentary on: Treatment of Cellulite Using a 1440-nm Pulsed Laser With One-Year Follow-Up: Preliminary Report.
Aesthetic Surgery Journal. 2011.

Sasaki, MD, Tevez, MD, Ha, MD, et al.
Treatment of Grade II-III Cellulite using a Minimally Invasive 1440nm Pulsed Nd:YAG Laser with Eighteen-Month Follow Up.
Multicenter Study.
Before and after photographs
TBA
Do you have a question? Ask one of our experts NOW