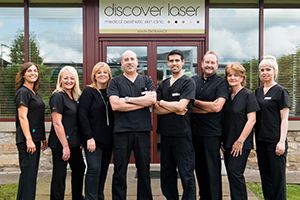 Discover Laser Reviews
Crow Wood Leisure, Royle Lane , Burnley , BB12 0RT
01282 Reveal Number
Call Now
Reviews
---
Very impressed from start to finish! Full breakdown of what was involved, test treatment to ensure suitability, all questions answered fully and in an understadable way and super facilities for treatment and waiting. The treatment was very effective, so much so that I only needed three treatments instead of the suggested four that I might have needed. Overjoyed with the results will be visiting again for other treatment!!!
Clinic Reply
Sheila, We've just seen your review and wanted to say thank you so much for sharing your experience and for your kind words. We look forward to seeing you again in the future.
---
I visited Discover laser for some facial work with Dr Montero. I have to say what an amazing experience from start to finish. I arrived to be greeted by such kind and caring staff and a wonderful latte at the start of my treatment. Dr Montero was just fabulous. Very informative and experienced. Explained the full procedure and what my results would be like in the end. A true professional. Looking forward to my next visit!
Clinic Reply
Thank you so much for your lovely review, we really appreciate and it. We're so glad you enjoyed your visit to our clinic and your treatment. We look forward to looking after you on your next visit.
---
Rebecca ..
Location: Blackburn
January 9, 2019
I had been conscious of my stretch marks for some time. I had used the usual creams for years but with no change. I read about treatments at Discover Laser and the testimonials sounded positive. Although sceptical, I thought even a minor improvement would be worth the cost. I've now had laser treatments and feel so much more confident. My mum, friends and partner have all commented on how much better my stomach now looks. If you're thinking of having this done, I'd say go for it, it has been amazing for me.
---
Hayley ..
Location: Burnley
October 31, 2018
The cleanliness and professionalism of the clinic was the deciding factor when I chose to have Laser Hair Removal. Sarah is lovely. Always friendly, chatty and professional, I felt at ease throughout my treatments.
---
Lisa ..
Location: Burnley
October 10, 2018
My main reason for choosing to book a consultation with Discover Laser was because of the friendly, caring and empathetic staff when I made my initial phone call (about something I felt VERY embarrassed about). Sarah [Aesthetic Therapist] is so lovely and understanding. She talked me through every stage of the process and never once reinforced my embarrassment or made me feel abnormal. This may sound trite but it is why I kept coming back and why I appreciated Sarah's nature so very much.
---
Craig Keighley
Location: Preston
January 10, 2018
Discover Laser is an amazing place to visit and have treatment. The first impressions when you enter fills you with confidence that you've chosen well and the warm, friendly greeting from the reception team put your mind at rest that you're going to get looked after. The treatment from Dr. Montero was first class....I had my Haemangioma removed from my cheek. I was so anxious leading up to the consultation, the little friend on my cheek really had me worried. Fortunately it turned out to be not so bad after all - the experience and professionalism here was first class. The results are amazing too. I had my follow up appointment today and all's well, better still no scarring or lasting defects on my face following the laser treatment. Good News too for the business in December - they won a nationally recognised award for their industry - The Best Clinic North of England - Congratulations! I also feel privileged to be treated by Dr Jose as he was nominated for Aesthetic Practitioner of the year 2017. This really is the number one clinic so be sure to get involved!
---
Anne Mader
Location: Lancashire
November 29, 2017
I came to Discover Laser to have microsclerotherapy and subsequent laser treatment in both legs (which cannot be done on the NHS). The staff at DL are extremely professional and friendly, and Dr. Montero an absolute expert in his field. He explained everything in detail before the procedures so that I knew exactly what to expect. He has a very light and steady hand at injections and keeps you completely at ease during the procedure! The subsequent laser treatment was not pain-free of course. But the practice has the latest cooling equipment and techniques which made it so much easier. I am very pleased with the results and cannot thank Dr. Montero and his team enough. I can highly recommend the practice to anyone seeking non-surgical treatment. Expensive but absolutely worth it!!!
---
Jennifer D.
Location: Rawtenstall
November 1, 2017
I just wanted say how pleased I am with my Botox treatment with Dr Novoa. From start to finish Joseph was absolutely clear about what to expect and realistically what outcome I would have. My treatment was pain free and explained step by step. The best part is that no one has actually noticed that I've had anything done! Which is exactly what I asked for. All in all an outstanding visit and I won't hesitate to return and to recommend to anyone. Thank-you to Dr Novoa and all the Discover Laser team.
---
Rae Waldon
Location: London
July 26, 2017
I can't express enough how professional and welcoming this clinic are. Miguel, Gill and the team are passionate about patient safety and delivering superb results. The clinic is lovely and based in superb settings. Treatments are effective and safe. I would recommend this clinic to anyone.
---
My Dear Wife was recommended to Discover laser by the NHS staff at Hope Hospital and i have got to say this that her quality of life that she has now since the 12months of treatment that has been given to her at the clinic is fantastic she know can go out and meet people with so much confidence thank you all at discover laser
Clinic Reply
Thank you for taking the time to write such lovely words. We are delighted to hear that treatment has made such a difference to your wife and are sending you both our very best wishes. Our door is always open, should you need anything. DL
---
Beverley White
Location: Burnley
February 24, 2017
Outstanding service. The staff at Discover Laser are fantastic, always professional and friendly. Miguel is a true expert in his field and is terrific at giving advice. From the very moment you walk through the door, everyone is kind helpful and welcoming. Distance should not even be taken into account when you receive such professionalism from Miguel I would definitely recommend Discover Laser if you are considering any form of treatment.
---
Tasleem Ahmed
Location: Burnley
February 5, 2017
Love this place. Everyone is so friendly and accommodating. I wouldn't dream of going anywhere else.
---
Denise Hopwood
Location: Wigan
February 1, 2017
This has got to be the best clinic I have ever been to, I have had six laser sessions to remove semi permanent eyebrows and they have done a fantastic job. I love going they are so professional and everybody is so friendly, they make you feel very comfortable on arrival. Would never go anywhere else now. Look out I will be back .
---
Ashleigh Parfitt
Location: Burnley
January 21, 2017
Would definitely recommend staff are brilliant & so happy with the outcome of my treatment.
---
Deborah Gildert
Location: Burnley
November 12, 2016
Professional advice given every time I visit... So friendly as well.
---
Meg Holt
Location: Lancaster
June 10, 2016
Having laser hair removal. Only had 1 treatment and can see a difference already! I travel an hour to get here, super professional, knowledgeable and friendly staff. Personal touch and love going for my appointments. Would strongly recommend to anyone!
---
Nicola Titherington
Location: Burnley
January 9, 2016
Brilliant. The staff are so friendly, and very accommodating! I had a problem after my last treatment for tattoo removal, they saw me twice pretty much straight away and sorted my problem out, I was slightly nervous at the next visit because of the issues I had with the previous treatment, they put me at ease and made sure I was totally relaxed before carrying out the treatment. I will definitely recommended discover laser to anybody wanting tattoo removals.
---
Susan Thorley
Location: Burnley
October 7, 2013
Lovely care with good, simple explanations of treatment.
---
Anne Lawler
Location: Manchester
September 21, 2013
A true 5 Star service, for 100% care, absolute professionalism and full attention to detail. With very friendly staff on hand, Discover Laser maintains a relaxing atmosphere.
---
Jill Evans
Location: Manchester
August 15, 2013
When I first went to discover laser I was very nervous with no confidence. The treatment I have had is facial hair removal, what a life changing experience from start to finish the whole team have been amazing especially Julie :) The difference in myself how I feel and the confidence I have gained is all thanks to the treatment, dedication and professionalism of the team. The facial hair was quite strong and I never thought the results would be as amazing as they have been, I have gone from shaving it 3 times a day to nothing just the odd hair which is what I would expect. My friends have noticed the difference in me and they all say I have less hair than them. I now feel like a female rather than a male! Thank you so much Julie, Jill and Sarah for the life changing experience you have all been fantastic! Would definitely highly recommend
---
WILLIAM TRIPPIER
Location: ROSSENDALE, LANCS.
July 23, 2011
I visited Discover Laser to see if anything could be done with some awfull thread veins on my nose,of which I had put up with for around 30 years.After 5 or 6 visits they have completely gone and my self confidence is sky high.I can`t speak highly enough of the people at Discover Laser,they were extremely professional and their surgery etc was absolutely spotless.Thank you.
---
Consulting Room is the ONLY online cosmetic clinic search directory, for the UK & Ireland, who check that all clinics listed with us are compliant with relevant regulatory requirements for the provision of cosmetic surgery, medical aesthetic treatments, hair transplant surgery and cosmetic dentistry. To find out what this means, why you can have peace of mind and trust the checks we do for you click here.