Skin Camouflage Information
Skin Camouflage is the skilled application of specially formulated creams designed to minimise and neutralise defects or discolouration of the skin by covering, concealing and masking them at surface level.

The treatment means that your appearance is improved as the focus is no longer on the defect or discolouration that you wish to hide; potentially improving your confidence and self esteem.

Skin camouflage techniques can be used to conceal a number of conditions, such as post surgical concealment, scars, burns, birthmarks, rosacea, vitiligo, and other pigmentation problems.

Some camouflage creams are available through the NHS and can be prescribed by your doctor. The products can also be ordered at local pharmacies or purchased directly from the manufacturers or distributors. The prices of creams will vary according to the brand and type used. As skin colours and conditions differ it is advisable to seek professional help to find the right brand for you.

Thanks to BASC for their guidance on this content.
Skin Camouflage Sub Menu
---
---
Skin Camouflage background information
Skin camouflage was pioneered during the Second World War to help aircrews after they had undergone plastic surgery procedures. (The history of skin camouflage can be found on the British Association of Skin Camouflage's website).
During the 1950's Joyce Allsworth researched and implemented the concept of skin camouflage within the United Kingdom. Joyce Allsworth was instrumental in training members of the British Red Cross in camouflage and was involved in setting up the clinics in hospitals around the country.
She went on to form the British Association of Skin Camouflage (BASC) in 1985. This work was complemented by a comprehensive training programme designed to increase the number of graduates in this specialist area by training medical professionals, make-up artists and beauty therapists too. The pioneering work by Joyce Allsworth has resulted in a network of practitioners being set up internationally.
Skin camouflage is defined by the BASC as being, "a simple solution for complex problems and is generally accepted that it can be a vital tool during the early stages of person's rehabilitation and adjustment to an altered image. However, for others, using skin camouflage may need to be considered as a long-term process. BASC pride ourselves on the principles and arts practiced, and our role in helping others to face the world with confidence."
---
How does Skin Camouflage work?
Skin Camouflage is the skilled topical application of specially formulated creams designed to help minimise the visual affect of non-infectious skin conditions, scarring and unwanted tattoos.
It is simple to apply, and does not interfere with any medical treatment in progress, for example chemotherapy. This means that in some cases it can even be used on post-operative scarring and bruising from cosmetic surgery, although it should not be used over broken skin, sutures (stitches) or where there is an infection. Always seek advice from a medical practitioner on the appropriate time to use skin camouflage after cosmetic treatments and procedures.
Most of the products used, although lightweight when applied correctly, are also water resistant due to the wax-oil ingredient within. This means you could continue with sporting activities such as swimming whilst wearing the camouflage. With due care, the camouflage can last up to 8 – 12 hrs on the face and body before the need to reapply.
---
What happens during a Skin Camouflage consultation?
A skin camouflage consultation takes approximately one hour, during which time the specially formulated creams are tested directly onto your skin to find an acceptable match to your natural colour. They are not chosen from a colour match card. Loose powder is then used to set and stabilise the cream.
During the consultation you will be taught how to effectively apply and remove the camouflage, and also advised how not to accidentally disturb the camouflage during wear. You will also be given information on how and where you can obtain the agreed products for your use.
You will be able to ask the practitioner lots of questions and try out various creams until you agree a product best suited for your skin condition and lifestyle.
---
What skin conditions are suitable for Skin Camouflage?
Skin camouflage techniques can be used over a number of non-infectious skin conditions, however, always seek medical confirmation on appropriate use. These include:
erythema (where the affected skin is redder than the surrounding); this could also include application following some non-invasive cosmetic treatments
hyperpigmentation (where the affected skin is darker than the surrounding)
hypopigmentation (where the affected skin is pale to the surrounding)
depigmentation (where the affected skin has no pigment whatsoever)
scarring resulting from trauma caused by accident, violence (including self-harm), surgery (including reconstructive and cosmetic procedures); providing the wound is "healed and sealed". Skin camouflage should not be applied directly over a burn injury but may be used over skin grafts which have completely healed post burn injury or removal of a skin cancer.
unwanted tattoos (from radiography as well as decorative body art)
Examples of suitable skin conditions for skin camouflage would include:
Acne
Age spots (lentigines) and solar lentigo
Bruises
Chloasma and Melasma
Dark under eye circles (chloasma)
Port Wine Stains (naevus flammeus)
Psoriasis
Rosacea
Scar tissue
Stretch marks (striae distensae)
Thread veins (telangiectasia)
Vitiligo and Leucodermas
---
What are the risks and potential complications from Skin Camouflage application?
Application of the skin camouflage creams does not hurt.
It is unlikely that you will develop an allergic reaction to prescription brands of skin camouflage obtained from a reliable source. However, you are strongly advised to consult your doctor if you have any allergy or sensitivity resulting from skin camouflage products. You must advise the skin camouflage practitioner of any known allergy or sensitivity to the ingredients (such as lanolin) when making an appointment for consultation.
Application of skin camouflage must not be over any broken, inflamed or weeping skin (e.g., eczema), neither should it be applied over birthmarks such as capillary and superficial haemangomas (strawberry birth marks).
Skin camouflage is contra-indicated and cannot be applied over conditions classified as:
Bacterial, Fungal, Viral Infections
Infestations
Insect and animal bites
Skin Cancers (including suspicious lesions and moles)
Occupational and Contact Dermatitis
Open wounds
Sutures (stitches)
Undiagnosed rashes and skin conditions
Communicable diseases which present on the skin (such as chicken pox)
Conditions contra-indicated for other salon treatments (such as varicose veins)
Topical medication and ointments as well as sunscreen may be applied under and before the camouflage, and decorative make-up (e.g., blusher) can be applied over the set camouflage without any ill effect.
---
Who is suitable for Skin Camouflage?
Skin camouflage is suitable for men, women and children, irrespective of ethnic skin colour and religion.
Skin camouflage may be suitable for school aged children (pre-puberty), if deemed appropriate by a doctor, but it should never be used on babies to cover birthmarks for example, unless at the specific request of a medical practitioner.
---
Who can advise you on Skin Camouflage?
It is recommended that you see a specialist in skin camouflage as they can help you decide which product(s) suit you best and teach you how to apply them. This person may or may not also be a medical professional.
Some NHS hospitals provide this service as part of the patients' care plan (for example, by a nurse on a burns unit) and in Out Patients Clinics (such as Oncology, Dermatology, Maxillo-Facial, Pharmacy, etc).
We suggest you choose a practitioner who is a member of and has received training provided by an established organisation of skin camouflage practitioners such as;
Changing Faces have taken over the service previously provided by the British Red Cross. Clinics generally run one morning a month and are delivered by Changing Faces Skin Camouflage Practitioners who provide this service on a voluntary basis. Self-referral and GP referral are both available depending on where you live. .

Skin Camouflage Network, whose members work in the NHS and privately.

British Association of Skin Camouflage, is a charity who train medical and beauty professionals only. They have graduates throughout the country, most of whom work in a hospital environment which creates a seamless care plan, which is free within the NHS, others work privately in clinics and salons. BASC practitioners accept both medical and self referrals, usually with minimum waiting for an appointment.
Find a Clinic or Practitioner specialising in Skin Camouflage in the UK & Ireland via our Clinic Search.
---
What is the average cost of Skin Camouflage?
A consultation will usually take approximately one hour - for which there will normally be a charge. This charge will not include the cost of any creams for your future use. One visit however is usually sufficient to teach you how to conceal the blemish.
Some camouflage creams are available through the NHS and can be prescribed by your doctor.
The products can also be ordered at local pharmacies or purchased directly from the manufacturers or distributors.
The prices of creams will vary according to the brand and type used.
There are five main brands of skin camouflage creams; Covermark , Dermablend , Dermacolor, Keromask and Veil. However, as skin colours and conditions differ it is advisable to seek professional help to find the right brand for you.
---
Summary of advice for Skin Camouflage
Having a non-infectious skin condition, scarring or an unwanted tattoo is not just a physical problem. It often affects how you feel about yourself, lowering both confidence and self esteem. It may even change or affect relationships with your family, friends and work colleagues. It is therefore possible to change your life by using skin camouflage.
Skin camouflage represents a quick, non-invasive topical application of specially formulated products that can help reduce a person's distress from intrusive questioning, stares and unwarranted comments.
Whether you choose to use it every day, allowing you to work and enjoy normal social activities without the worry of feeling self conscious, or just use it for special occasions; it can make all the difference.
You can simply purchase the products yourself, but we would always recommend you see a specialist in skin camouflage techniques. This consultant may be a non-medical practitioner, such as a beauty therapist or a make-up artist.
---
Before and after photographs of Skin Camouflage
Please note that results vary and are dependent upon both the patient and the skill of the individual practitioner.
We are grateful to the British Association of Skin Camouflage for allowing us to include images that illustrate before and after the application of skin camouflage in a variety of cases.
Keloid to chest. Scarring remains unaltered, but the erythema becomes less noticeable.
Vascular disturbance & atrophic scar to neck. Vascular malfunction following tumour removal, patient did not want 100% cover, just sufficient to make the neck less noticeable.
Port Wine Stain to face. Decorative make up can be applied over set skin camouflage (note, complementary green primer not required for this stain)
Psoriasis on hand. Fixing spray will help keep camouflage to back of hands and fingers, but is not recommended to ventral.
Leucoderma to male chin. Fake beard stubble, using a camouflage crème, has also been applied.
Foot with hypertrophic scar. Allows person to wear open shoes or be barefoot.
Burn Injury to face. The camouflage area will appear more pale when viewed as a photographic image when the flash mechanism is activated, however this can be minimised by selecting products that do not contain titanium dioxide and/or iron oxide.
Scarring from mesh graft, required following burn injury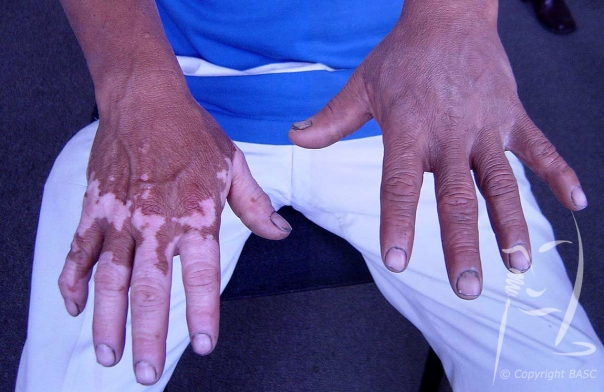 Vitiligo on both hands - left hand with camouflage applied. Copyright BASC Member 2160.
Please note all images are published with kind permission from The British Association of Skin Camouflage, are under the BASC Copyright and cannot be copied or reproduced without their permission.
---