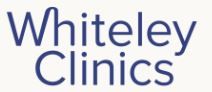 The Whiteley Clinic Bristol Treatments
1 Litfield Place, Clifton , Bristol , BS8 3LS
03300 Reveal Number
Call Now
-2.62309249999998
51.4577574
Treatments
---
Electromagnetic Treatment For Hyperhidrosis (miraDry®)
Hyperhidrosis is a medical condition whereby a person has abnormally increased or excessive perspiration or sweating. miraDry is the first and only device cleared by the U.S. FDA for the treatment of excessive underarm sweat.
Endovenous Laser Ablation (EVLA/EVLT)
Endovenous Laser Ablation (EVLA), also referred to as Endovenous Laser Treatment (EVLT) is a minimally invasive method of treating varicose veins.
Radiofrequency Ablation (RFA) for Varicose Veins
Radiofrequency Ablation or RF Ablation (RFA) is a form of Endovenous Thermal Ablation or Endothermal Ablation (ETA) used to treat varicose veins.
Sclerotherapy and Microsclerotherapy
Sclerotherapy was developed for treating varicose veins. Microsclerotherapy is a technique of injecting thread veins with a sclerosant that causes swelling in the vein's wall which destroys it.
Conditions
---
Hyperhidrosis ( Excessive Sweating )
Hyperhidrosis is the condition whereby an individual has abnormally increased or excessive perspiration or sweating which can occur most commonly on the hands, feet, armpits and groin area. Botulinum toxin, Botox is a popular treatment choice.
Rosacea
Rosacea is a common chronic skin condition that tends to affect the face. Individuals with vascular rosacea, which tends to include symptoms such as flushing, redness and thread veins, can often be successfully treated with laser or IPL treatment.
Thread Veins or Spider Veins
A variety of options, including using heat generating technologies such as light and electrical currents have been developed to treat thread veins, also called spider or broken veins.
Vascular Abnormalities ( Angiomas, Port Wine Stains )
Vascular abnormality is a general term that describes abnormalities of the veins, lymph vessels and arteries. Two of the most common types of vascular abnormality are angiomas and port-wine stains.
Consulting Room is the ONLY online cosmetic clinic search directory, for the UK & Ireland, who check that all clinics listed with us are compliant with relevant regulatory requirements for the provision of cosmetic surgery, medical aesthetic treatments, hair transplant surgery and cosmetic dentistry. To find out what this means, why you can have peace of mind and trust the checks we do for you click here.