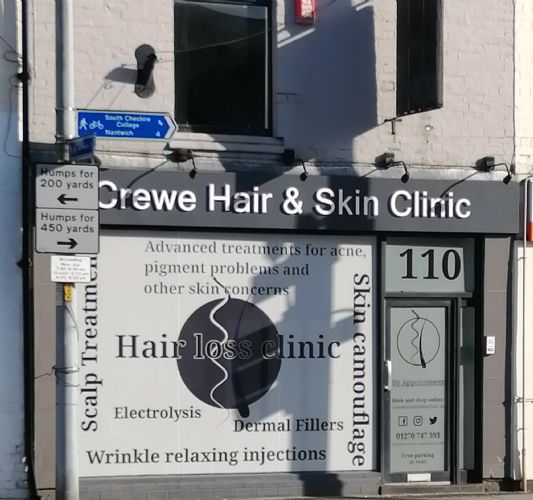 About Crewe Hair and Skin Clinic
110 Nantwich Road , Crewe , CW2 6AT
01270 Reveal Number
Call Now
-2.4405078
53.08829799999999
Profile
---
Your journey with us starts with a consultation. During Covd-19 social distancing the initial consultation can take place virtually. You will need to send in photographs of your skin or hair condition and will be asked to complete a questionnaire before the consultation.
The emphasis is on optimising the appearance of your skin or scalp, whether it is due to hair loss, acne, pigmentation, ueven skin texture and wrinkling/sagging skin.
Treatments can be delivered to your home or undertaken in clinic.
AESTHETIC SERVICES
The clinic welcomes women and men of all skin types.
A holistic approach is taken so that general health and skin care go alongside temporary treatment
The clinic offers wrinkle relaxing injections using botulinum toxin, fillers to the lips and cheeks and medical grade skin care programmes. The programmes are for concerns including acne, unwanted pigmentation, rosacea and wrinkling.
After personal experience of needing skin camouflage to cover loss of pigmentation, Dr Wilson trained in skin camouflage and is a British Association of Skin Camouflage practitioner. She joined the Education Committe for BASC in 2020. The clinic is part of the Veil Skin camouflage network to help to reduce delays in customers accessing their skin camouflage products.
The skin camouflage training stimulated an interest in the solutions that aesthetic procedures offer so she trained further in electrolysis with VTCT and Sterex, and also has the BTEC Level 7 award for Laser and Associated light therapies, she hopes to be able to offer this service in the future.
Training in Botulinum toxin injections was completed in 2011, and she maintains contact with colleagues in field through membership of a local practitioners group and the Aesthetic Complications Expert Group which supports aesthetic pracititioners across the country.
Dr Wilson is a strong believer in the importance of skin care for managing skin concerns including acne, pigmentation, razor bumps, rosacea and wrinkles and undertakes regular training with Obagi Medical and Zo Skin health in order to continue to deliver skin care programmes.
HAIR LOSS SERVICES
This clinic takes a holistic approach to hair loss bringing together current knowledge from the world of cosmetic science, medicine, genetics, nutrition, cosmetics, trichology and headwear to help you to find evidence based solutions.
Severe scaling scalp conditions, itchy scalp and razor bumps are also dealt with here for all hair types.
After personal experience of hair loss, and realising the major impact it could have, Dr Wilson began a journey of learning about hair and scalp issues.Working as a GP, she has been aware that most UK GPs have only one week of training in skin and hair before they qualify. Unable to find a suitable in depth course at the time for GPs, she completed the 2 year Trichology Course with the Institute of Trichologists gaining a distinction in both years, being the only student in her cohort to do so. She was also awarded the John Mason Memorial Prize for Excellence in her first year, which is only awarded when there is a 'candidate of high enough calibre to merit it'.
She has taught examined and consulted at the Institute of Trichologists' Clinic in London and also gained further experience helping patients with hair loss independently, including at a branch of The Private Clinic of Harley Street. She has written articles on hair loss for a range of audiences and spoken at various events. She remains a practising GP, is a member of the Primary Care Dermatology Society and a Fellow of the Faculty of Public Health.
She believes that it is important to be knowledgeable about the hair processing techniques in Afro-textured hair which has different requirements to European/Asian hair. She was certified in 2015 by the National Beauty Institute in: Hair Cutting,Hair Braiding and Weave, Afro hair relaxer and the Brazilian Blow Dry.
Our Staff
Directions
The Clinic address is 110 Nantwich Road, Crewe, Cheshire, CW2 6AT.
It is on the main road and 5 minutes' walk from Crewe station.
When Covid-19 restrictions are in place, Crewe station can only be exited via the new car park exit. Upon exiting the the station building you will see a taxi rank in front of you. Look to your left and you will see the Royal Hotel on Nantiwch Road. Head back towards the old station exit on Nantwich Road and stay on that side of the road, and walk for 5 minutes. When you are near the clinic you will see Thai Corner on the opposite side of the Road. Edleston Road is directly opposite the clinic.
If coming by car, there is free parking at the rear of the clinic on Edward Street, and on street parking in the vicinity is free. There are also paid car parks on Wood Street which is parallel to Edward Street in the direction of the station.
Consulting Room is the ONLY online cosmetic clinic search directory, for the UK & Ireland, who check that all clinics listed with us are compliant with relevant regulatory requirements for the provision of cosmetic surgery, medical aesthetic treatments, hair transplant surgery and cosmetic dentistry. To find out what this means, why you can have peace of mind and trust the checks we do for you click here.
Opening Times
Mon:
Tue: 10.00 - 18.00
Wed:
Thu:
Fri: 10.00 - 18.00
Sat: 11.00 - 16.00
Sun: