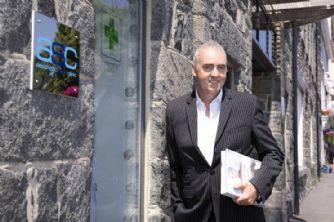 Aesthetic Skin Clinic Jersey Treatments
Suite 3.03, Lido Medical Centre, St. Saviours Road , Jersey , JE2 7LA
01534 Reveal Number
Call Now
Extra Treatments
---
Fractional Radiofrequency & Microneedling.
The Aesthetic Skin Clinic works in association with the world renowned DHI Global. Simply come and see one of our medical professionals for a hair transplant consultation, and they will sensitively and discretely go through your suitability for the treatment, discuss your desired result and take a full medical assessment for you, before drawing up a bespoke treatment programme.
Conditions
---
Acne
Acne is a chronic inflammatory disease of the sebaceous hair follicles.
Belly Button Shape
People are often concerned about the size and shape of their navel, umbilicus or belly button and increasing numbers are looking for ways to make it perfectly shaped. Cosmetic surgeons have developed an operation which can achieve this.
Body Contouring
The term `body contouring` refers to a range of procedures that encompass size and weight reduction, as well as re-shaping of certain areas of the body, in some cases following massive weight loss where excess skin is a problem.
Breast and Chest - Augmentation, Enlargement, Reduction and Lifting ( Boob Job )
The size and shape of the chest can be a cause of much concern for both men and women. There are a number of surgical treatment options, many of which are widely available, that can alter your physical appearance, particularly of the female breast.
Cellulite
Cellulite is the name given to the lumpy, irregular fat deposits often found around the hips, buttocks and upper leg areas. There are many different treatments that have been claimed to reduce the appearance of cellulite.
Complexion Improvement, Skin Texture Concerns
Commonly concerns are focussed on changes in the skin and ones complexion that occur as we age. Skin specialists now believe that most of the changes that we see in our skin as we grow older are due to the sun (sometimes referred to as "photodamage").
Ear Correction, Ear Pinning
Protruding ears can be a problem from an early age for young children who may be teased at school. Surgical correction of this is one of the few cosmetic operations performed on children.
Eyes - Bags and Crow's Feet
The development of small crows feet, or shadows beneath the eyes (dark circles) can be the first signs that our skin is not as youthful and elastic as it once was.
Eyes - Tear Trough ( Dark Circles )
Tear trough rejuvenation is a relatively new treatment that is used to improve the appearance of dark circles or dark hollows underneath the eyes which appear in some people.
Facial Skin Tightening, Sagging Skin and Jowls
The concept of facial skin tightening refers to cosmetic procedures which seek to cause contraction in the tissues to effectively tighten them up or which involve a lifting technique often accompanied by the removal of excess skin.
Fat ( Love Handles, Saddle Bags, Muffin Tops )
Liposuction is the most commonly performed aesthetic surgical procedure for fat removal and body contouring.
Gynaecomastia ( Man Boobs or Moobs )
The condition known by the medical term of gynaecomastia occurs when firm breast tissue forms in males. The mainstream media have recently named this condition as `man boobs` or `moobs`.
Hair Loss ( Male Pattern Baldness, Alopecia )
Male pattern hair loss (androgenetic alopecia) is the commonest cause of hair loss in men. Alopecia areata can occur in both men and women.
Hair Removal ( Hirsutism )
Permanent hair removal has only been clinically proven and demonstrated for methods using electrolysis. Several lasers and light based machines have demonstrated permanent hair reduction and are allowed to make this claim.
Heavy Brow
Eyebrow shape and position can make an important difference to how you look. Plucking them is not the only way to achieve a difference in shape, and sagging eyebrows can be lifted using surgery.
Hyperhidrosis ( Excessive Sweating )
Hyperhidrosis is the condition whereby an individual has abnormally increased or excessive perspiration or sweating which can occur most commonly on the hands, feet, armpits and groin area. Botulinum toxin, Botox is a popular treatment choice.
Lines and Wrinkles
The signs of ageing on a person's face start to show as early as the end of the second or the beginning of the third decade of a persons life. At first, fine lines start to form between the nose and the mouth, around the eyes and on the forehead.
Lip Volumising and Shaping
Lip augmentation, volumising, shaping or enhancement is a cosmetic procedure which uses various materials to plump out and re-shape the lips.
Moles, Warts, Skin Tags and Benign Growths
Moles, warts, skin tags can be both upsetting to look at and cause social and psychological unease. Thankfully though, most growths are benign and harmless, and removal is often quick and simple with reassuring cosmetic results.
Nose Reshaping ( Nose Job )
Most cosmetic procedures in this area relate to the alteration of the size or shape of the nose.
Pigmentation ( Age Spots, Brown Spots )
Age spots or lentigos, sometimes known as "liver spots" are medically known under the condition of hyperpigmentation. Professional skincare clinics have effective treatments to reduce the appearance of more pronounced age spots or hyperpigmentation.
Rosacea
Rosacea is a common chronic skin condition that tends to affect the face. Individuals with vascular rosacea, which tends to include symptoms such as flushing, redness and thread veins, can often be successfully treated with laser or IPL treatment.
Scarring ( Acne, Keloid, Atrophic Scars )
Scarring can affect a person's confidence and self-esteem, particularly when the scars are on the face. Depending on the type of scar and the way an individual heals there are a variety of options for improving the appearance of scarring.
Stretch Marks ( Striae )
Stretch Marks, known medically as Striae are lines or streaks on the skin, which can be pink, purple or white in colour (depending on their age), that occur when the inner skin layer is stretched thin and loses its elasticity.
Sunken Cheeks
In recent years aesthetic practitioners who study the outward signs of ageing on the face have been focussing on the loss of facial volume that occurs as many of us get older.
Tattoo Removal
Successful removal of a tattoo (or the significant fading of it) will depend very much on the type of tattoo (professional or amateur), the inks used and the colour of those pigments as some colours respond better to the various treatments than others.
Thread Veins or Spider Veins
A variety of options, including using heat generating technologies such as light and electrical currents have been developed to treat thread veins, also called spider or broken veins.
Weight Loss
One of the most common forms of weight loss procedures is bariatric surgery, including gastric bypass surgery. Other weight loss programmes combine a system of dietary changes, supplementation, exercise and non-surgical body contouring treatments.
Products
---
Botox
We cover everything you need to know about Botox: From pricing to results, to side effects and aftercare, you can trust our accredited experts.
Dysport ®
Dysport ®, botulinum toxin type A, has been available in the U.K. since the early 1990s. It is a prescription only medicine and is also approved for some cosmetic uses in the UK under the brand name Azzalure ®. You will require a face-to-face consultation with a prescriber to determine your suitability for treatment.
Fraxel™
The Fraxel™ SR machine was launched in the USA at the end of 2004. The current Fraxel range includes three fractional lasers - two for non-ablative treatments and one for ablative treatment; Fraxel Re:fine™, Re:store™ (also available as Re:store Dual) and Re:pair™.
INTRAcel™
The INTRAcel Fractional Radiofrequency (RF) Micro-Needling system is comprised of a Fractional RF Microneedle™ (FRM) array that assists in skin rejuvenation and also treats acne, provides a non-surgical face lift, reduces large pores and acne scarring through a variable radiofrequency power
Juvéderm ® ULTRA
Juvéderm® ULTRA and Juvéderm® ULTRA Smile is an advanced, cohesive, 3D hyaluronic acid matrix dermal filler with local anaesthetic, manufactured by Allergan; the makers of Botox® / Vistabel®.
Juvéderm ® VOLUMA
Juvéderm® VOLUMA is a hyaluronic acid dermal filler used for recontouring and restoring the face in the case of age-releated volume loss in the cheek bone and chin regions. According to the makers, it delivers dramatic improvement in tissue quality, even in challenging areas, and is complementary to other aesthetic treatments and dermal filler procedures.
Obagi Blue Peel
Blue Peel significantly improves skin tightness and reduces fine lines, wrinkles, acne scars, large pores and hyperpigmentation.
Perk™ - Cleanse with Benefits
From the makers of the hydradermabrasion system HydraFacial®, the American based company, Edge Systems LLC, comes PERK™ - the world's first hybrid facial.
Restylane ® (inc Emervel Collection)
The Restylane range consists of hyaluronic acid dermal fillers incorporating the EMERVEL collection (Lyft (Perlane), Refyne, Fynesse, Volyme, Kysse, Defyne), all specifically designed for injection into the face.
Restylane ® Skinboosters (Vital & Vital Light)
RESTYLANE Skinboosters (Restylane Vital and Restylane Vital Light) are a Non-Animal Stabilized Hyaluronic Acid (NASHA) gel aimed at a whole new approach to skin rejuvenation for the face, neck, décolletage and hands.
Sculptra ®
Sculptra (Formerly New-Fill) is a tissue stimulator and is used more as a sculpting and volumising agent rather than just a wrinkle filler. Sculptra contains Poly-L-lactic acid.
Thermage ®
The Thermage™ system is a mono-polar (one electrode) radiofrequency device that delivers radiofrequency energy deep into dermal tissues for facial skin tightening, body contouring and improvement in the appearance of cellulite.
VASER ® Lipo
VASER Lipo is a liposuction procedure performed using the VASER (Vibration Amplification of Sound Energy at Resonance) device, which uses ultrasound energy for a treatment known as Liposelection.
Consulting Room is the ONLY online cosmetic clinic search directory, for the UK & Ireland, who check that all clinics listed with us are compliant with relevant regulatory requirements for the provision of cosmetic surgery, medical aesthetic treatments, hair transplant surgery and cosmetic dentistry. To find out what this means, why you can have peace of mind and trust the checks we do for you click here.